Type de logement
Chambre privée
---
Type de propriété
Maison
---
Capacité d'accueil
10
---
Chambres
Camden, Alabama, États-Unis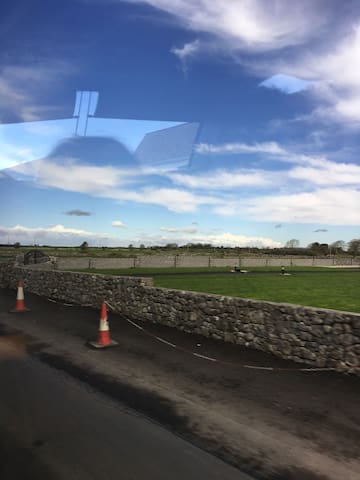 My place is close to all of the local restaurants. Just a 10 minute drive will place you in the heart of Downtown Monroeville and all of the city's rich history. You'll feel right at home in this Alabama abode. With brand new appliances and furniture, all that is missing are some happy travelers. My place is good for couples, solo adventurers, business travelers, and families (with or without kids).
Exceptionally clean and Cindy was a great hostess! We will definitely stay again!
Susan
2017-03-23T00:00:00Z
This place is a gem! So beautifully decorated and immaculate. Cassie was easy to communicate with and added so many little touches that made my stay that much more enjoyable. I was in town for a charity bike ride and was thrilled to find a foam roller and bike trainer waiting for me! Above and beyond all expectations!
Patti
2017-04-01T00:00:00Z
Type de logement
Logement entier
---
Type de propriété
Maison
---
Capacité d'accueil
4
---
Chambres
Monroeville, Alabama, États-Unis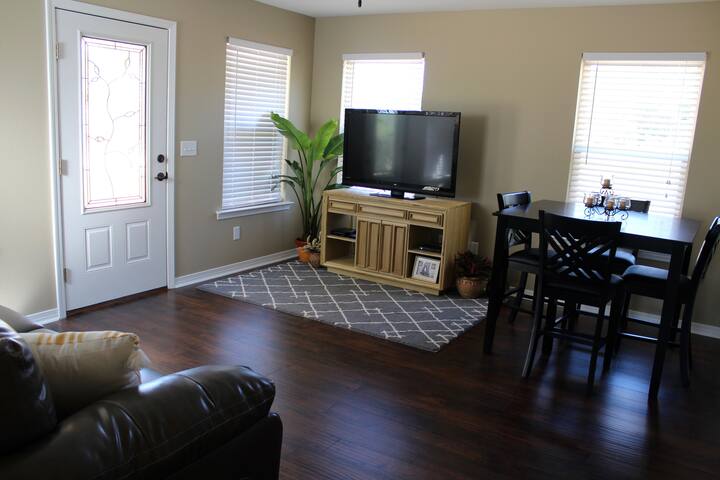 卫生整洁,房间漂亮
Type de logement
Chambre privée
---
Type de propriété
Appartement
---
Capacité d'accueil
1
---
Chambres
Georgiana, Alabama, États-Unis
This is a really wonderful little gem of a place out in the country. Ronald has obviously put a lot of heart and soul into fixing this one room apartment up with built in cabinetry, a comfortable bed, nice decorations and all the things you need for a short or long stay. We were super comfortable and enjoyed talking with our host. Highly recommend this place as a great alternatives to a hotel room that would cost almost twice as much and not be nearly as nice. It's located less than 20 minutes from the hotels in Atmore at the Interstate exit.
Brian
2016-05-08T00:00:00Z
This place is absolutely wonderful!! I can't say enough good things about it! Ronnie is a great host, and thought of every little detail! There was everything you could ever need in the apartment! And the got tub was fantastic after a long day driving! Can't wait to go back!
Melanie
2017-04-02T00:00:00Z
One of those Gems on Air Bnb. Ron was incredibly welcoming, he gave us a bottle of wine and told us all about the area. The pool and Jacuzzi were perfect after a day of driving. The photos don't do the place justice - it's huge! and the bed is super comfy. Highly reccomended
Philip
2016-06-16T00:00:00Z
Ron was very accommodating. The apartment is in a beautiful setting and feels very relaxing. Out of the way of busy traffic and towns, you can really unwind. Highly recommend to go off the beaten track to stay here. Excellent.
Alex
2016-04-23T00:00:00Z
We had a lovely stay at Ronald's apartment! It was clean, very spacious and had all the appliances we needed including a washing machine and dryer. Ronald is very nice and helpful, he made us feel very welcome. The house is in a very remote, peaceful area which makes it a great getaway, but make sure your satnav takes you down the correct route! Ours tried to take us through a lot of dirt tracks. Overall, perfect!
Em
2016-06-29T00:00:00Z
Ronald was very patient waiting for me,I arrived a couple of hours late. He took me through the house and showed me where everything is, all and all a great welcome.He has put a lot of thought into the layout and inclusions in the house, he has pretty much thought of everything. All in all I had a great time staying and loved the area, the friendliest people you will meet in a country mile,real "Southern Hospitality".
Michael
2016-02-29T00:00:00Z
We had a really pleasant stay, even if it was only overnight. The apartment was very clean and comfortable. Ronald was a really gracious host as well.
Ginny
2016-04-25T00:00:00Z
Ron's place is perfect for a quiet getaway. I can't wait to go back!!
Gregory W
2017-03-01T00:00:00Z
Type de logement
Logement entier
---
Type de propriété
Appartement
---
Capacité d'accueil
2
---
Chambres
Atmore, Alabama, États-Unis
農地や木材の土地に囲まれた国では、私の自宅のアパート。これは、南モンロー郡です。これは、クリークインディアンカジノの約17マイルのNです。町は周りアトモアとモンローです。クロード・ケリー州立公園があります。 12自由の下で。 1クイーンサイズのベッドが個室にあります。ソファはフルサイズではありませんが、小さな人には良いでしょう。ツインエアマットレス。お読みください...これはアパートではなく、ベッド&ブレックファーストです。あなたの食べウォルマートや他の店舗17マイルを持参してください。離れました。
これは、農業のエリアに位置私の家です。
Ronald's place was absolutely brilliant! He describes it as "no frills" but this is my no means an accurate description - everything is immaculately clean, most things appear brand new and the bed is super comfy! We are going back to stay for my birthday because we had such a relaxing time :) thanks, Ron!
Jennifer
2016-02-09T00:00:00Z
Very easy to communicate with and great hospitality! All you need from a fully stocked kitchen to dvds and games to the pool and hot tub(our faves)!! A beautiful, quiet get-away! We will definitely be back!
Melanie
2016-10-08T00:00:00Z
Ronald's place is a gem. Seriously. It's down a dirt road, there's not much around, and you really have no idea what to expect. We've been staying in Airbnbs for almost two weeks now, with a stop in a different city every night. Ronald's place was one of the best. It has absolutely everything you could need and is immaculate. Seriously, the place is cleaner than my own house! He's also a carpenter, and I didn't confirm with him, but I think he made most of the cabinetry and the furniture in the place. :) We had a lovely dip in the hot tub after we arrived, and the space was perfect for what we needed. The scenery is gorgeous, and you can watch cows graze on pasture while you do dishes. :)
Jessica
2016-12-13T00:00:00Z
The host was very polite and hospitable. The private apartment has a kitchen, full bathroom, bedroom and living room: all were very clean. A pool and hot tub are just outside. The country setting was peaceful, quiet, and comfortable. Sunsets and sunrises were unforgettable! Several towns are a short drive away. Pensacola, FL is a little over an hour away. Absolutely great!
Bradley
2015-09-02T00:00:00Z
The host made us very welcome. And had an interesting story about his family and the home and surroundings. The pool was great. For me, the very rural setting with cattle and corn fields etc. right next to the home property was wonderful. For some urban folks this may be both a great pleasure and a down side. Very interesting area of Alabama. Monroeville the home of "To Kill a Mockingbird" a novel by Harper Lee is nearby. The home itself and accommodations are typical farm house style. Very comfortable, but to most city dwellers sort of rustic.
Steve
2015-07-13T00:00:00Z
Now here is a man who takes pride in the quality and upkeep of his property! Perfectly comfortable and relaxing stay at Ronald's home. He was nice enough to even drain and fill the hot tub for this party of one!
Megan
2016-03-16T00:00:00Z
Ron really made us feel at home. He showed us the pool area and hot tub, and was readily available if needed. The apartment is a nice, quiet place along the backroads in Atmore. This was a nice change of pace for both of us after staying in busy cities our last few trips. The apartment itself has a homey feel to it, not too big or small. Perfect for a couple or a small family. I would definitely recommend staying at Ron's if you need to get away from it all for a few days or weeks :).
Christopher
2015-07-27T00:00:00Z
What a find! Ronald was a warm and welcoming host and we loved the country quiet of his apartment. The hot tub outside was a big bonus that we hadn't spotted on the listing. Shame we were just passing through as could have happily stayed for days.
Ben
2016-04-07T00:00:00Z
Type de logement
Logement entier
---
Type de propriété
Appartement
---
Capacité d'accueil
4
---
Chambres
Atmore, Alabama, États-Unis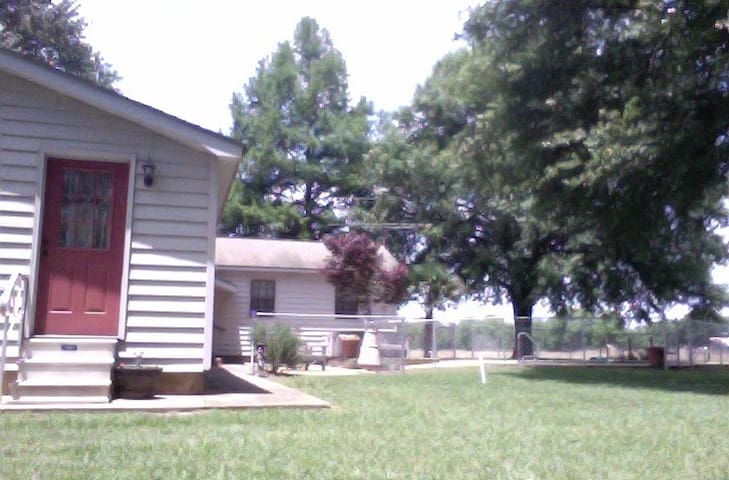 Type de logement
Logement entier
---
Type de propriété
Maison
---
Capacité d'accueil
6
---
Chambres
Grove Hill, Alabama, États-Unis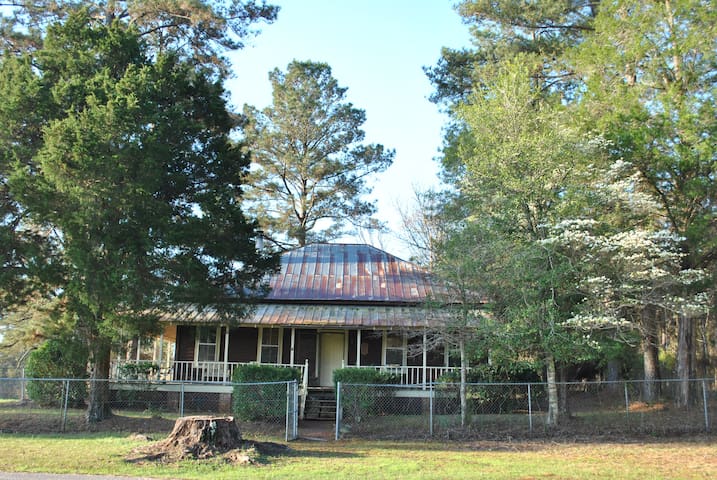 Our 1925 Bungalow is situated on a tree lined street among lovely historic homes. Upstairs are two bedrooms; one Queen and a twin, a private bath and large den with TV. We are walking distance to shops and restaurants. There is a pool to cool off and a screened room to enjoy coffee in the mornings and iced tea or wine at sunset. We are 2 hours from the gulf coast and Birmingham and just over 3 hours to Huntsville Space and Rocket Center and Atlanta, Ga. there is a walking/driving tour of our quaint town.
Old house charm in small southern town with historic appeal and private bedrooms, bath and den. Swimming pool, screened room, and large yard.
Beautiful homes, sidewalks, quiet and friendly neighbors and convenience to shops and restaurants. Outside garden parties may be arranged with two months to plan.
This was like staying with your mom who loves to spoil you. Jennie left us a welcome basket with some treats for our little boy. She made breakfast for us. We chatted over breakfast both (URL HIDDEN) husband loved her sausage and homemade muffins! They are such sweet and good people. We had a whole upstairs to ourselves and it was private. Our little boy was able to play with toys and roam free in the backyard. I highly recommend Jennie and Wayne's place. We plan to come back every year for the Alabama Medieval Faire.
Kyla
2017-03-19T00:00:00Z
This is a beautiful house in a beautiful neighborhood. The hosts were very gracious and helpful. We played golf on two days at the Robert Trent Jones Cambrian Ridge course, which is also very nice. Highly recommend both!
Charles
2017-04-02T00:00:00Z
Type de logement
Chambre privée
---
Type de propriété
Maison
---
Capacité d'accueil
4
---
Chambres
Greenville, Alabama, États-Unis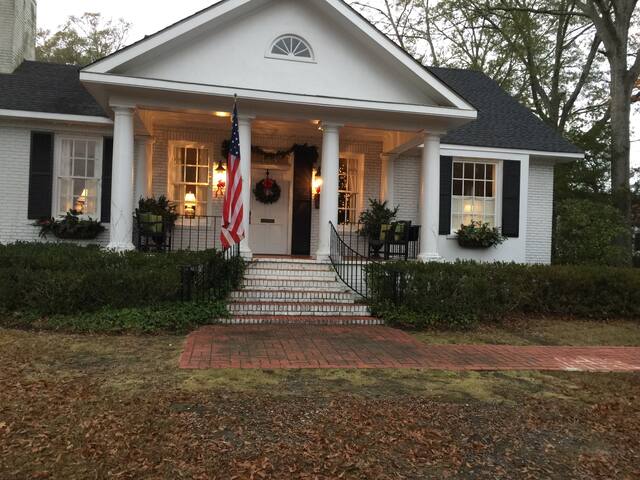 Saisissez les dates souhaitées pour connaître le prix total. Des frais supplémentaires s'appliquent et des taxes peuvent être ajoutées.