Saisissez la date d'arrivée au format jj/mm/aaaa
Saisissez la date de départ au format jj/mm/aaaa
Logements que vous pouvez réserver sans attendre l'approbation de l'hôte.
Saisissez les dates souhaitées pour connaître le prix total. Des frais supplémentaires s'appliquent et des taxes peuvent être ajoutées.
Cet été (juillet et août), vous pouvez essayer l'un de ces 100 logements les mieux notés, dans toutes les gammes de prix, pour découvrir Sonoma d'un point de vue local. Entrée dans les lieux 24h/24, réservation instantanée, mais aussi vin et petites spécialités locales à disposition… autant d'invitations à vous détendre et à profiter pleinement de votre voyage.
My place is close to great views and restaurants and dining. You'll love my place because of privacy, fenced yard, clean and cozy, front deck to have coffee or cocktails while enjoying the peaceful desert. It is just miles from Rhyolite ghost town, Death Valley, hot springs and more.. My place is good for couples, solo adventurers, business travelers, families (with kids), big groups, and furry friends (pets).
Our space is 8 miles to the entrance to Death Valley through Daylight Pass. You can enjoy breathtaking stargazing due to the lack of light pollution. It is quiet and peaceful, lending itself to walking, hiking and solitude. There is a large gravel parking area on the south side of the house. Entry is through the front (D Street entrance) entryway, apartment A. The lockbox is in the entryway. The front covered deck is shared, however, the back covered patio is for your use along with the fenced yard. If you need wheelchair access, we can make arrangements to assist you. The kitchen is fully-equipped for your use. Extra bedding and towels are in the bedroom closet. Let us know what we can do to make your stay better: we appreciate your feedback. We will be as responsive as possible: texting or emailing is the best way to get in touch with us. Unless there is an issue, we won't intrude on your privacy.
Our neighborhood is eclectic and peaceful. You will love that you can go for long walks at sunset or sunrise and have clean air, quiet, and little traffic. Be advised that there are wild burros that wander around town. They are harmless, but not very traffic-savvy and they don't wear reflectors, so be on the lookout! Personal vehicle, walking, bicycle, ATVs, golf carts and burros (if you can catch one)! Sadly, no taxis, uber, lyft or buses. If you are interested in a private, guided tour of Death Valley, including some local sights and spots that are not in guide books, please contact us to save 25% off due to our partnership with Death Valley Desert Tours. Dee Conton has wonderful full and half-day itineraries, and is a professional guide and native Nevadan. He will also customize your tour to see the sights that interest you most.
Type de logement
Logement entier
---
Type de propriété
---
Capacité d'accueil
5
---
Chambres
1
Beatty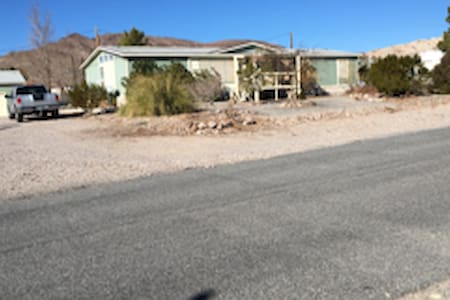 Our place is cozy, unique, clean and comfortable within walking distance to quaint downtown areas. You are welcome to build a fire and enjoy staying put to relax and stargaze. We offer guided private tours to our guests: please contact us for more information. We can also customize your tour with 4WD options! You receive a 25% discount.
Peaceful, tranquil getaway close to Death Valley National Park. Small, fully-equipped kitchen, bathroom, bedroom, living room and attached greenhouse on 2 acres of fenced property. Fire pit. We are promptly responsive, but respect privacy.
Eclectic, quiet, simple pleasures such as no traffic, desert strolls, stargazing and sitting outside by the fire. Private vehicle, walking or bicycle only-no public transportation. You will see locals on golf carts and ATVs. Internet will be available within the next few weeks, but is not here yet.
Tout était bien
clement
November 2016
Type de logement
Logement entier
---
Type de propriété
---
Capacité d'accueil
5
---
Chambres
1
Beatty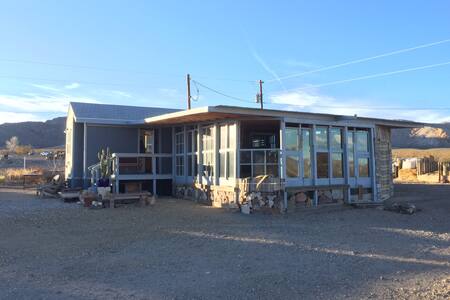 A little house deep in the desert. A wonderful design house in the middle of nowhere, 20 miles off the Death Valley National Park boundaries, with 80 acres of land and unobstructed views to the desert and the mountains. Weekly+ rentals preferred
The site is an isolated piece of land in the Nevada High Desert near Scotty's Junction and is far from any infrastructure or for that matter any neighbor. This vacation home in the middle of an isolated stretch of high desert, designed by Peter Strzebniok (nottoscale.com, San Francisco) incorporates the vistas by visually expanding into the surrounding landscape, providing stunning views, while also making the desert part of the interiors – merging the inside with the outside. The house itself measures 1,200 sf, has 3 bedrooms, two bathrooms, an office, a storage and utility room as well as a large open kitchen, dining room, living room area that can extend onto the deck when the large sliding doors are opened. A large 900 sf deck with a sunken-in hot tub connects the two building modules while creating a transition zone between the inside and outside that through the use of large full height glass sliding doors can be completely opened so that the outside and inside of the building seamlessly merge if one desires so. The building sits on a large concrete plinth elevating the building above the desert floor so that it appears to float above the ground while lifting it out of the flash-flood water level. Passive cooling concepts such as cross and stack ventilation, shading, building orientation were used throughout the project. The house is oriented in such a way as to take advantage of prevailing winds that, through cross and stack ventilation, maintain a comfortable temperature in the house, avoiding the need for an highly energy intensive air conditioning system. The windows facing south are shaded by the large trellis on the deck while all the bedroom windows are facing north in order to prevent heat-gain. The large crawlspace under the house double functions as storage space as well as a climate buffer as it is filled with gravel that helps to maintain a low average temperature below the house throughout the year. Enjoy! www.deathvalleyhouse.wordpress.com The house has a washing machine, a hot tub on the deck, a barbecue, a satellite wireless internet connection and a selection of books on Death Valley and the surrounding area, including guides and maps Contact via e-mail only, before and during the stay
Basically, this house is for desert lovers. If you are reading this listing, you already know what I mean. www.deathvalleyhouse.wordpress.com The main attraction is of course Death Valley National Park, the quintessential American desert. In the area there are a lot of ghost towns from the gold rush era, among them Rhyolite and Goldpoint. And if you travel further, you can approach the infamous Area 51... Minimum stay: 1 week. You are asked to carry your own sheets and towels.
This was an Airbnb experience to rival none other. Fabrizio was a charming and informative host.... always spurring his guests on to really take advantage of his wonderful abode so that they may relish their time and the house as much as he clearly does. Fabrizio's enthusiasm for the desert and the folklore/stories about the surrounding areas are evidenced in his exquisite library of books to both educate and entertain the inquisitive mind. What a magnificent stay. What a magnificent property. What a magnificent host. The sound of nothingness and the expansive horizons were bliss. I would return in a heartbeat.
Kim
April 2016
Type de logement
Logement entier
---
Type de propriété
---
Capacité d'accueil
6
---
Chambres
3
Beatty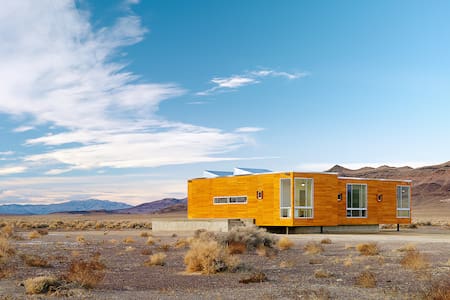 My place is close to family-friendly activities swimming, horse back rides(seasonal), golfing, hiking.. You'll love my place because of the location! I am located in the middle of the park, the views are amazing and star gazing is a must!. My place is good for couples, solo adventurers, families (with kids), and furry friends (pets).
Hank est vraiment un hôte extraordinaire !! Nous avons passé une agréable soirée avec lui, nous sommes allés manger ensemble au restaurant puis il nous a raconté des histoires et légendes sur death Valley, vraiment très intéressantes, et nous a même préparé un petit déjeuner avant de partir le lendemain ! C'était vraiment un plaisir de discuter avec lui, il nous a bien conseillé sur notre passage à la death valley ! Han est un hôte très chaleureux et généreux et la localisation est parfaite :) On recommande très fortement !
KEVIN
October 2016
Accueil sympathique. Hank s'est dévoué pour nous recevoir confortablement. Son perroquet a agréablement pimenté notre séjour. Une originale à recommander à Furnace Creek.
Jean-Jacques
September 2016
If you search for a common place with a common person, don't go. If you want to spend some time at an extrodinary place with a fascinating person, this is the place to go. We had a wonderful stay for one night and are glad we got to know Hank.
Sandra
October 2016
Hank was such a warm, inviting, and kind soul. He was all about having good conversation and making his guests feel right at home! We got the opportunity to hear about how his people came to this land, etc. along with other great stories about Death Valley. The stay was extremely cool!!! (Not literally, 112+ degrees... Bring sunscreen) His house was located in the middle of the desert in a reservation, and it was the perfect place to rest our heads during our travels! Upon entering Hank's air conditioned home, we were greeted by Bad bird and Puppet the dog... So cute! The animals made us feel right at home. Hank was kind enough to cook us both dinner and breakfast, which we thoroughly enjoyed! He was super helpful, nice, and a perfect host to interact with during a long 2 week road trip. It was nice getting to know him.... We truly wish Hank the best!
Katie
September 2016
Hank was a wonderful host. He kept in touch about our arrival and was there to greet us when we got there. He gave us tips on what to explore, told us stories about his people, and was very friendly and welcoming. He was upfront about the water issues he was currently experiencing but made sure we were comfortable and had what we needed. His place is in a perfect location for exploring Death Valley - only a 20-30 minute drive to Badwater and super close to the Furnace Creek Resort if you need anything or want to eat out. We very much enjoyed our stay with Hank and would highly recommend staying there if you're visiting Death Valley.
Catherine
December 2016
If you'd like to experience staying in an indian village in the middle of the desert with a native American then you should choose the Desert Fox Den at Hank's. He makes your stay a unicum. In the morning you get a lovely breakfast, other than you get at hotels. In the evening he made us Indian Tacos. Delicious!
Lieve
October 2016
Hank, his puppy and birdy are just a joy to be stay with. Hank is very friendly and helpful, we enjoyed dinner and breakfast he made for us. Don't miss his telescope as Death Valley is such a great place for star-gazing. We also enjoyed many Native American stories Hank shared with us. To make things better, we are allowed to use the ranch swimming pool and shower which was really nice. I would recommend Hank's place to anyone who is still hesitating. Expect to come back some time!
Yuming
October 2016
Hank received us very well but there was no water facility in the bathroom. Hank was asking us to try fix the water controller. Amenities should have been mentioned very clear on what we have and what we dont have. We ended up screwing our trip that night.
Anilkumar
December 2016
Type de logement
Chambre privée
---
Type de propriété
---
Capacité d'accueil
3
---
Chambres
1
Furnace Creek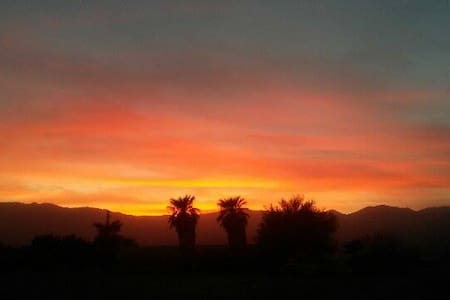 This experience is now fully booked! Thanks to all the Audi super fans out there - we only wish this desert home had space for all the enthusiasts who messaged us! Please note that there is no waiting list and should a guest cancel, we will revisit requests in the order of receipt. In the meantime, keep living to drive! Sincerely, Audi Concierge
Welcome to the ultimate full-throttle driving fantasy. An adrenaline fueled retreat, where you can live out your land speed dreams in the place where cars have come throughout history to prove their mettle – the dry lake beds of the American West. You are cordially invited to book a once in a lifetime experience that includes one day of driving - all under the masterful eye of some of our best driving instructors. This is, quite possibly, the world's fastest overnight in more ways than one: an Airbnb two night stay powered by the most powerful production model Audi has ever built – The Audi R8 V10 plus. With an engine and chassis derived 50% from the R8 LMS racecar, and a powerful 610-hp V10 that has the potential to hit 0-60 in a mere 3.2 seconds, the Audi R8 is one beautiful beast of engineering. And it's waiting for you on a remote stretch of land near Death Valley, Nevada, miles from anyone or anything. A home with no address, only coordinates on a map. But that's not all. That stunning, modern home you see behind the Audi R8 comes with the rental, and you'll have plenty of downtime at home to relax and take in the epic scenery.  Guests will receive the full Audi treatment from VIP transport, meals prepared by your own personal chef, and curated experiences such as stargazing.   Guests must also be able to stay during one of the following dates: Stay 1 (released 9/18): Oct 10, 2016 – Oct 12, 2016 Stay 2 (released 9/19) Oct 13, 2016 – Oct 15, 2016 Stay 3 (release 9/20) Oct 16, 2016 – Oct 18, 2016 Stay 4 (release 9/21) Oct 19, 2016 – Oct 21, 2016 Stay 5 (release 9/22) Oct 24, 2016 – Oct 26, 2016 Stay 6 (release 9/23) Oct 27, 2016 – Oct 29, 2016 Stay 7 (release 9/24) Oct 30, 2016 – Nov 1, 2016 The 3-day/2-night experience will begin with airport transportation from Las Vegas McCarran International Airport to the Airbnb property where you'll have the chance to relax for the evening while a private chef prepares dinner under the stars.  Day 2 will take you on and off the road in an Audi R8 with professional drivers along for the ride. On Day 3, as you head to the airport via chauffeur driver, you'll probably be wishing this stunning location was home. A concierge team will be on site to ensure your experience is going as planned.  They will be around to assist during the day but staying off-site at night.
An Audi Q7 will be provided for your everyday transportations needs during your time at the Airbnb property. Number of guests - The property has 3 bedrooms with 1 bed per room. Due to the nature of this experience, the max guests allowed for this stay is 4. Recommended number of guests: 3. Only seven packages are available, offer is limited, no rainchecks or substitutes will be provided.
Amazing location and house. Thank you Audi and Team for the wonderful experience. It has been the best vacation I have ever had yet. And the R8's were absolutely fantastic. Let's not forget the stars as well. I haven't seen a clearer sky and I still cannot shake the feeling of drifting in an R8. Looking forward to the next time :)
Bhargav
November 2016
You love Audi. You love R8. Let us think about your next short getaway. You rent a house on Airbnb. It's in the desert. Views are spectacular. It's remote. Outskirts of Death Valley National park. Its vacation, you don't want to worry about anything. Audi Concierge is there to make everything as comfortable and organized as you can possibly expect from 5-star experience. You are chauffeured to your house from Vegas. The chef is there to cook and serve your meals. These two professional drivers show up and have nice dinner with you. Next day they show up with two brand new Audi R8 V10. You go exploring Death Valley national park. Driving superb car on semi-deserted roads. Stopping every now and then to see the sights and have lunch. A professional photographer is along for the ride to document your experience. Amazing day already, right? But Audi wants to make it a little more exciting. They secure permits and set up a racecourse on a dry lakebed in Nevada desert. Why? Why not??? Why not take a 610HP supercar and see how fast you can get going on a 2-mile straight run? How about drifting? That should be fun, right? Let's do some of that too, while we are at it. It's all organized, safe and there are support crews and professional drivers to help you. What more can one wish for? Thank you Audi and Airbnb for an amazing, once-in-a-lifetime experience! #LiveToDrive
Yan
October 2016
This experience was nothing short of amazing. Our hosts pampered us like we were VIPs throughout our trip, and the house itself was beautiful (we'll miss those views). Driving the Audi R8s was thrilling to say the least, but it was much more than just experiencing the raw power of these vehicles. The adventure of driving through the desert, on winding roads and straightaways, is something our group will never forget.
Patrick
October 2016
Thank you Audi! Our stay was incredible, a dream come true. Our expectations were far exceeded. We are very lucky to have received this opportunity. We thoroughly enjoyed every minute of it. A big thank you to the Audi Concierge team and everyone else involved! #LiveToDrive #WantAnR8
Spenser
October 2016
One of the best experiences of my life. From start to end everything was well planned and taken care of. The location was great, I have never experienced such a remote location before and the star gazing at night was amazing. #LiveToDrive #WantAnR8
Derek
November 2016
Type de logement
Logement entier
---
Type de propriété
---
Capacité d'accueil
4
---
Chambres
3
Beatty