You'll love our place because of the coziness. Our place is good for couples, solo adventurers, business travelers, and families (with kids). Located half way between Manhattan, Kansas and Lincoln, Nebraska, Hanover is the home of the only unaltered Pony Express Station in the US. Consider our guesthouse your home away from home.
Love Love Love everything about staying at West Wing!!!! Barbara and Ray are the best hosts!!!! If you need anything they are very accomplishing. Very sweet people!!!
Vickie
2017-01-25T00:00:00Z
My friend and I stayed here on the last night of 10 day road trip. Barbara and Ray were great with us coming in late and Ray greeted us at the house and showed us around, then let us get settled in. There was juice and water in the fridge as well as eggs for breakfast. And a basket with bread, peanut butter, jelly and other snacks and coffee and hot cocoa mix. We got there late and had to leave pretty early, but the time we did spend there was great! The beds were very comfortable and the bathroom was clean and spacious. If I ever find myself in the area again, I would definitely stay here. Felt like home!
Allison
2017-03-26T00:00:00Z
Excellent place to stay. Feels just like home. The host and hostess are wonderful people.
Vickie
2016-11-10T00:00:00Z
Great experience! Very clean and super sweet hosts. Looking forward to our next stay.
Ann
2016-12-29T00:00:00Z
The hosts were great! My fiancé and I arrived really late but they gave us easy to follow instructions on how to get in and it was stocked with everything we'd need!
Aunica
2016-12-02T00:00:00Z
The West Wing is a comfy cozy home away from home. The hosts have equipped the house well. Comfortable beds, plush towels/linens, and a well stocked kitchen. Thanks again!
Benita
2017-01-14T00:00:00Z
Type de logement
Logement entier
---
Type de propriété
Chambre d'hôtes
---
Capacité d'accueil
6
---
Chambres
Hanovre, Kansas, États-Unis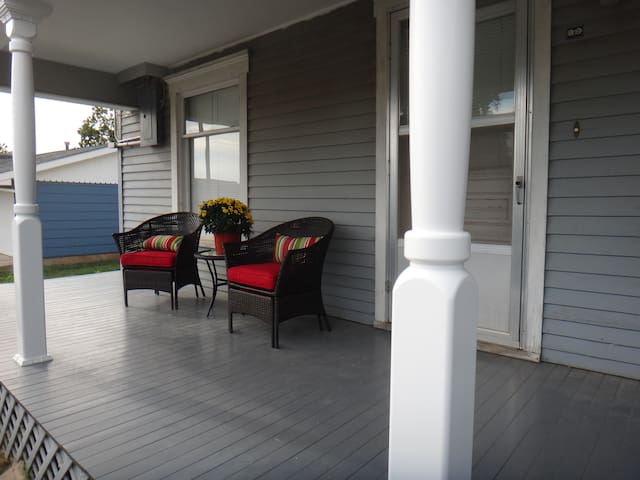 Vous cherchez une cabine intime de sortir par le lac pour une partie de pêche, la natation ou le kayak? Vous voulez rester la nuit pour un jeu K-State Football, ou participer à des activités à Manhattan, Kansas? Ensuite, vous avez trouvé un bon endroit pour séjourner. Bien que j'encourage l'amusement et des jeux, mon quartier est calme, axée sur la famille et à environ 25 minutes à l'extérieur de la ville. Je ne permets pas fumer à l'intérieur de la maison, et même si je suis les animaux de compagnie, je vous demanderais de me faire savoir que vous apportez un animal pour le voyage!
J'ai une petite cabine, située à l'extérieur des limites de la ville. Juste un demi-mile à pied de Tuttle Creek Lake, et 25 minutes de limites de la ville de Manhattan.
University Park a une super ambiance, est idéal pour les visiteurs uniques, les petits groupes et les familles.
Autumn's house was perfect for our needs and a great price. Cozy and comfortable. She even left snacks and a couple of tennis balls for our pups.
Rachel
2016-11-27T00:00:00Z
Great stay!
Carrie
2017-03-01T00:00:00Z
Great place to stay to get away from the city lights! Autumn is a great host also. I would recommend this place to all.
Carrie
2016-12-30T00:00:00Z
Type de logement
Logement entier
---
Type de propriété
Maison
---
Capacité d'accueil
4
---
Chambres
Manhattan, Kansas, États-Unis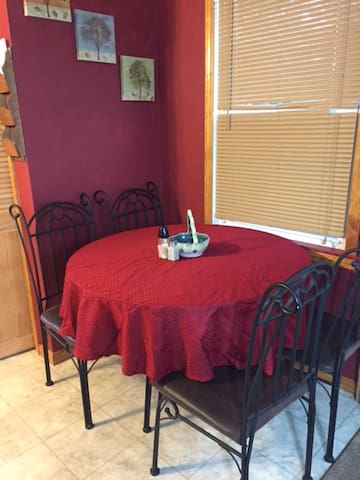 Mary was a prefect hostess. She was flexible with our check in and check out even leaving her store on Main Street during a busy time to greet us and give us a tour of her amazing home. The place is very well kept and within 2 blocks from the main downtown. We had a good night sleep and are grateful to Mary for her hospitality.
Penny & Phil
2016-06-06T00:00:00Z
Mary's house is beautiful, spacious, cozy, and well located if you are driving halfway across Kansas and need a genuine oasis on a Sunday evening. I was a bit late getting to Mary's, and all the restaurants in town were closed. Without batting an eye she offered me leftover roast beef and vegetables that she had just put in the fridge. YUM. She hung out and we chatted while I ate and had a great time. It wasn't long before it was revealed that she had made four dozen cookies that day and a plate of them appeared. YUM again.
Joe
2016-11-14T00:00:00Z
Mary was an excellent host, very welcoming. Any time you are in the area plan to stay here.
Paul
2016-08-21T00:00:00Z
The listing, photos and description were exactly as posted in listing. Mary is a wonderful gracious host. She knows the community well and had great recommendations for the area. She makes the most yummiest fresh bread, oh my. We even played a card game with her and some family members. Wonderful stay and wonderful meeting Mary and exploring the area. Bed was super comfy and the nightfall is so very quiet and peaceful in this town, so we slept very soundly.
sheri
2016-05-09T00:00:00Z
Mary was an excellent host, and her home was comfortable and spacious. Her and Michael were good company for conversation, and privacy was always given when wanted. The room was clean, the bed comfortable, and sleep was peaceful. Thanks to her water recirculation system, showers were instantly hot and refreshing, and plenty of towels were provided. Parking was always available curbside, and her home was located centrally in Marysville for easy access to local businesses. I wouldn't hesitate to stay here again in the future for any visit to Kansas. She was truly a warm and kind host, and happy to share her home with guests; I am very grateful for the experience.
Greg
2016-11-13T00:00:00Z
Type de logement
Chambre privée
---
Type de propriété
Maison
---
Capacité d'accueil
2
---
Chambres
Marysville, Kansas, États-Unis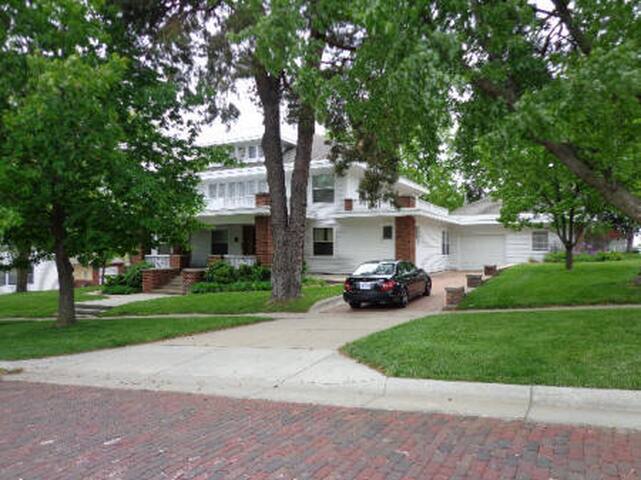 leah is a very available and very dedicated host. she cooked us cookies when we arrived and many other delicate attentions. we have not had the opportunity to meet her but she was very available by text and met all our expectations. the place is a little small for 3 better for 2. the room located above a nursery Child. possible to cook but no table to eat. Place very quiet and original. the bathroom needs a renovation.
Eric
2016-08-28T00:00:00Z
Type de logement
Chambre privée
---
Type de propriété
Loft
---
Capacité d'accueil
2
---
Chambres
Scandia, Kansas, États-Unis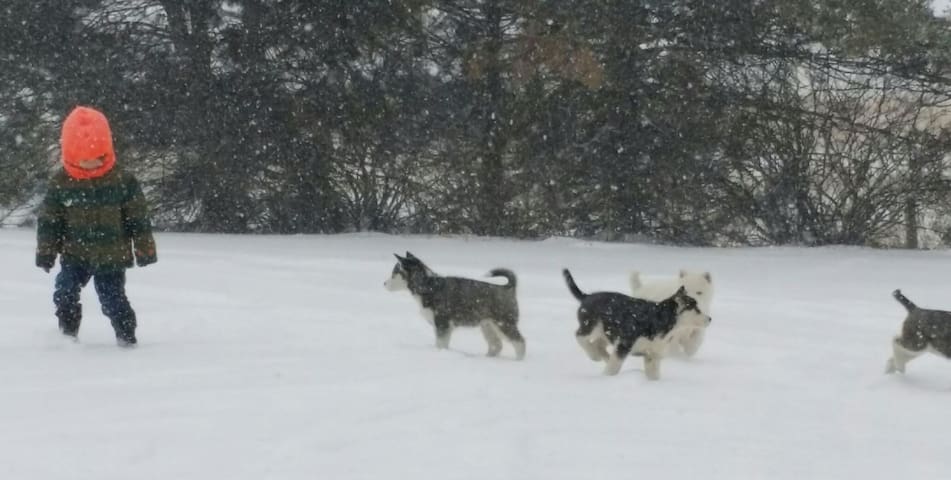 Mary made me feel right at home. I was late on arrival but everything was good. The house is worth the stay if you're looking for that old town charm. Wish I could have stayed one more day. The room was clean and the bed was comfortable. I missed the local diner and Mary even asked to make me a sandwitch. What more can you ask for. Would definitely stay again.
Mike
2016-10-20T00:00:00Z
Our one night stay at the House on the Hill was very pleasant and restful. Mary is a very congenial and gracious host. We were greeted with cookies warm from the oven and delighted in being allowed to take her sweet pooch for a walk. After a great dinner at the Wagon Wheel we spent the evening chatting with Mary around her fire pit. Her house is large and we were welcome to make use of the different areas.
Ronna
2016-04-21T00:00:00Z
Mary's House on the Hill is like stepping back 100 years into the past, while still retaining all the modern conveniences like indoor plumbing. The house has been updated while staying true to its heritage. The details such as wallpaper, oak floors, and door frames are gorgeous. Our room was spacious and the bed was very comfortable. Mary and son Michael were perfect hosts--helping us when we needed it, but living their lives as we got on with our task at hand, which was research. Their little Yorkie named Teddy was a delight, loved attention but was pretty unobtrusive otherwise. We would love to stay here again.
Donna
2016-06-26T00:00:00Z
Mary Was very accommodating, I got in late around eight thirty, And she was nice enough to let me watch the cubs win the World Series :) Slept like a baby after that, very comfortable bed although I don't think anyone taller than myself would fit very well, but at 6 1, I was just fine.
Jc
2016-11-03T00:00:00Z
Very comfortable and welcoming. We will definitely stay here again.
Joanne
2016-09-14T00:00:00Z
My husband and I really enjoyed our stay there.
Kayla
2016-08-06T00:00:00Z
Mary's was so easy to fine and very convenient for our trip. The lovely old neighborhood was quiet and welcoming.
Joanne
2016-09-21T00:00:00Z
Great house, very clean, hard wood floors, great soft bed, communal game room with tv, couch & pool table. Shower is hot. Overall a great stay. Mary seems more than willing to accommodate any need you might have. Thanks for the great stay!
Will
2016-11-08T00:00:00Z
Type de logement
Chambre privée
---
Type de propriété
Maison
---
Capacité d'accueil
2
---
Chambres
Marysville, Kansas, États-Unis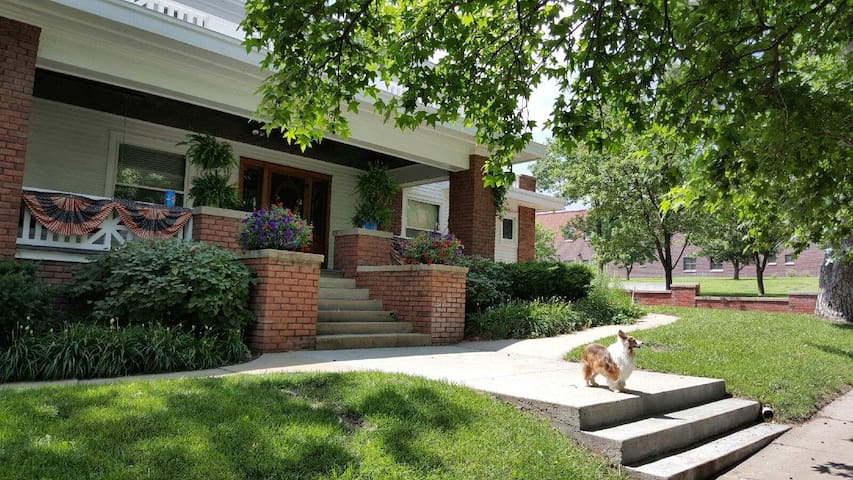 Situado en el centro de Fairbury, Fairbury Executive Suites ofrece habitaciones completamente amuebladas, apartamentos de uno y dos dormitorios para los huéspedes por noche, semana y de estancias prolongadas. Cada unidad tiene de estar independiente y áreas de dormir, una cocina totalmente equipada, TV por cable, internet.
Fairbury Executive Suites was a wonderful place to stay while visiting Fairbury, NE and surrounding attractions! The room was spacious, clean, modern and welcoming. There was everything we needed for a great stay, including wine glasses and a corker. I would absolutely stay again!
Sarah
2016-06-14T00:00:00Z
Totally a great experience. I recommend the Fairbury executive suites.
Tim
2015-10-12T00:00:00Z
We greatly enjoyed our stay in our suite in the house on 6th Street in Fairbury. It was very clean and comfortable. We appreciate the care and good taste with which this great old home was refurbished. We enjoyed meeting the hostess, who was so nice and welcoming. The cookies she left for us topped off a great evening. Thanks for a unique experience.
James
2017-03-12T00:00:00Z
Type de logement
Logement entier
---
Type de propriété
Appartement
---
Capacité d'accueil
2
---
Chambres
Fairbury, Nebraska, États-Unis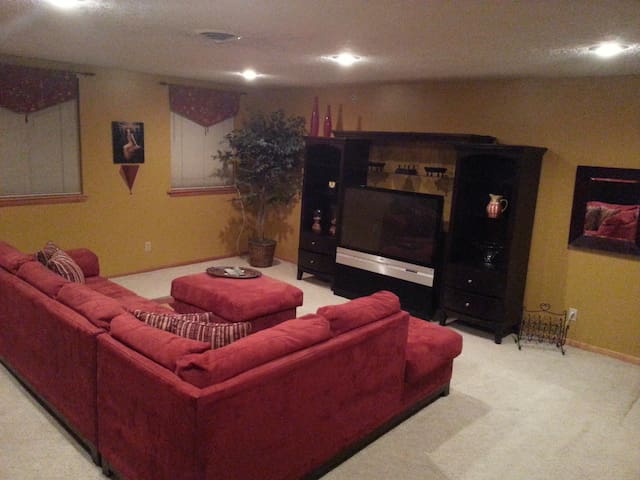 Clifton - Airbnb
:
Moyenne de

4.84

sur

5

étoiles sur les

31

commentaires des voyageurs
Saisissez les dates souhaitées pour connaître le prix total. Des frais supplémentaires s'appliquent et des taxes peuvent être ajoutées.