Saisissez la date d'arrivée au format jj/mm/aaaa
Saisissez la date de départ au format jj/mm/aaaa
Logements que vous pouvez réserver sans attendre l'approbation de l'hôte.
Saisissez les dates souhaitées pour connaître le prix total. Des frais supplémentaires s'appliquent et des taxes peuvent être ajoutées.
Cet été (juillet et août), vous pouvez essayer l'un de ces 100 logements les mieux notés, dans toutes les gammes de prix, pour découvrir Sonoma d'un point de vue local. Entrée dans les lieux 24h/24, réservation instantanée, mais aussi vin et petites spécialités locales à disposition… autant d'invitations à vous détendre et à profiter pleinement de votre voyage.
The Grand Motor Inn Restaurant & Lounge is located in Deming, New Mexico. The Grand Hotel is a full service hotel offering comfortable accommodations, fine dining, fancy lounge and a large swimming pool.
The Grand Motor Inn Restaurant & Lounge is located in Deming, New Mexico. The Grand Hotel is a full service hotel offering comfortable accommodations, fine dining, fancy lounge and a large swimming pool.
The place was very clean and the staff was friendly. Much nicer than expected for the price. The bed was hard and lumpy, but everything was clean, tidy, and in good repair. This is the place to stay when passing through Deming.
Lori
January 2016
Very clean, comfortable and nice place to stay. The staff in both the hotel and restaurant were superb. They treated us like family.
Debra
August 2015
It was the only time I used AirBnb to stay in a hotel, but it was all right.
Ken
December 2015
The hotel was a short little drive from the highway, and was cute. The staff was extremely friendly. The room itself left something to be desired, as there seemed to be fried chicken crumbs on the freshly made bed, but this was forgiven due to the price of the room and the convenience. I would recommend this place if you are driving through the area and need a place to crash, just dont set the bar too high ;)
Ashley
August 2015
Front desk personal was polite and quickly gave us our room key.This is an older hotel. Built in the 1060's. I really liked the age of the place and decor. The room was tidy. Carpets were old and stained. Bathroom floor was mopped but numerous amount of hair was still all over the floor. Counter and sink are update in granet. Nice mid-size flat screen T.v. and mini frig. No coffee maker in room and they have a connected restaurant. We did not eat there next morning as we had an early morning funeral to attend. Pool out front which my grandson and daughter used. Best of all was the price of this place. I would stay here again because of the price,hotel,location and next time I would like to try the connected restaurant. Maybe a new mop would solve the hair problem in the bathroom. Thank you.
Twyla
June 2016
The place is ok. The only thing no good is the smelling of the room.
YUWEI
July 2015
Chris was punctual with responses. Friendly and hospitable. Very satisfied with our stay. Comfortable mattress. Will stay here again anytime we stop in Deming.
Paul
July 2016
From the moment we walked through the door we were made very welcome. Everything was ready for us, the room was clean and well presented, and they allowed us to keep our bicycles in the meeting room. The restaurant is open all day and is well run and the staff were great.
Steven
April 2016
Type de logement
Chambre privée
---
Type de propriété
---
Capacité d'accueil
4
---
Chambres
1
Deming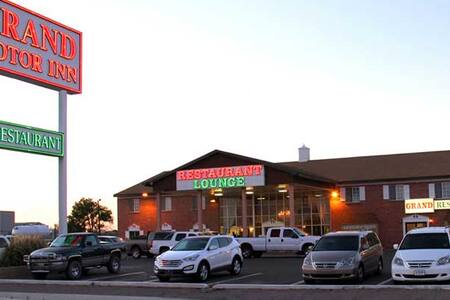 This private, unique cabin is situated on a small working ranch sixteen miles east of Deming. The cabin has beautiful views of Cooke's Peak and the Little Florida range. It's an ideal weekend destination, overnight stopover or artist retreat. Relaxing, inspirational and motivational atmosphere for everyone to enjoy.
The cabin is located on our LazyKo Ranch and situated with beautiful views of Cooke's Peak and the Little Florida range. The cabin is an airy, lofted, 400 sq. foot private space. It's warm and inviting with it's wood paneling and ceramic tile floor. There are lots of wall sconces and a beautiful copper light and fan fixture in the center area to provide soft, relaxing lighting. The cabin is decorated primarily in a Southwest style along with some of our eclectic collection of Kachina's and a 1950's pinball machine. The bathroom is separate, but just feet, from the cabin. It's paneled and tiled like the cabin with lots of mirrors and lights and a large central ceiling fan. A new, large shower stall was recently added and there is lots of hot water available. We supply all the amenities you may need such as fresh towels, shampoo, conditioner, bath wash and bar soap and a hair dryer. A new gel infused memory foam Queen bed provides a restful night's sleep. Bedding is always fresh and an electric blanket is available for those colder winter nights. Just added is a twin size air bed suitable for children or adults as well as an additional twin bed in the loft (note: for everyone's safety must be 10 and older to stay in the loft which gives an extra twin bed so 4 could stay. The loft has only a 3 ft head clearance. The downstairs is no problem for all ages there are 2 beds downstairs.). With both a separate heater and electric fireplace, central ceiling circulating fan, and window air conditioner, the cabin should always be comfortable no matter what the weather is. A high-definition 48" flat screen television and separate sound system provide entertainment as well as a DVD player. Wi-fi is also provided along with a desk for your laptop or tablet. A beverage refrigerator is stocked with a variety of water and cold drinks for our guests enjoyment. A Kuerig machine is available and stocked with a variety of coffee and teas. The cabin also has a large microwave for those needing one. We are pet-friendly and welcome our four-legged guests. We also offer a unique service for those traveling with horses, mules and donkeys. Six large paddocks are available for those animals for a small additional charge. Getting to the LazyKo is easy on a paved road with easy on off access to I-10 east or west without adding distance to your trip. We are on old State Highway 549, used before I-10 was built. Excellent restaurants are 3.5 miles (Akela) and 5.5 miles (Adobe Deli) away. Deming is 15 miles from the LazyKo with many restaurants and shopping to choose from. Our circular drive provides easy turn around for trucks and RVs as well as horse trailers of any size. There is plenty of parking space. Guests are able to access most parts of the property for enjoyable walks and access to our friendly animals. There is a 30 x 75 ft pet run for your pets as well. There are nineteen fenced acres and a gate to over 700 more acres, but not all is accessible due to thick areas of Mesquite. Whether you want to explore the Deming area or just relax on our ranch, we welcome the opportunity to make your visit the best experience we can. The cabin is very private but guests are always welcome to interact while we feed and take care of the various flocks and herds! We welcome the opportunity to share the rich old Southwest history of the Indian wars in this area. The LazyKo is located within a few miles of the deadliest part of the Overland Trail. We can help you plan day trips to historical sites as well as several state parks. There is a bird watching area that is rich in many species of birds. The area is rich in things to do but at the same time is very laid back for those just wanting to relax and unwind. For those that are creative, the LazyKo and surrounding area can be very inspirational for photographers and artists.
Located on State Highway 549, the Old Las Cruces Highway, we are easy to find at mile marker 12, with easy on and off East-West access to and from I-10, without adding distance to your trip. We are close to Adobe Deli (3.5 miles) and St. Clair Winery (8 miles) and Deming has lots of restaurant's to choose from. We are close to Rockhound State Park (16 miles) and Western enthusiast's will love the Luna County-Mimbres Museum (15 miles) in Deming. City of Rocks State Park and Silver City are nearby for a great day trip. Steeped in the history of the Old West are Cooke's Canyon (Massacre Canyon) and Fort Cummings (25 miles). South of our ranch finds Columbus, NM, Pancho Villa State Park and Palomas, Mexico. When in Palomas, shopping and lunch at The Pink Store is a must (great restaurant and shopping in 1 building). You park on the US side and walk a block to the store or we can call ahead and they will pick you up in a golf cart and bring you back, ask for details on travel to Mexico. We also have a small country style store on the property offering distinctive gifts and collectables and hand-crafted designer pet beds and pet toys made here on the LazyKo. We are known in the area for our excellent eggs. We have ample areas to park whether you are traveling by car, moving van, RV, or towing a horse trailer. Our circular drive allows even the longest truck and trailer easy egress with no backing up necessary. A vehicle is necessary to get around for dining or sight-seeing. Our main "crop" is fresh, free-range eggs from our three flocks of Heritage breed chickens. Our focus has been on rescuing both horses and donkeys over the years and we currently have a herd of seven donkeys, five horses, one elderly pony and five goats living on the property. During the day our animals provide lots of opportunities to interact with them and they love visitors. A unique dining experience is just down the road at The Adobe Deli Steakhouse. St. Clair Winery is about eight miles West from us and is open daily for tastings and sales. Two rockers on the cabin porch provide a relaxing way to watch the sunset over Cooke's Peak or star-gaze later on while enjoying the star filled night. Excellent star gazing with very low light pollution where the ranch is located.
Linda and Harold's place was an absolute delight after a long day on the road. The cabin is so cozy and warm with a comfortable bed and huge TV. The bathroom is impeccable and just as warm, and their ranch is a dream. We were able to warm our soup in the microwave for dinner and get a great night of sleep, then wake up and feed the friendly rescues in the morning with Harold. Thank you so much for your hospitality! We can't wait to stop by again and tell our friends and family about this lovely spot.
Natalia and Michael
December 2016
I was worried it would be hard to find; it was not. Very accessible from I-10 and Harold met me at the gate. Very clean, incredibly comfortable bed, wifi and TV available, drinks, snacks, and toiletries provided. Harold was a very excellent host!
Caroline
January 2017
Staying with Harold and Linda was one of the most unique and wonderful Airbnb experiences I've ever had! The cabin is clean, new, and private. They are very knowledgeable about the area and being around the farm animals was awesome. I absolutely recommend staying with Harold and Linda!!
Jamie
June 2016
We got through a tiring day at the white sands national monument, night fell and we needed a nice place to stay with our dog to rest up for the Faywood hot springs the next day. Harold to the rescue! After a very quick response, Harold awaited us at the gate of the property. We settled into the clean, cozy cottage feeling cared for. The next day we said hello to the horses (all rescues) and said goodbye to our gracious hosts. In sum a great place stay with some very kind people.
ALBERTO
December 2016
This was my second stay in a month, if that tells you what I think of this place. The perfect stopover on long/short road trips and the hosts are as nice as they come. Harold and Linda are making are always eager to please and it shows with the thought put into the cabin, the bed and sheets, the rocking chairs out front and the complimentary snacks and drinks. I also learned that they opened the place up for others to help care for the many AMAZING donkeys, horses, goats and miniature ponies on site....They're hosts with a huge heart and an amazing cabin!
Taryn
June 2016
Couldn't ask for a better place to stay. Linda and Harold were super communicative prior to our stay and provided great directions. Place is as described and couldn't have been cleaner. Great hosts and a great setting means I'll be back there if I'm ever through town again.
Brian
December 2016
Harold was so kind and welcoming, and very communicative. The cabin was lovely and very clean and the area is very pretty. The fridge with cold drinks was a godsend as I had been driving for 14 hours and was in desperate need of rehydration! I wish I could have stayed longer and look forward to hopefully staying again!
Breanne
August 2016
Most fun airbnb I've stayed at to date! Loved everything. I didn't get a chance to meet Linda but Harold was fantastic. Had a great time feeding the donkeys and horses. Would love to come back!
Mary
November 2016
Type de logement
Logement entier
---
Type de propriété
---
Capacité d'accueil
3
---
Chambres
1
Deming
Newly remodeled, two bedroom, brick cottage with a spacious, open great room which combines living, dining and kitchen areas. Located on a quiet, tree-lined street, there is a cactus garden in front. Small patio has a table for two. The cozy house is filled with color and art.
This charming, brick home has just been completely remodeled: new floors, new paint, new windows and is ready for visitors. Guests will have access to the entire home except for one corner room which is a workshop for the owner. It has a separate door. Polly and Peter Edmunds, the owners, live next door and will be available if there are any problems but also to advise you about local attractions, if you wish. Avid hikers, they have been exploring the trails in the mountains in the surrounding area for ten years and love to share their knowledge. They are also very familiar with Puerto Palomas, the small town just 30 miles south of Deming across the Mexican border. They can advise you about visiting. Some people may be interested in learning about Border Partners, the organization they founded to assist people in Palomas to improve their lives.
Deming, NM is a small town with a mild, sunny climate and a Mexican flavor! Surrounded by mountains and only an hour from the Gila Wilderness, it offers hikers and birders access to hundreds of miles of quiet mountain trails to explore just a short drive away. You can even find petroglyphs, those remnants of ancient people who lived in the area. Silver City is an hour north and is a gateway city for the Continental Divide Trail. Three NM State parks are within an hour of Deming. Pancho Villa Park is known as an excellent birding spot in the winter months. It's ok to take rocks you find home with you from Rockhound Park! At City of Rocks, you'll marvel at the huge boulders left by a volcano in the middle of the desert. Deming has a renowned historical museum that never fails to amaze visitors with the scope of it's collection. There's a community art center too with a new exhibit each month of work from local artists. And, of course, you'll enjoy lots of Mexican specialities at local restaurants! If you want to actually eat in Mexico, there are several good cafes 30 miles south - just across the border. You may come to have dental work done in Mexico where you can save money on high quality care - or to buy medications. That is a good way to save money. Just off I-10, Deming is a great place to stop for a night on a long trip or for an extended stay to explore local sights.
Polly and Peter are wonderful hosts! They made us feel welcome and made sure we have everything we needed. The home is lovely, light and bright and cheerful with beautiful art on the walls. We appreciated the comfortable beds, well-stocked kitchen, fresh fruit on the kitchen table and our own parking spot in front of the house. We also extended our stay another night...wish we could stay longer! Thanks so much for having us, Polly and Peter!
Myr
December 2016
Polly stayed in communication with us and had the place ready even though we were early. She greeted us and gave us local information and newspapers articles for the event we attended. She stocked the cottage with as sundries and fruit. Her wifi was a little weak in the cottage, so she invited us into her home to use it there. We loved the great room and the queen bed, as well as the quiet neighborhood. The smaller twin bed worked for us, but barely -- it's only suitable for adults under 5'10 and 200lbs imo. We recommended that she switch it for a regular twin or advertise it for children or young teens. Overall a great place to stay in Demming, NM.
Bud
March 2016
Polly and her husband were very hospitable, even assisting us with an unexpected circumstance in our travel plans. The house is very comfortable and tastefully decorated. We would have enjoyed several more days there if our schedule allowed. The town of Deming and the surrounding area have much to explore.
Kristin
May 2016
Type de logement
Logement entier
---
Type de propriété
---
Capacité d'accueil
3
---
Chambres
2
Deming
This newly remodelled home is in the heart of Deming. The backyard houses a beautiful yard, sprawling home layout with all new appliances and everything you need to luxuriously enjoy your stay, for a few days, weeks or month.
The house is really comfortable and warm. We have total 10 friends come to visit and stay. Everything you can think about, Jennifer's house does offer!! We really appreciate that Jennifer offers such a great place for us to stay. Jennifer texted me and asked everything is OK while staying. It is really sweet. There is a bath salts jug in the bathroom, and my husband really enjoyed it. Everyone is happy that we got a nice house to stay!
YI HUI
December 2015
Type de logement
Logement entier
---
Type de propriété
---
Capacité d'accueil
8
---
Chambres
3
Deming
You are in a private area away from our house by the horse and donkey paddocks. The Ranch RV is a new 2017 34 foot RV with 2 bedrooms. You experience roughing it without ROUGHING it... A camping trip without the hassles of driving there. Come enjoy the rescued horses, donkeys and goats as well as the chickens on the ranch. Plenty of wildlife to see: Hawks, Owls, Coyotes, Doves, Quail, Roadrunner, rabbits both cotton tail and Jack. The RV will provide a restful unwind from a long day on the road.
Type de logement
Logement entier
---
Type de propriété
---
Capacité d'accueil
5
---
Chambres
2
Deming
My place is close to family-friendly activities, and 3 miles from Palomas. You'll love my place because of the comfy bed and the ambiance. My place is good for couples, solo adventurers, business travelers, families (with kids), and big groups.
Awesome place
Ariel
January 2017
Type de logement
Chambre privée
---
Type de propriété
---
Capacité d'accueil
4
---
Chambres
1
Columbus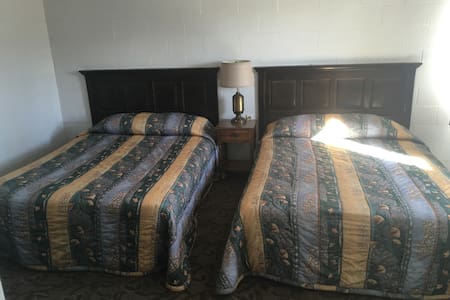 We are a boutique hotel on the Mexican border across from Palomas, Mexico. One of the important reasons we are here is to help people have a wonderful experience visiting the historic locations in Mexico or a visit for Medical Tourism in Palomas.
Type de logement
Chambre privée
---
Type de propriété
---
Capacité d'accueil
4
---
Chambres
1
Columbus