Our home is close to Chuckwalla Valley Raceway, the airport, great views and golf course. You'll love our place because of the outdoors space, the neighborhood, the comfy bed, the kitchen and the light. Our place is good for couples, solo adventurers and business travelers. Community heated salt water pool, spa clubhouse with pool table.
Recently remolded 2 br 1 ba 762 sq ft manufactured home with new wood laminated flooring. This is one of the nicest homes in the community with a large 400 st ft covered patio, gas BBQ bar, dining table and outside seating. 42" LCD TV with Direct TV, ESPN NFL limited wifi access we tether our phone for internet. Queen bed with 3" memory foam topper in master bedroom. Second bedroom is small with twin bed, bathroom is shower only. There is also a clean bathroom with showers at the clubhouse that is only a short 250' walk.
This is a 55 and older community, friendly neighbors, 9 hole golf course, heated warm pool, spa, horse shoes, hold em poker tournaments at the clubhouse on Wednesdays. There are two catch and release lakes to fish in and great walking trail around the lakes. There is a Library that has a great selection of books and dvds for free usage. Community Fire Department next to Library for your safety.
Close to Chuckwalla. Great place to stay if you are going to race.
Luke
2017-02-19T00:00:00Z
Super clean, excellent hosts. Very close to chuckwalla raceway
thomas
2016-12-04T00:00:00Z
Very convenient to Joshua Tree, we we're rock climbing so this was a very comfortable place to cook and rest. Very quiet community. Highly Recommend.
jb
2017-01-22T00:00:00Z
Stayed there for a track day at Chuckwalla Valley Raceway. Can't beat the location (10 minutes from the track). Would definitely stay there again.
Tim
2017-02-12T00:00:00Z
This was a great home to stay in! We had a race event at Chuckawalla Valley Raceway over the weekend. This was great because when my daughter would be tired from the track she could go back and rest up and get away from the heat. The home is only 13min away from the raceway so that really nice. Will definitely be contacting Tom again when my family and I come out to Chuckawalla Valley Raceway again.
Eugene
2017-04-02T00:00:00Z
Perfect location for me, as my intention was to just stay as close as possible to Joshua Tree National Park without breaking the wallet! It was clean, quite, and roomy! Not a place to party in my opinion - it's a lovely quiet community!
Bill
2017-01-01T00:00:00Z
I highly recommend this place at the Oasis resort in Desert Center. It's perfect for a short stay and comfortable for 6 people. The amenities are wonderful, with a large patio and BBQ grill, A/C, full kitchen and Fridge. On site is a 9 hole golf course and swimming pool.
Ness
2017-03-19T00:00:00Z
Type de logement
Logement entier
---
Type de propriété
Maison
---
Capacité d'accueil
4
---
Chambres
Desert Center, Californie, États-Unis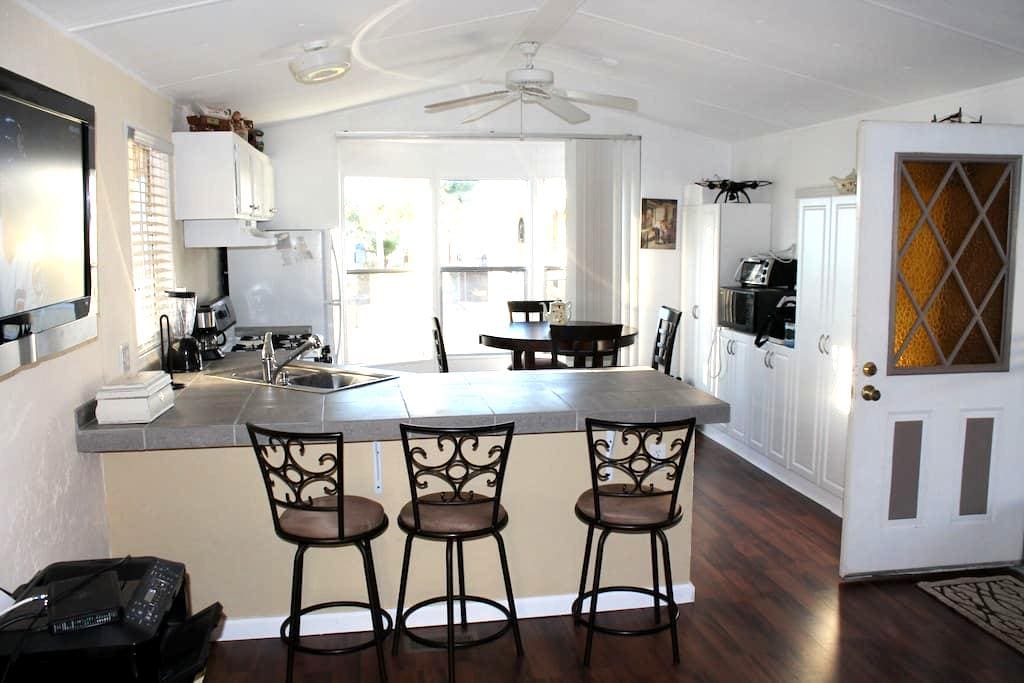 10 acres of land in Imperial county California. Near hot springs - Bashford's Hot Mineral Spa and Fountain of Youth Spa RV Resort. Park your RV or van and boondock as long as you want.
This property is perfect for a quiet and secluded camping weekend. We enjoyed the silence and seeing all the stars in the sky! Andrei was great at communicating where to find the site. We would love to stay here again soon!
Ann
2017-01-22T00:00:00Z
Type de logement
Logement entier
---
Type de propriété
Autre
---
Capacité d'accueil
10
---
Chambres
Niland, Californie, États-Unis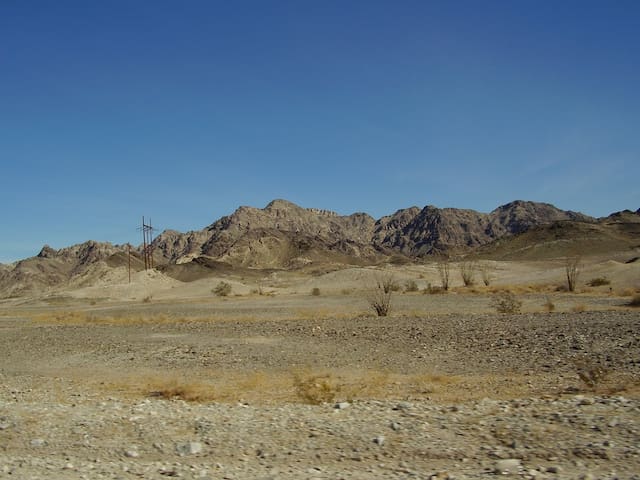 A kitsch haven in what can only be described as the coolest, weirdest town in America. 5 blocks from the Salton Sea, on the desert side of Bombay. This former family home is complete with everything you might need for exploring the Salton Sea and Imperial Valley, Salvation Mountain and Slab City. The town, the house and the sea are a photographer's dream. This is a great base from which to explore eccentric nearby sites such as Salvation Mountain and Slab City.Made up of a square mile grid of paved streets, the majority of the residents live in eclectic mobile homes. There is a small corner market, 2 bars, bait shop, volunteer fire station, an unmarked motel, and the flooded ruins of a once prosperous fishing mecca.Without a gas station, and the nearest one 20 miles away, most people rely on electrical golf carts to get around town. The house is completely air-conditioned throughout and has a fun, Americana vibe, filled with metal-printed prints by the owner, a photographer. The house features wood-paneling throughout, an open-plan living area, with comfy sofa-bed and TV. Dining area and kitchen, with TV. Office space with two desks. Cosy bedroom and covered outdoor living space. lots of closet space throughout. Set in a big lot, completely enclosed all-around and very secure. Lots of on-site parking and room for pets. A unique space in a unique place! Please contact us with any questions at all.
My escape to Bombay Beach was just what I needed to get out of San Diego for Spring Break! It was unseasonably warm already (high 90s) but the house cooled off nicely. It was much larger than I expected--plenty of room for a group. The desert view and the trains provided awesome scenery as well. I enjoyed it so much I arranged to stay an extra day!
Laura
2015-04-02T00:00:00Z
Bombay Beach was definitely a weird and interesting place. The people are very talkative, and it was an experience. The house itself was nice. Spacious, comfy bed. Just beware if you are really tall, as there are low ceilings, especially in the shower. I would stay here again.
Shaun
2014-04-15T00:00:00Z
We loved the house and the environment! Roisin and Tao were very involved with our arrival and if everything went well. The house is bigger than we thought and fully equipped. I definitely recommend this stay if you are in this beautiful neighborhood!!
Daisy
2013-01-05T00:00:00Z
This is such a unique location! Definitely worth spending some time out in the area.
Kathryn
2017-01-29T00:00:00Z
Tao is simply incredible! The home is located in a small neighborhood of very interesting people and lots of weird art. The beach is a short 2 minute walk, and it contains some of the most amazing views I have ever seen of both the sunset and the skyline. The home doesn't contain much, but it doesn't need too. Get out of the house and talk to the people, Tao, or go to the local banana museum.
Dillon
2017-04-04T00:00:00Z
Great little getaway in the desert. Closely located to Salton beach park and Bombay beach ruins. The house had everything provided from towels, to shower essentials, to cooking essentials, and plenty of couches to chill on. There was no tv or wifi in the house but it was good because it allowed us to not be distracted from the outside world. Overall, my girlfriend and I loved the place since it was very cozy and felt like a warm and safe getaway. Tao was very responsive and was really nice by checking in with us.
Andy
2017-02-18T00:00:00Z
Bombay Beach needs to be experienced by everyone! This town is very special! Go to the Ski Inn while your here! Salvation Mountain is very near by! Thanks Tao!
Ted
2017-01-15T00:00:00Z
This place is extremely unique and has a great vibe. Bombay Beach itself is a town lost in time. It was beautiful, quiet and surreal all at the same time. Definitely recommend for a getaway!
Aaron
2017-02-26T00:00:00Z
Type de logement
Logement entier
---
Type de propriété
Maison
---
Capacité d'accueil
4
---
Chambres
Bombay Beach, Californie, États-Unis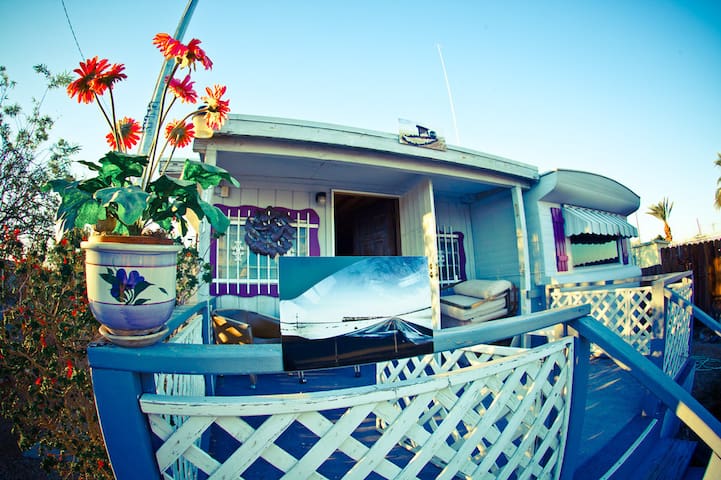 Slab City hosts a collection of travelers, gypsies, outcasts, and eclectics and my hostel is a reflection of that. Choose to spend the night in one of our multiple RVs or "rough it" beneath the starry desert sky in one of our outdoor rooms.
Choose from different sleeping arrangements, from renovated RV style campers to primitive campsites. We have rooms with single beds open to the sky, walled in with stacked hay bales, two primitive campsites (i.e. bring your own tent or borrow one of ours), and four RV's able to accommodate multiple guests, couples or a group of friends.
Type de logement
Logement entier
---
Type de propriété
Autre
---
Capacité d'accueil
15
---
Chambres
Slab City, Californie, États-Unis
If this Rock And Roll tour bus could tell you stories it has a good vibe. Slab City's a great spot with Hot Springs, Salvation Mountains close by Joshua Tree close by. Everything in Southern California is within 2-3 hours and it's a good spot to book
Everything here is totally off grid so when you come you'll get an education in off-grid lifestyle
Most beautiful piece of desert I've seen a long time and you learn how to clean the desert and also how to become off grid
JP was communicative and informative- even if due to some plumbing issues we had to cancel our reservation, he managed to get us on the books for another place. Slab city was fun, definitely a cool place to visit. Hopefully we can stay at JP's next time
Fei
2017-03-26T00:00:00Z
Type de logement
Logement entier
---
Type de propriété
Autre
---
Capacité d'accueil
8
---
Chambres
Niland, Californie, États-Unis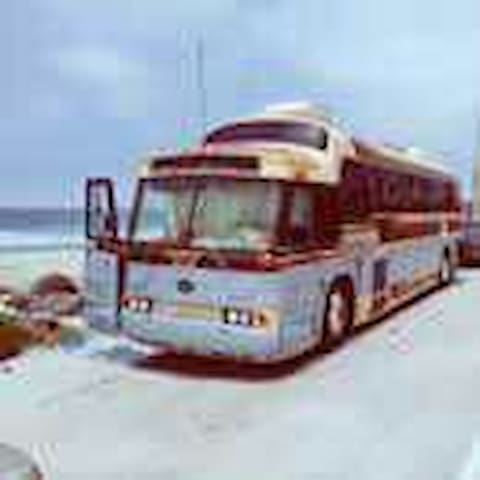 camp trailer this is primitive living. Outhouse, large fire ring, fenced in camp, power + internet. This is primitive living at it's best ! NO hard drugs, weed is o.k. ! Come visit & Luv i(URL HIDDEN)will be shutting down May 30th to Oct. 14th for the season.
the whole camp is here for you to use. Just take care of it. I Have 2 tents that can be set up for a price. I can put up more guests if only one or two beds are rented, so if it says booked check it out anyway ! Bring your own bedding during summer months.
Tuesday night Chile feed and Music at the camp !!
Si vous voulez découvrir le Slab avec le meilleur guide qui soit, foncez, c'est ici :-) Le Trailer est très confortable, ça n'est pas du luxe mais c'est parfait !!! Nous avons passé un moment merveilleux
Mélanie
2017-02-09T00:00:00Z
Même notre enfant de 11 ans a adoré cette nuit passée chez George, superbe moment autour du feu de bois, et en prime la visite organisée de Slab City par George en personne. Even our 11 year old boy loved that night at George's house, great time around the wood fire, and bonus, the visit of Slab City by George himself.
Jean-Louis
2016-04-02T00:00:00Z
George was a wonderful host and Buddy his dog was the best! The ponderosa was the pick of places to stay at Slab City. We had everything we needed and George cooked Saturday night and took us to The Range. Perfect. If you are going to Slab City, this is the spot for sure. Thanks George and Buddy and thanks to all the other lovely folk & their dogs we met there X
Sophie
2016-10-03T00:00:00Z
It ain't the Ritz, but that's not what you're looking for out in the slabs. What you ARE looking for is a sense of community and welcome in a place that might seem a bit overwhelming. George does everything to make you feel welcome and safe. He's an amazing host. If you ever wondered what Slab City is all about, do yourself a favor and spend a few days at the California Ponderosa. Don't miss Tuesday night. Trust me.
Allen
2016-12-30T00:00:00Z
It was great to stay so close the Salvation Mountain (the destination of my trip), and on such short notice. Despite George being out of town himself, the communication was great and his friends welcomed me warmly. It was a true Slab City experience and everyone is part of the community, also visitors.
Lara
2016-08-02T00:00:00Z
Slab City is an art form in itself. Flowery words can't accurately describe it. You just need to go for yourself. It's dusty and dirty and full of magical misfits. Everyone we talked to out there was interesting and kind and we truly felt welcome. The Saturday night jam session at The Range and the library are a MUST in addition to all of the other crazy shit to see out there. George's response time was quick and thorough. All the other reviewers had wonderful things to say about interacting with him. Unfortunately, he had already migrated for the summer but left his trusty friend Rob to take care of us. And that he did! He was a pleasure, really, so thank you ROB! Would we come back? HELL YES. Things to pack: sweater for cold weather, clothes for hot weather, toilet paper, food, beer to share, water, towel, a sheet/blanket, phone charger and a positive attitude. ENJOY )'(
Josh & Bex
2016-05-30T00:00:00Z
Our stay at George was one of our highlights in the US so far. And George is the main reason for that. He was so welcoming and warm hearted: from adjusting to our late arrival, the breakfast he made to showing us around and sharing a lot of stories. Also the whole place is so lovely including his dog. You can see that he put a lot of heart in it. We hope we can visit him again soon.
Alexander
2016-04-24T00:00:00Z
A night in Slab City is life changing!
Jenny
2016-07-13T00:00:00Z
Type de logement
Logement entier
---
Type de propriété
Camping-car/caravane
---
Capacité d'accueil
3
---
Chambres
CA, Californie, États-Unis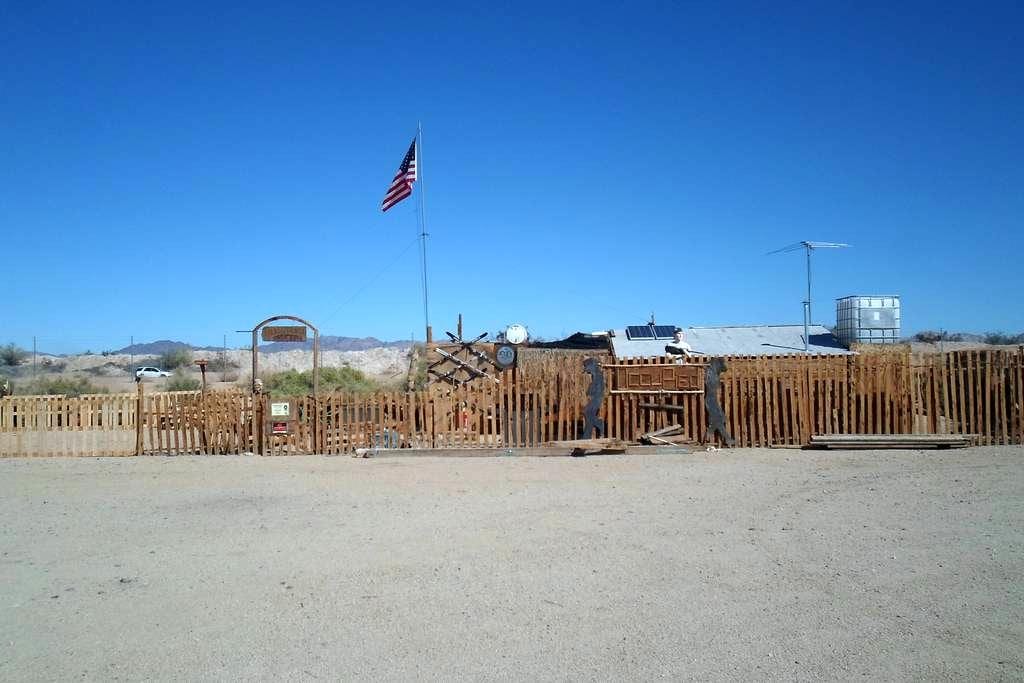 A hidden gem on the North Shore of the Salton Sea, this custom mid-century modern home, offers stunning desert views and solitude. Ideal for travelers wanting to get away and explore sights like Salvation Mountain, Bombay Beach, and the Salton Sea State Park. Close to Coachella, and Palm Desert.
This unique, modern era home offers a nostalgic glimpse into the past history of the Salton Sea. The kitchen, dining, and living spaces are open with window views of the Chocolate Mountains and the Salton Sea. It is a pleasant and peaceful experience to view the changing light in the landscape as time passes throughout the day; Sunsets and sunrises across the Salton Sea are spectacular. The Sea house has one king size bed, one queen, one full, and a sofa bed. There are no square rooms in the home, and everything is designed with a dynamic balance of angles. A wonderful experience for any mid-century enthusiast. There is a patio just outside the dining area that provides a nice place to sit and enjoy the brilliant desert mornings or warm desert nights.
North Shore is a sparsely populated rural community overlooking the Salton Sea. One of the unique aspects of our neighborhood is the rich blend of cultures. You will see a mix of retirees as well as many families who live and work in the Coachella Valley. Once a vacation destination, now it is a close knit community of working class people. We thoroughly enjoy the rural, uncomplicated, and unpretentious nature of the area along with the slower pace of life that often reminds us of a time long gone. The neighbors immediately surrounding the home are wonderful. Some homes in the neighborhood are well kept and others are not, however, this is all a part of life in the changing landscape of the Salton Sea. The neighborhood is safe and usually very quiet except for occasional music heard from nearby neighborhood evening events. There is a train that comes through regularly, and we enjoy the nostalgic sound.
Interesting, unique home in a lovely desert- landscaped yard. It suited our purposes perfectly (visiting local relatives), but is remote if you are looking for retail conveniences. We checked in before making a grocery trip and were pleased to find that some basics, particularly spices, were available if we had forgotten things. The view and nearness to the Salton Sea were very nice, and all three bedrooms are very attractive. We delighted in traveling the Box Canyon Road to reach the home as the desert scenery is spectacular. There is a very active train route near by, which might be a bother to some, but did not affect our enjoyment of the home.
Sharon
2017-03-05T00:00:00Z
This house is a time capsule. So fun to hang out in such an incredible mid-century building that has been so well maintained. We cooked a large meal in the kitchen, which has everything you could possibly ask for in terms of cooking equipment. A really special place and an incredible stay. Although we scheduled last minute, hosts were very accommodating and made our stay as comfortable as possible. Thank you!
Emily
2017-01-21T00:00:00Z
Cute and unique home!!
stefanie
2017-01-29T00:00:00Z
Our friends and our little kitten had a great time. We love that they have lots of kitchen tools. You can make almost anything here. You can see the Salton Sea from the living room window. Gorgeous views!
Ida
2017-01-01T00:00:00Z
Great House. Interesting Neighborhood. Easy access to the host if needed. Had a wonderful stay!
Conor
2016-12-12T00:00:00Z
This was an amazing time! The home's architecture was quite cool and unique - very Mid-Century Modern in all the best ways possible. This perfectly complimented the unique personality of the area too. We've wanted to visit the Sultan Sea for sometime. Our children loved what the area had to offer as well. Definite recommend!!
Karen
2016-01-18T00:00:00Z
This is a wonderful 50's house... so interesting. If you are planning on going to Joshua Tree and/of Anzo-Borrego (do go now to see the flowers) this is a perfect spot. The living room, which looks out onto the Salton Sea, had plenty of comfortable seating which we appreciated after our days of long hikes. It had a lovely patio looking out onto a great dessert garden. The hosts were wonderful and very accommodating. I would definitely recommend staying here.
Coral
2017-04-02T00:00:00Z
Jenny is a great communicator and get us all excited about our trip prior to our visit. She responded quickly and made things really easy. The house is quirky in layout, but what I didn't know until I got there was that the place is full of huge windows overlooking the Salton Sea. I went to the Salton Sea with a group of friends New Years and had a wonderful time. I loved the amount of common space, there are 2 regular sized couches and 3 lazy boy chairs which made for a fantastic space for board games with an amazing view. The kitchen was easy to use and the house had plenty of space for everyone and lots of parking. It was really clean and homey. I would definitely go back again.
Mercedes
2016-01-02T00:00:00Z
Type de logement
Logement entier
---
Type de propriété
Maison
---
Capacité d'accueil
6
---
Chambres
Mecca, Californie, États-Unis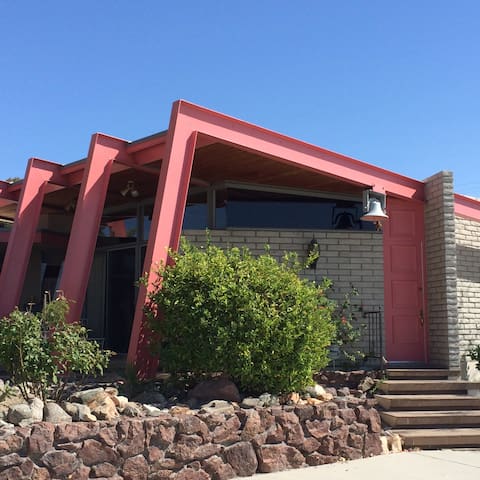 Stunning location with spectacular view of Salt & Sea. Wildlife abounds. A pearl in the desert. Over 2 acre ranch, owners on site. Comfy Queen bed & sofa bed. Full kitchen. Private & CLEAN. A gift basket of fresh fruit, bagels both regular & gluten free, butter, cream cheese, jam, & danishes, coffee, juice will greet you. BBQ & patio ready for cooking & relaxation outside. We also have a RV site for up to 32 ft. with full hookups at an EXTRA nightly cash charge. Check with us for details.
GREAT FOR BIRD WATCHERS 400 DIFFERENT SPECIES, AND HIKERS MANY TRAILS TO EXPLORE, BOX CANYON, PAINTED HILLS AND MUCH MORE. KAYAKING JUST DOWN THE ROAD ALONG WITH GREAT FISHING FOR TILAPIA.
Surrounding neighbor ranches are friendly & we have not experienced crime in our area.
Type de logement
Logement entier
---
Type de propriété
Camping-car/caravane
---
Capacité d'accueil
4
---
Chambres
Mecca, Californie, États-Unis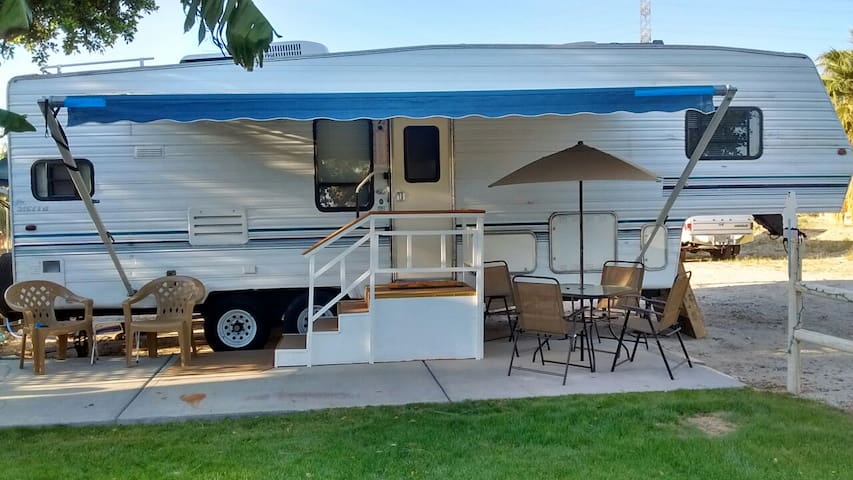 Camp is fenced, large fire ring, a lot of good things to see, East Jesus, Library, The Range on Sat. nites, Internet Cafe all within walking distance. Tour of the Slabs for small donation. Tuesday nights Chile and music. I will be shutting down May 30th to Oct. 14th for the season.
Tuesday night music and chile feed at the camp !!
Only spoke with George on the phone, as he was away, but he was available for any questions via text/phone, and his friend Rob was very helpful in getting settled. I assume if you already know about the slabs, I don't need to explain how off the grid it is, that water is going to be your best investment, and if you go in the summer like I did you're just going to want to sit still in the shade for a big chunk of the middle of the day, haha. Regardless, had a great time. This is a place that really speaks to me. The desert breeze at night is worth the cost of admission alone. Would definitely love to come back.
Jonathon
2016-09-12T00:00:00Z
What a great experience we had at George's camp! He welcomed us with open arms!The night was spent at the Range watching the talent and having a few drinks. The bed was comfy and clean and after a nice sleep we woke up to a first class breakfast! The tour is a must and it offers the opportunity to see Slab City! From our experience, all of the Slabbers we met were nice, humble, and proud to show us their camp. A truely unique experience! Thanks again George!
SebSo
2016-11-13T00:00:00Z
Great spot, George has exactly what you need to survive the Slabs, and is more than willing to show you around - thanks George!
Diederick
2016-10-16T00:00:00Z
Wow! What a place! Slab city is wild. Georges camp made me feel comfortable even though I arrived in the dark super late! He also helped me find it via messages. If your looking to stay somewhere different/exciting this is the place. Remember your staying in slab city you have to bring water and food. It's kind of like camping but at George's you'll feel far more comfortable! Cheers
Henry
2016-08-02T00:00:00Z
The communication was constant as soon as I booked it. George welcomed me with a huge hug, and I met the others in the nearby camps. Everything was clean, cozy and accessible. The dogs were all super friendly that roam the camp. George also took me to a live music night, with tacos available for purchase. He kindly shared his beer with me. Even though it was one night, he makes you feel like family. George has the biggest heart, and kindest soul. Stay here if you want to meet the most genuine people in all the slabs.
Lauren
2017-02-07T00:00:00Z
Slab City is a unique place. You have to be ready for it. However George is a phenomenal host so he made my stay very comfy.
IRKO
2016-05-01T00:00:00Z
George is a real nice host
Jay
2017-02-20T00:00:00Z
We do not think you will ever find a better host than George! The man is a legend. We were welcomed with open arms, a big grin and a beer. We've air bnb'd around the US the past 3/4 weeks and George was hands down our favourite host/person of this whole trip! The set up George has is amazing, and he's done it all himself. He has several different places to stay and we were so comfortable, slept like logs! We were lucky enough to be there on a saturday night and George took us to the Range which we loved! Our short time at the Slabs was the highlight of our adventure, we just wish it had been for longer. We're already discussing when we can go back! We recommend Georges place to absolutely anyone. He's the best.
Sarah
2016-05-09T00:00:00Z
Type de logement
Logement entier
---
Type de propriété
Cabane
---
Capacité d'accueil
2
---
Chambres
Niland, Californie, États-Unis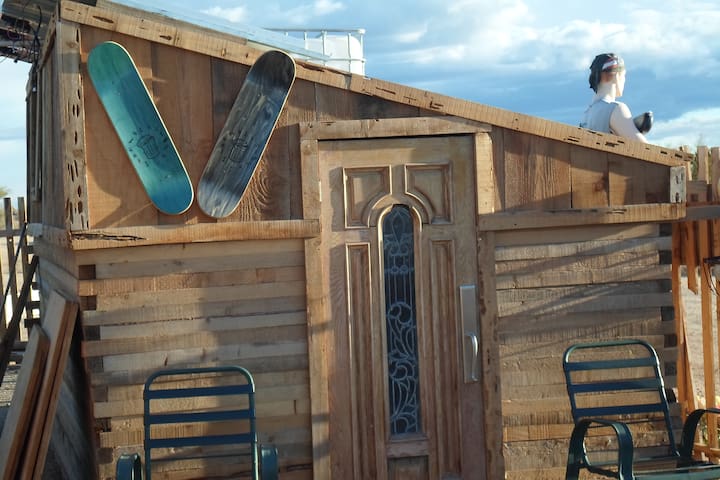 My place is close to family-friendly activities, nightlife, and public transport. You'll love my place because of the comfy bed, the kitchen, and the coziness. My place is good for couples, solo adventurers, business travelers, families (with kids), big groups, and furry friends (pets).
Type de logement
Chambre privée
---
Type de propriété
Boutique-hôtel
---
Capacité d'accueil
1
---
Chambres
Mecca, Californie, États-Unis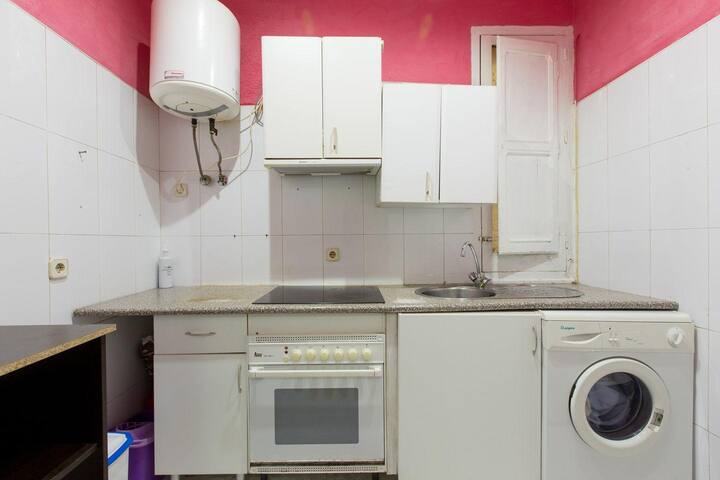 Large trailer w/ everything you'll need for your stay. .
Tuesday night Chile feed and music at the camp !!
Totally unique experience! This place is the perfect place to stay and enjoy the Slab City experiences
Lisa
2016-11-27T00:00:00Z
It was truly an one of a kind experience staying in George's, I was lucky enough to run into the Rave event behind salvation Mt. the night I arrived, surprise! And the next morning George took us on a tour where we got to meet his folks and have a peak into this unique lifestyle. George was easy to communicate, sincere and welcoming. A super host indeed. Thank you.
Mengtian
2017-02-18T00:00:00Z
Expect a warm welcome, a cold drink & an off the grid experience. So special. It's my 4th trip out to George's & Im already planning my 5th! Love you George & Buddy ❤️
kim
2017-02-11T00:00:00Z
George was an absolutely amazing host. We got in much later than expected and he was still there to greet us at 1 am. He took us on a tour of Slab City the next morning, and showed us places we probably would have never seen on our own. Him and Buddy the dog made it a magical little stop on our roadtrip. Definitely going back to visit George as soon as we can!
Samantha
2016-10-15T00:00:00Z
We had a great time! George and his friends are good people and the Ponderosa is really cool. Definitely one of the most unique places on all of airbnb
Nickolas
2017-03-12T00:00:00Z
It's the very special place. And George is absolutely amazing man. You must get the Slab City tour with him. It was much more than I expected. And figure that it's the comp on the desert. Not spa resort;)
Tomasz
2016-10-15T00:00:00Z
George welcomes you 'home' from minute one and it never stops! Slab City is a 'unique place' & it feels very nice to stay in this secure environment with a local who is very respected & personally tours/shows you around. You would not have anywhere near the same experience if you went to tour Slab on your own. This is my 2nd time staying with George & I'm already planning on a December visit. ****Highly Recommend***
kim
2016-10-23T00:00:00Z
If you're looking to stay at the slabs, this is a good place.
Saul
2016-10-30T00:00:00Z
Type de logement
Logement entier
---
Type de propriété
Camping-car/caravane
---
Capacité d'accueil
2
---
Chambres
Niland, Californie, États-Unis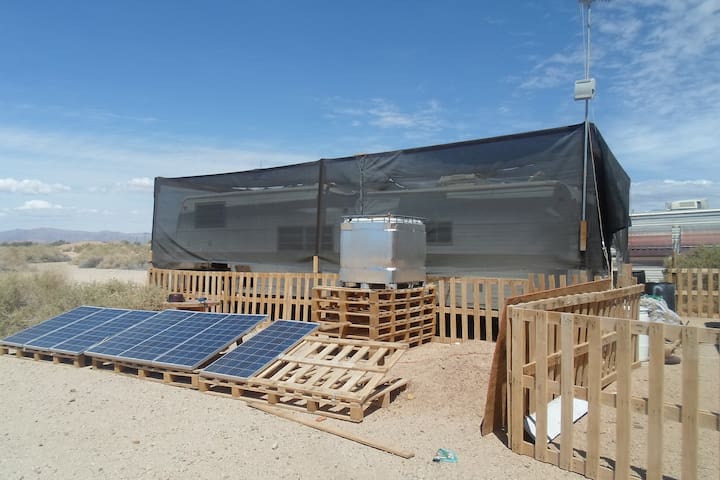 Stunning location with elevated spectacular view of Salton Sea. Wildlife abounds. A pearl in the desert. Over 2 acre ranch, owners on property.
The site will accommodate up to 34 foot RV. There is a 50 amp elec. hookup, septic hookup, water hookup, BBQ, covered patio.
Surrounding Ranches are friendly & we have not experienced crime in our area.
Type de logement
Logement entier
---
Type de propriété
Autre
---
Capacité d'accueil
4
---
Chambres
Mecca, Californie, États-Unis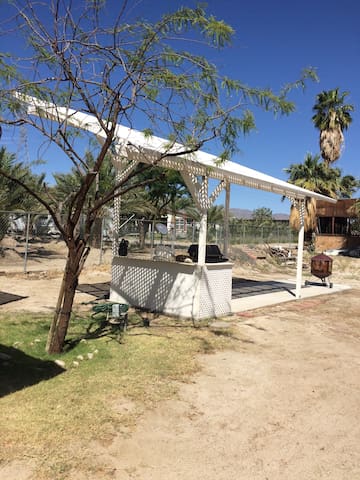 A Rustic Desert 3 bedroom 1 bathroom house. 15 miles from the East Entrance of the Joshua Tree National park
Fantastic private quiet place with great views and endless desert out front. Despite the bathroom being a bit of a work in progress this place is a great buy. Fenced yard and nice patio furniture and gas grill make this a nice place to enjoy the outdoors.
Craig
2017-02-12T00:00:00Z
Wonderful quiet private place with great views and miles of vacant desert out front. Despite the bathroom being a bit of a work in progress, this place is a fantastic buy. Really enjoy Laura's eclectic taste. Property is fenced and has nice patio furniture and gas bbq for enjoying the outdoors.
Craig
2017-02-13T00:00:00Z
Exactly as advertised. 8 of stayed here and we were comfortable. Nothing fancy, but we weren't looking for that. Could look out at the desert without hearing much noise other than the occasional car on the highway 1/2 mile away.
Bjorn
2017-03-19T00:00:00Z
Laura's home is cozy, clean, and has the best view of the sunset. We cooked dinners and had breakfast each morning looking out onto the desert. It was great to be away from hustle and bustle, but was close and an easy drive to Joshua Tree.
Jessica
2017-02-20T00:00:00Z
Thanks Laura for an unforgettable stay! The kids loved the big yard and for us it was a great, comfortable base from which to explore Joshua Tree and the surrounds. Wonderful!
Mark
2017-02-05T00:00:00Z
Amazing host!
Daniel
2017-04-04T00:00:00Z
Type de logement
Logement entier
---
Type de propriété
Maison
---
Capacité d'accueil
8
---
Chambres
Twentynine Palms, Californie, États-Unis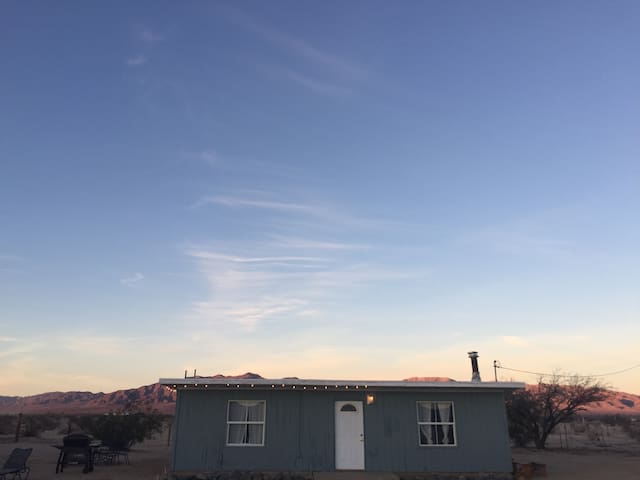 Nice home for rent
Type de logement
Logement entier
---
Type de propriété
Maison
---
Capacité d'accueil
6
---
Chambres
Thermal, Californie, États-Unis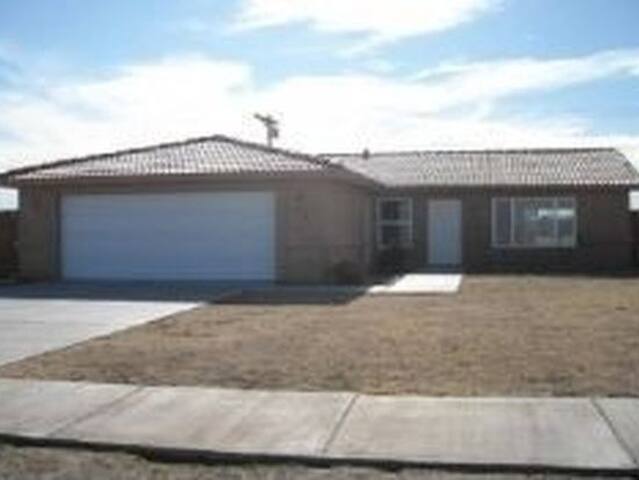 4 bedroom 2 bath house, Remote Getaway. Star filled nights, BBQ! Hot Tub! Fire Pit! WiFI (URL HIDDEN)
Thank you for leting us have a great time at casa agave, it was everything that I espected.
Hermes
2016-06-20T00:00:00Z
This place is amazing. It's remote and secluded in the middle of the desert, but close enough to Twenty Nine Palms to run to 7-11 for supplies. Simply put, we had a blast. The stars twinkled all night long as the flames from our campfire danced in the moonlight. There was plenty of room for all of our guests to sleep comfortably and plenty of amenities to keep us busy. Only 30 minutes from the Nat'l park, but miles away from society. Truly amazing.
Shane
2016-01-17T00:00:00Z
Laura was a fantastic host. She was incredibly responsive to all communications which made our stay very relaxed. This home had everything we needed for a comfortable stay. The space itself is HUGE and has lots of room and sleeping areas. Also a foosball table! Cannot recommend this listing enough.
Ananda
2015-11-15T00:00:00Z
Had a great weekend at Casa Agave. Laura's home comfortably fit our group of ten. Unique decorations and totally spacious on the inside. The backyard is wonderful, open desert with a prime view of the mountains in the distance, plus a fire pit and a hot tub under the stars. The only downside is the kitchen since we planned to cook all our own meals. It's a bit dated, and hard to fit more than two people trying to cook at the same time. But on the flip side, there's a large dining room table inside and one outside too, so we all were able to gather around and eat together. Joshua Tree National Park is about a 20/30 minute drive from the house. Initially I was worried about the distance, but I actually enjoyed the remoteness. My group is a bit noisy, so we didn't have to worry about disturbing any neighbors. Laura respond to all of my questions, usually within minutes! I would definitely reccomend Casa Agave for your relaxing desert getaway.
Ashley
2015-03-22T00:00:00Z
Laura's house si amazing! We stayed there with friends for the weekend and we had a great time. I think the house is much more better than what it can actually be seen from the pictures: it's so spacious and there are lots of musical instruments or cards or movies! The bbq and the fire pit were great! You can see a nice sunset from the big backyard! The house is in the middle of the desert so it is peaceful but it is pretty convenient to reach 29palms and Joshua tree park as well! Laura was really responsive! I would definitely recommend it!
Beatrice
2016-04-17T00:00:00Z
This property is amazing! Between the fire pit, bbq, hot tub, stargazing, and close proximity to Joshua Tree park, it made for the perfect birthday weekend. Laura was super helpful and communicative!
Dominic
2016-01-31T00:00:00Z
Laura's house is a gem. Rustic, but elegant. Sweeping landscape surrounds the property. Beautiful mountain range in the distance. Laura has all the little odds and ends that make a stay special. We had a minor issue and she remedied it very quickly. Can't recommend this place or this host enough. Laura is awesome. Do yourself the favor of staying at one of her properties in Joshua Tree. You will love it?
Joey
2015-11-22T00:00:00Z
This place may not be for everyone, but it was perfect for me and my crew!! Amazing location and yard, big open layout in the house for a big group, plenty of sleeping spots, beautiful view, and quiet atmosphere! Laura is a super fast responder and was quick to help out when we had questions. We brought a few extra kitchen items based off of previous reviews and that was helpful since we love to cook and the kitchen isn't fully decked out with all the bells and whistles. My group had a wonderful time... thank you Laura!!!
Elsbeth
2017-04-03T00:00:00Z
Type de logement
Logement entier
---
Type de propriété
Maison
---
Capacité d'accueil
10
---
Chambres
Twentynine Palms, Californie, États-Unis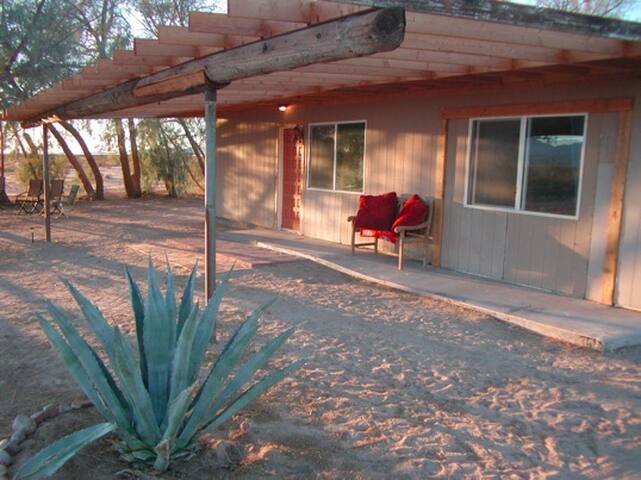 *Federal Holiday's 3 Night Minimum Bookings - Thanksgiving 4 Night Minimum Bookings* A stylish and styled, eclectic, cool, sheek getaway. Inspired by the nonchalant elegance of The Palm Springs Riviera
A stylish and styled, eclectic, cool, sheek getaway. Inspired by the nonchalant elegance of The Palm Springs Riviera free spirited, vibrant, playful and bohemian with a sprinkling of retro nostalgia. The whimsy of Hollywood Regency in the guest rooms merges with the eclectic spirit of the public areas and makes for a perfectly unique getaway in the hi-desert. Sun-filled rooms open the vistas to magnificent views. Privacy fencing surrounds the property and protects the large sparkling private pool. One stay here and you will see what we mean by "lets us entertain you our way".
Joshua Tree Village & Downtown 29Palms is an unique locally owned and artist inspired area. Be sure to take some time to explore the many interesting shops and eateries along the Highway. There is an excellent Certified Farmers Market happening on Saturdays 8:00 AM to 1:00 PM when the downtown is at it's most lively and you can get a taste of the local community flavor.
Back of Beyond was extremely secluded, set in the valley with mountain ranges in every direction. The house itself was so cozy and comfortable, the backyard was a great space that really allows you to enjoy the desert. Between the pool, hot tub, watching sunsets from the hammock and fire pit, my family and I spent most of our time outside relaxing. The only things I would comment on are that the listing is actually in Wonder Valley, about 40 minutes east of Joshua Tree past Twentynine Palms, and that the outdoor speakers seem to be blown, I could only get a tiny bit of sound out of them. However we used our own portable speaker and enjoyed it the same. I would stay here again and recommend to friends. Thank you!
Nikki
2016-10-16T00:00:00Z
Unbelievable backyard with no neighbors within sight. Beautiful home and had an amazing stay. Would highly recommend this place for anyone looking to get away and stay in an amazing house with all the amenities you can ask for.
Sam
2016-09-25T00:00:00Z
Great secluded house in the desert. We had the Supermoon lighting up the desert so it was incredibly scenic. Great firepit outside to just hang out and enjoy being isolated.
Ben
2016-11-14T00:00:00Z
Great getaway location. Super private, can blast music loudly all night. Recommended!
Jose
2016-12-28T00:00:00Z
A beautiful home in a very secluded location. Make no mistake, while most people will love this place, it is in the middle of knowledge and felt unsafe at times. Nick was a great communicator but this was not enough to help us get the hot water working which was a pity given the cold weather and the long hikes we were doing. Having said all this, I would still return again.
Alexander
2016-12-26T00:00:00Z
What a great place and a great host. I would definitely stay here again to get away from it all and into the beauty of the desert.
Jamie
2016-11-27T00:00:00Z
Overall the house was great. The desert location was secluded but not overly so. The yard was huge and getting in the pool was nice after a long day at the park. But the hot tub was broken and, given that it was a long weekend, we were unable to get it fixed. Similarly, the shower smelled strongly of rotten eggs. Not sure if that was a result of the well being sulfurated or what, but we couldn't use it. Hopefully that's fixed!
Michael
2016-09-06T00:00:00Z
The reservation was canceled 7 days before arrival. This is an automated posting.
Kris
2015-01-11T00:00:00Z
Type de logement
Logement entier
---
Type de propriété
Maison
---
Capacité d'accueil
6
---
Chambres
Joshua Tree, Californie, États-Unis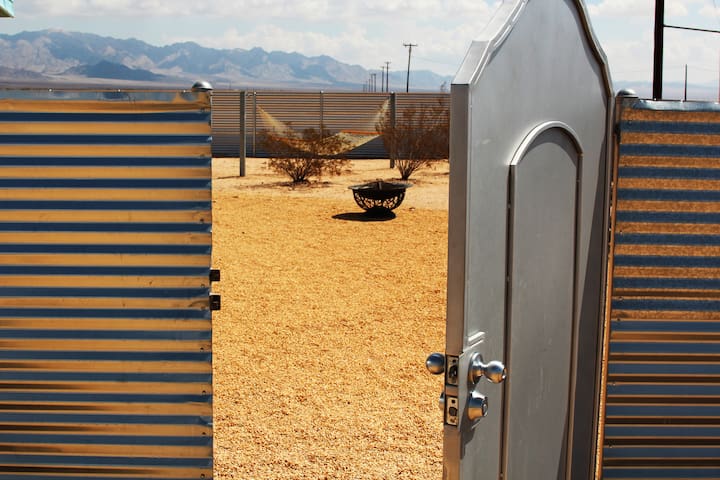 come see before caifornia removes this amazing place.lgreat house. on shore. not a swimming beach .you will love Amazing bird watching. Hike for miles. Views, . Great for large groups. Family room with fireplace has 3xl twin beds.plus was queen bed in bedroom .. patios for entertaining. salton sea is not a refined area. 32 miles from coachella
of coarse the views . miles of hiking. Nights of silence sitting and gazing at private (URL HIDDEN) bedroom. one bath but Can easily sleep 6 people Has tons of parking . living room ,dining room, family room, separate laundry room check nice kitchen . large outside patios for dining and entertaining salton city is desert town all types people nothing high class at all
privacy quiet.very central area of the Salton sea north is la quinta .palm springs. west is borrego springs, and the mountains, south is el centro ,And Mexico,To the east is your back yard and the sea the salton sea.and the chocolate mountains check out the stars at night the full moon watch the sun rise over the sea a really wonderful and beautiful site
As everyone else has described, Anthony was very responsive and friendly. The furnishings and beds were comfortable; there's plenty of table-seating, and the kitchen was very well-supplied and clean, as was the bathroom. The heating/AC is high tech and worked well. Unfortunately, we arrived in the dark and left right as the sun was rising, so we didn't get to fully enjoy the patio space, but, again, there's plenty of seating, and I'm sure the views of the lake are as good as the star-gazing was. I wouldn't hesitate to stay here again.
Susana
2017-01-07T00:00:00Z
This place was so cool. Very private, secluded, but not that far to get to food and entertainment. The views were beautiful, it was exactly what I was hoping for. Anthony was great, he sent us all the info we needed and had a great time. We will be back again for sure!
Jason
2016-03-21T00:00:00Z
A wonderful place to stay. The view is really good. Rooms are clean and comfortable. Will choose the same place next time I come
Yutan
2017-02-20T00:00:00Z
Salton Sea was a last minute decision and Anthony was great with the communication. The house was as is depicted in the pictures. Lovely view and homely atmosphere. Clean.
Melissa
2016-05-09T00:00:00Z
Anthony was a great host! We stayed at his property on New Years weekend and the whole stay was incredible. Anthony made sure that everything was fine and checked on us. The place is really secluded and quiet plus the view of the Salton Sea was really nice. It was raining on our first night and we just spent the night watching the lightning storm from the other side of the lake. I read some reviews that the lake smelled but we didn't notice it during our stay. The house is very clean and everything was provided for us. Thank you!
Geneliz
2017-01-02T00:00:00Z
This was my 1st experience with Airbnb. Anthony (host) made it easy, communicated frequently, and was very friendly. The home is right on the shore of the Salton sea, and the rear patio provides beautiful and endless views of the area. The home was clean and quiet, with plenty of space for anything from a lounging around after a cozy lunch, to providing a nice dinner area for four or more. The patio is large and comfortable seating is provided. Perfect for evenings of sitting, talking, and stargazing. We found the kitchen well-stocked with cookware and any utensils you may need to prepare a nice meal. The home is located about 5-6 minutes away from S22/H86, with a restaurant, gas station, and a few other businesses nearby. I enjoyed the quiet and solitude the home provided. My friends also commented on the peaceful and serene feeling they had while visiting and enjoying the views. So, for those that are looking for a private, clean and quiet home that is near the Salton sea area, this is a wonderful place to visit.
todd
2017-03-05T00:00:00Z
This place is quiet and beautiful. The host has accommodated for everything. Our dogs loved the back porch.
Erin
2017-04-02T00:00:00Z
If you looking for quet and nice place to relax this is it.
Julita
2017-03-26T00:00:00Z
Type de logement
Logement entier
---
Type de propriété
Maison
---
Capacité d'accueil
6
---
Chambres
Salton City , Californie, États-Unis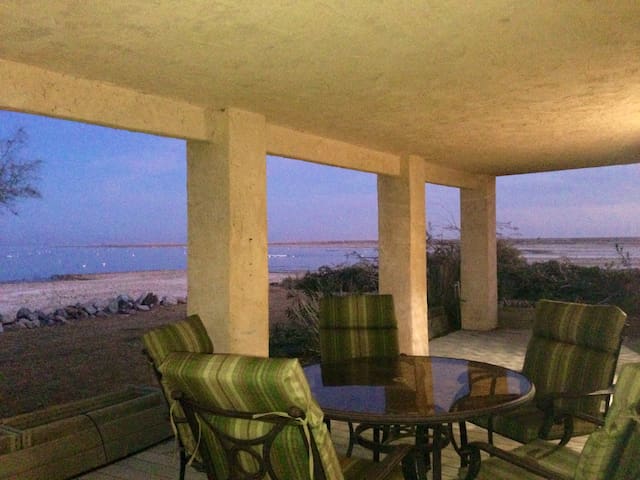 Starlit nites away from the madding crowd. A short drive to The Palms Bar & Restaurant which is only open Wednesday - Saturday from 3PM to closing and on Sunday 9AM to closing. (it's the only game in Wonder Valley). Bring your RV or tent... or just yourself and bedding to sleep in my outside single bed. Home on property... not for rent, but bathroom onsite for necessary use only between the hours of 7AM-10PM.
Peace & quiet... almost ALWAYS
5 miles to The Palms Bar & Restaurant open Wednesday-Saturday 3pm-closing and Sunday 9am-closing. 17 miles to 29 Palms with entrance to Joshua Tree National Park. Fabulous wildflower year...Don't miss it!
Type de logement
Logement entier
---
Type de propriété
Camping-car/caravane
---
Capacité d'accueil
6
---
Chambres
Twentynine Palms, Californie, États-Unis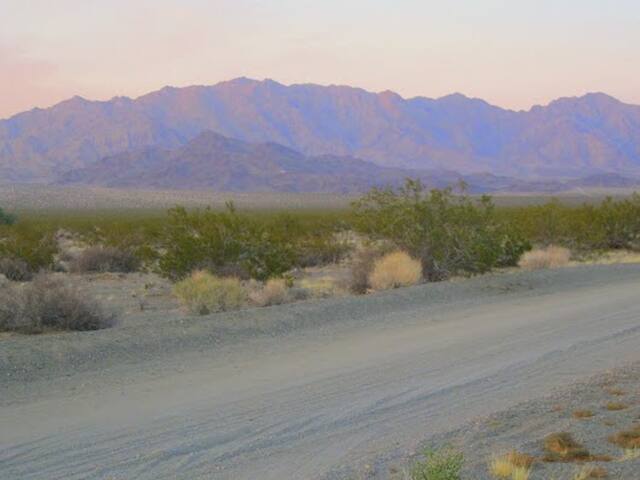 Saisissez les dates souhaitées pour connaître le prix total. Des frais supplémentaires s'appliquent et des taxes peuvent être ajoutées.