Conveniently located a pleasant walk from the campus of Eastern Illinois University, The McGrady Inn honors its heritage, a United Brethren church constructed in 1919. From the original maple floors to the nine-panel stained glass window at the center of the 23-foot sanctuary ceilings, guests are surrounded by the results of a three-year restoration matching the original craftsmanship.
The host canceled this reservation 211 days before arrival. This is an automated posting.
Louann
We really enjoyed out stay in this beautiful, unique Inn. The owner's did a great job of balancing the historical charm of the property (stained glass windows, antique furniture pieces) with modern comforts. The Inn is in a quiet neighborhood, but it's just a short walk up the street to the town center. Recommended!
Rachel
2017-01-30T00:00:00Z
This converted church is awesome inside, almost like an annex to Hogwart's. Karen was very welcoming and there were many supplies for breakfast.
Liza
2017-01-27T00:00:00Z
Lots of character, very clean, convenient to EIU. Very friendly and helpful.
Jim
2017-03-06T00:00:00Z
Best Airbnb we have ever stayed in. We were leery about driving so far off the highway but so glad we did. This beautifully renovated church is a masterpiece. We stayed in room two and enjoyed a wonderful night's sleep. Every touch is perfect... The wonderful sheets, the heavy towels, the thoughtful snacks and breakfast items. We are from New York, this would've been a $400 a night stay in New York. We paid $100, what a steal. Run don't walk to this inn!
Chris and Cindy
2017-02-23T00:00:00Z
Type de logement
Chambre privée
---
Type de propriété
---
Capacité d'accueil
2
---
Chambres
Charleston, Illinois 61920, États-Unis
My place is good for solo adventurers and business travelers.
Upstairs loft in small private home.
We're in a town of about 15,000 and we have close to 60 restaurants to choose from.
Very enjoyable stay. Really nice couple and I loved the train whistel.
Mary
2017-02-26T00:00:00Z
Jackie and Mike were wonderful hosts. They made sure that we arrived on time, had everything we needed, and felt at home. They made great recommendations for around the area and Mike and I even watched a football game together (thanks, Mike!). Would definitely stay again!
Scott
2016-12-09T00:00:00Z
Best stay we have had with Airbnb! Amazing hosts highly recommended!
Max
2017-02-14T00:00:00Z
Very accommodating
Benjamin
2017-01-25T00:00:00Z
Jackie contacted us right away and explained all we needed to know to have a great stay in her lovely home. We highly recommend this AirBnB location. Her home is located just a short way off the Interstate, so we had a quick arrival and get away. We slept very comfortably in a large room at the top of the stairs. There was no door at the top of the stairs, but we felt very private because the stairs turned a corner on the way up, so we could not see the downstairs from the upstairs room. We had our own bathroom with shower and plenty of room to do our morning stretching and Yoga. We prepared a quick breakfast in her well-equipped kitchen. She had coffee, oatmeal packets, and coffee cake set out for us to enjoy. We stored a few items in her fridge. Jackie had left us instructions for using the wifi and tv. Also, there was a dvd player and tv in our bedroom. We did not have the pleasure of meeting Jackie and her husband, but we hope to do so when we stay in Effingham on other trips. Thank you, Jackie, for your welcoming home.
Carrie
2016-11-02T00:00:00Z
What an excellent second stay at Jackie's home! We arrived after dark and were greeted by her lovely Christmas lights. What a welcome sight after a long drive in the rain! We slept very well in Jackie's comfortable upstairs bedroom with private bathroom and enjoyed lovely, warm showers. Communication with Jackie is quick and easy. We highly recommend her place for those traveling on I-57 in Ilinois. Her home is just a few minutes east of the Interstate and there is a place to park off the street in the front of her house. Thanks, Jackie, for another great stay! We look forward to staying with you again!
Carrie
2016-12-29T00:00:00Z
The BNB was in a great location for my travels. Jackie was super nice and hospitable!
Mary
2016-12-28T00:00:00Z
Jackie's place was perfect. I highly recommend her place.
Abby
2016-12-06T00:00:00Z
Type de logement
Chambre privée
---
Type de propriété
---
Capacité d'accueil
2
---
Chambres
Effingham, Illinois 62401, États-Unis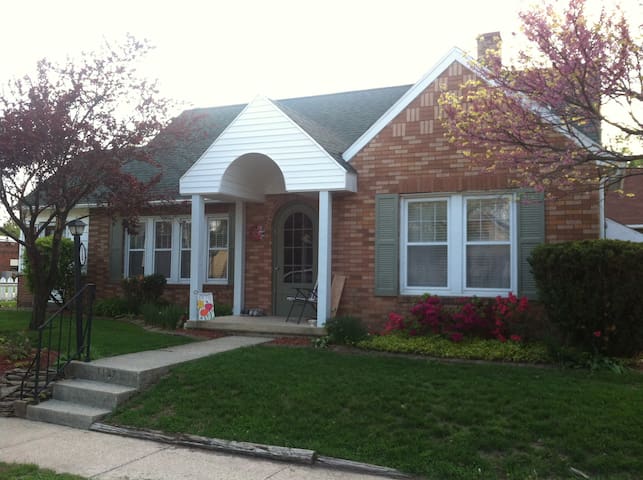 Our cozy apartment is the upstairs of a large home down the street from EIU's campus. Pet and Child friendly. NO CIGARETTES!
Upstairs potion of large home in the middle of charleston, within walking distance to Eastern Illinois University.
Neighborhood is mostly quiet. Inbetween "downtown charleston" or "the square" and campus. Family housing mixed college housing. Fraternity house across the street, they are rarely loud. We are in all of the parade routes!
Great place
Daniel
2016-10-23T00:00:00Z
Comfy
Corey
2016-12-09T00:00:00Z
Type de logement
Logement entier
---
Type de propriété
---
Capacité d'accueil
4
---
Chambres
Charleston, Illinois 61920, États-Unis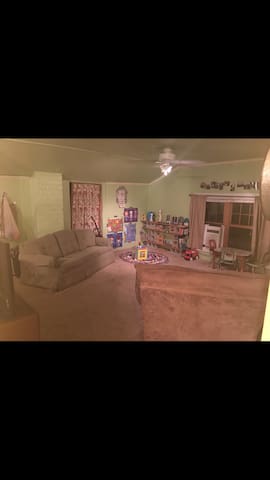 My place is close to Effingham Illinois . 225 miles from Chicago ,get away from the city noise .a quiet place ,in the middle of beautiful nature
Type de logement
Logement entier
---
Type de propriété
---
Capacité d'accueil
12
---
Chambres
Newton, Illinois 62448, États-Unis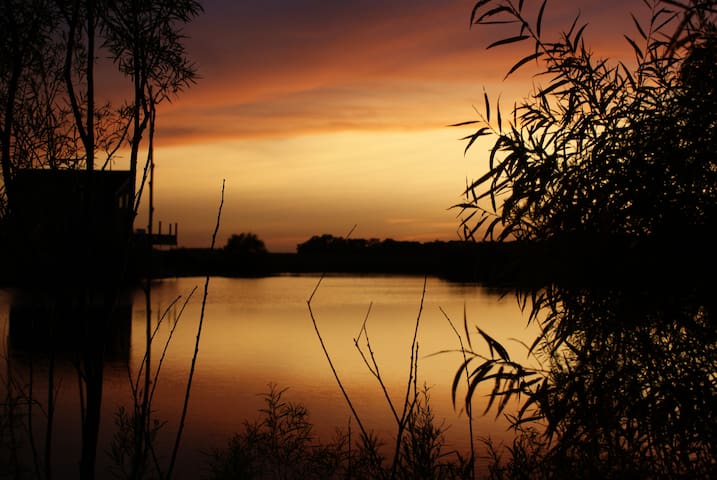 A recently renovated historic Victorian home located on Illinois Hwy 1 in the downtown area. The 1st floor master suite with queen size bed is available for guests with a private bath. A walk in rain shower is located on the 1st as well.
My home is filled with family antiques and a comfortable living room for the use of guests. There is a closet and private bath located in the master suite and are available for the exclusive use of the guests. There is large tiled walk in rain shower available for the use of the guests on the 1st floor. A TV and DVD player are located in the guest bedroom and living area.
This is a residential neighborhood 4 blocks from the historic downtown. Neighbors are long term friends of the family.
this house is very cute. has that antique feel from the moment you walk in the door. so much thought has gone I to decorating and making sure all the little touches are there. perfect place to go when you want to get away from the business of life and just relax.
Sylvia
2016-10-17T00:00:00Z
Terry's place was great. It was just as described, but even nicer than the pictures. He was very responsive even being in another country.
Abbie
2016-06-27T00:00:00Z
I have been using Air BnB since returning to the mainland only a few weeks ago. I tried to book and just as we entered the area Terry confirmed️The Pancake House is a DREAM️TOTALLY REMODELED PERIOD with every amendity you could possibly desire....The entire family is involved...and do accomodating...Our stay was perfect...Such an amazing value in a quaint Town close to Terre Haute, In.
Deborah
2016-06-25T00:00:00Z
Terry's ancestral home is lovely, sparkling clean, comfortable, and convenient. Terry was a thoughtful host, readily available but not present unless requested, easy to talk to, and prompt in communication. Very highly recommended!
Linda
2016-10-12T00:00:00Z
We didn't have the opportunity to meet Terry, but his communications were timely and accurate. Getting entry to the house went off without a hitch, and instructions and help numbers were easy to find. The house is in a quiet, pleasant, and conveniently-located neighborhood. An IGA grocery and the center of town are both about a two-minute drive away, and I-70 is only a little further than that. Terry's house is neat, clean, and filled with beautiful antiques and art. The bedroom is very comfortable and includes its own full bath; an amazing walk-in shower is just off the kitchen. That bathroom also is equipped with a towel warmer — not needed in July, but a nice feature in colder weather. The kitchen is spacious and well-equipped, and guests are welcome to help themselves to food in the refrigerator as long as they toss a few bucks in a jar so the items they consume can be replenished. When we booked our stay I asked if an outdoor grill was available, thinking I might cook out. Terry said there wasn't, but that he would get one — and sure enough, a brand-new gas grill was on the porch outside the kitchen door. I felt guilty that I didn't use it, but we had a very nice dinner in a nearby restaurant. Everything about the Pancake House is absolutely first-rate, including the décor, furnishings, luxurious towels, and comfortable bed. It is an excellent value, and I highly recommend it.
Mark
2016-07-17T00:00:00Z
Beautiful home. Terry was very responsive and kind to me. This was a last minute-late in the evening booking. Communication was excellent. Terry and his team made sure all was ready and comfy for our stay. We brought a late night snack to enjoy at the kitchen table in the great kitchen. The furnishings in the home are beautiful. Rain shower was awesome, especially after a long drive. We had an early checkout because of our travel plans, otherwise we would have enjoyed sitting out on either the front or back porch which were so inviting. Again, beautiful home.
Dwynne
2016-07-17T00:00:00Z
Listing was well described. Communication excellent. Left detailed instructions for me. Very clean room and comfortable bed. Gorgeous historic house. Would definitely stay again.
Brett
2016-11-06T00:00:00Z
Host was very personable and made us feel very comfortable. Appreciated hearing history of his home.
Kathy
2016-11-14T00:00:00Z
Type de logement
Chambre privée
---
Type de propriété
---
Capacité d'accueil
2
---
Chambres
Marshall, Illinois 62441, États-Unis
Guest that are traveling will not be disappointed by our exquisite accommodations, our hotel has the largest indoor heated pool in the Mattoon area. Our beautiful atrium allows families to enjoy each others company with out ever leaving the hotel.
Whether you are a single traveler or a family of 5 we have plenty of space to accommodate any traveler. With 122 private rooms our location gives you many options to allow you a visit that will be unforgettable.
Our location is conveniently located by Lincoln Log Cabins, Amish Country, and Fox Ridge State Park. Our beautiful little town offers wonderful food, great company, and attractions for all age groups.
Type de logement
Chambre privée
---
Type de propriété
---
Capacité d'accueil
4
---
Chambres
Mattoon, Illinois 61938, États-Unis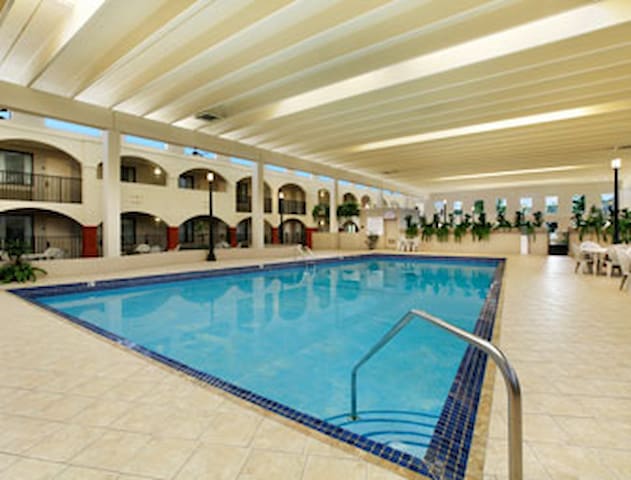 My place is close to the city center, restaurants and dining, and art and culture. My place is good for couples, business travelers, families (with kids), big groups, and furry friends (pets).
Nice people. Room outdated
Deanna
2016-10-26T00:00:00Z
Type de logement
Chambre privée
---
Type de propriété
---
Capacité d'accueil
4
---
Chambres
Mattoon, Illinois 61938, États-Unis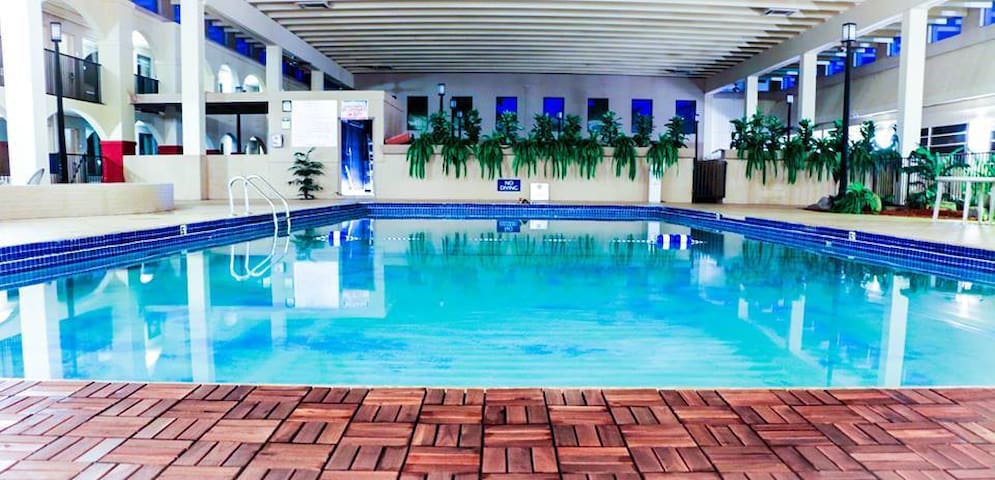 Cool and comfortable town house on tee box of golf course in a country club environment. Two bedrooms up and one down all with full baths.
Type de logement
Logement entier
---
Type de propriété
---
Capacité d'accueil
6
---
Chambres
Mattoon, Illinois 61938, États-Unis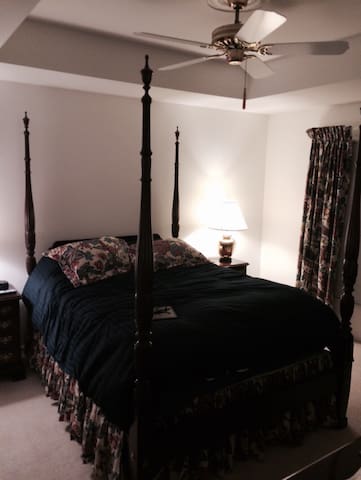 This lovely 4 bd/2bth home on Lake Sara is the place you want to be! Whether you are looking to relax or play in the water, we have it covered. Our home offers everything you will need during your stay! Email for contact: (EMAIL HIDDEN)
Coworkers and I stayed here for almost 3 weeks on a business trip. The lake house was wonderful and the changing leaves were a treat. Todd & Amber got us internet which was amazing and then gave us a gift since it was installed later than expected which was even more amazing! We didn't have time to enjoy the lake besides the wonderful view. The neighborhood was quiet and the house is only minutes from shopping areas. I would definitely recommend this house and plan to stay here again for future business trips.
Isaac
2016-11-13T00:00:00Z
Love Lake Sara!
Angie
2016-09-27T00:00:00Z
We thoroughly enjoyed our stay at this little house this past weekend. The lake was beautiful and we had a blast canoeing and kayaking. One thing we misunderstood from the listing was that it only had two rooms with double beds....but we made out fine because there was a nice little cot to put in the room with a twin bed. The house and kitchen were clean and Todd and Amber very good to work with. We would enjoy coming back if all works out well.
Rachel
2016-05-10T00:00:00Z
Type de logement
Logement entier
---
Type de propriété
---
Capacité d'accueil
12
---
Chambres
Effingham, Illinois 62401, États-Unis
My place is close to art and culture and the city center. You'll love my place because of the outdoors space and the comfy bed. My place is good for couples, solo adventurers, business travelers, and families (with kids).
1880's Victorian home with 4 bedrooms and 1 1/2 baths. 2300 sq. feet and the 2nd floor is bedrooms...elevator is provided if needed. A handicap ramp into the Bed and Breakfast has been installed for your convenience as well.
We are located in a residential neighborhood but only a block away from the court house square, police, fire station, restaurants and shops. Local Library is within walking distance. The courthouse is open to the public for viewing.
Clean, convenient location and friendly people. Parking is not a problem. Breakfast was great. Other B&B's forget about that "B."
Joan
2017-02-19T00:00:00Z
Angela and her mother were very welcoming - and helpful with my phone problems. Bed and room very comfortable - Even though the house is old, the room temperature was fine throughout 75 down to 20 degrees outside. Generous breakfast, enjoyed talking to other guests, and watching squirrels. Good Parking on several sides of the building. Neighborhood of large older houses w sidewalks. Very close to the center of town and courthouse. Numerous small amenities make the Red Oak Inn convenient and comfortable. Hands down best place to stay in Edgar County.
Sarah
2016-11-25T00:00:00Z
The host canceled this reservation 3 days before arrival. This is an automated posting.
Hannah
Type de logement
Chambre privée
---
Type de propriété
---
Capacité d'accueil
2
---
Chambres
Paris, Illinois 61944, États-Unis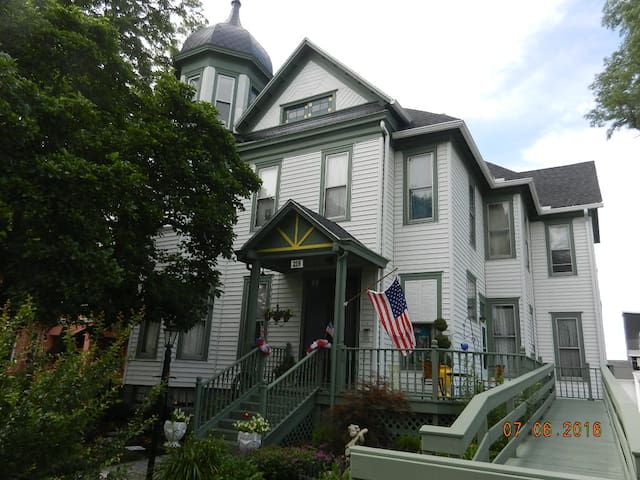 Our family has enjoyed good experiences staying at AirBnb houses when traveling, so we decided to attempt to provide a good experience for others coming to our community. Arthur, IL: the small town with lots of activity, but not lots of places to stay. Now here is a new option that could be just right for you. Newly renovated house located on a Dead End street, half a dozen blocks from downtown. Round up a few friends & come enjoy your stay.
Type de logement
Logement entier
---
Type de propriété
---
Capacité d'accueil
6
---
Chambres
Arthur, Illinois 61911, États-Unis
Welcome to Our Home! When you're looking for a place to stay in Arthur, Illinois or to host a holiday gathering, reunion, friends weekend or memorable vacation in the heart of Illinois' Amish country, our home is perfect to suit your needs.
Located in the Heart of Illinois Amish Country! Explore the surrounding countryside and the many Amish shops that surround our village. The horse-drawn Amish buggies and teams of horses working the fields are a common sight. Step back in time to a slower pace of life and relax or enjoy one of our many festivals. Arthur Firework Freedom Celebration, Moultrie-Douglas County Fair, The Great Pumpkin Patch, Arthur Cheese Festival , Touch of Arthur, BBQ competition and Chet Kingery Bluegrass festival, Strawberry Jam and Social, Home and Garden Expo, Quilt and Antique Shows are just a few of the many events held every year. Arthur's Penn Station is home to music by "The Gunny Sack Revue" every Wednesday evening. Please visit our website for more information and links for Arthur events. Search for Walker Family Inn.
The Walker Family Inn located in Arthur is nestled in a residential neighborhood within easy walking distance to most events in town.
Type de logement
Logement entier
---
Type de propriété
---
Capacité d'accueil
10
---
Chambres
Arthur, Illinois, États-Unis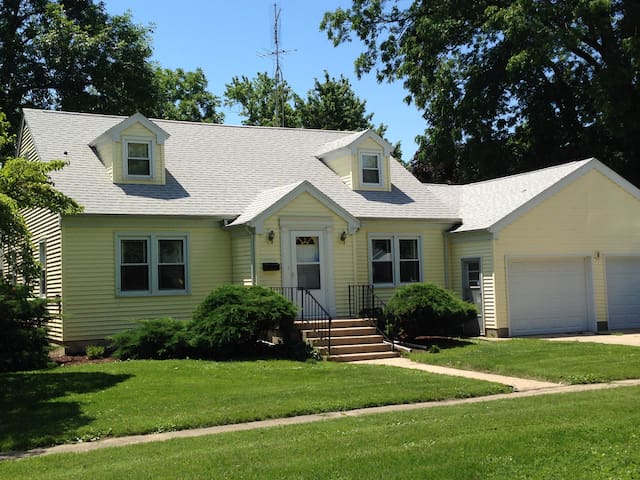 My place is close to restaurants and dining, family-friendly activities, nightlife, I-70 to Indy 500. You'll love my place because of Easy access to I-70 taking you to Indy 500. the ambiance, the neighborhood, the outdoors space, the comfy bed, the light. Country living. All Rms big screen tvs. Fenced yard for pets.My place is good for couples, solo adventurers, families (with kids), big groups, and furry friends (pets).
Type de logement
Logement entier
---
Type de propriété
---
Capacité d'accueil
5
---
Chambres
West Terre Haute, Indiana 47885, États-Unis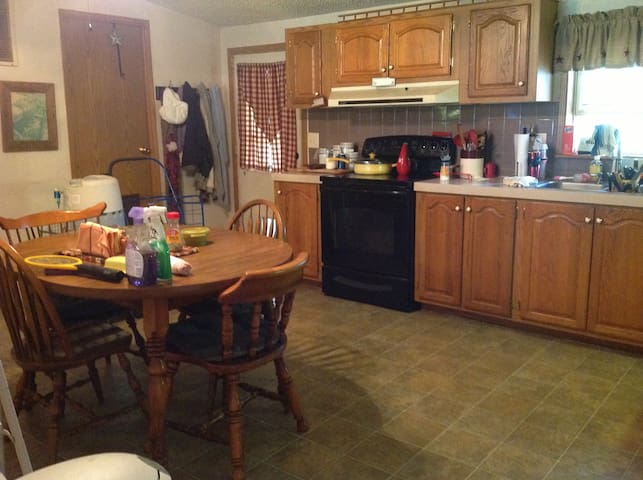 My place is 20 mi. from Univ. of Illinois at Urbana-Champaign and Willard Airport; 25 mi. from EIU and Coles County Airport; 35 mi. from Millikin Univ. and Decatur Airport. In Tuscola, you will find a great art studio called The Vault, the Tanger Outlets Mall, the Candy Kitchen (a quaint soda fountain and chocolate shop), the Iron Horse Golf Course, and more. Will accommodate from 1-3 couples or 1 family with multiple children.
Type de logement
Logement entier
---
Type de propriété
---
Capacité d'accueil
6
---
Chambres
Tuscola, Illinois 61953, États-Unis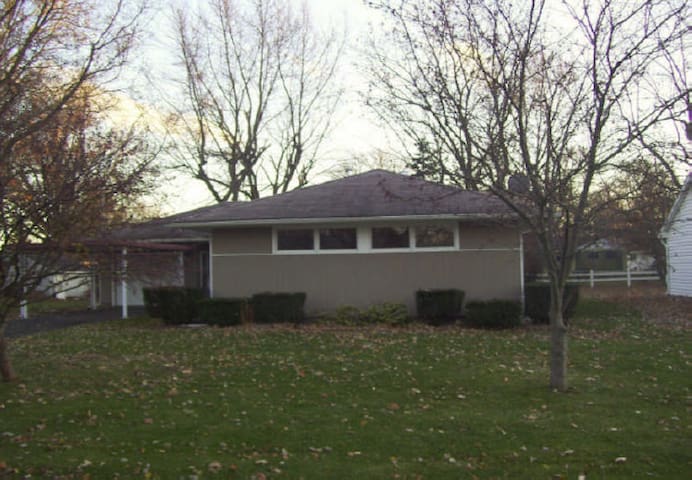 Beautiful, quiet lakeside MIL apartment with 320' of shoreline, two story boat dock, bedroom with king sized bed,full kitchen, breakfast bar, full size pool table, roomy family room with 42" color TV & movie library, laundry, patio, AC, Wi-fi.
One bedroom with king size bed, a large kitchen with breakfast bar, roomy family room with two full size futons so you comfortably sleep six, game room with a pool table and dartboard, lakeside patio, double decker dock, washer and dryer, off street parking.
Our neighborhood is well wooded and when you turn down our street you will feel like you are driving into a remote campground. There are lots of beautiful mature trees, dozens of bird species and deer come through regularly as well. Fishing contests are held regularly on our lake.
Susan and Tom were both such lovely people, very accommodating and welcoming. We were only passing through on a road trip across the country so only stayed one night. Susan was in touch with us several times that day so she could be sure one of them was on hand to greet us. Their care is shown in every aspect of this rental. We will definitely stay here again on our next road trip from AZ to OH.
Nancy
2016-06-11T00:00:00Z
The apartment is spectacular. Everything you could want is there. Susan is a gracious host. I look forward to returning.
Pat
2016-05-03T00:00:00Z
Susan was very accommodating, and everything about our stay was wonderful. I will definitely be coming back!
Robert
2016-03-26T00:00:00Z
The hosts made us feel very welcomed. The description was exactly what they said. There was plenty of room for us to stretch our legs and the whole family had fun playing together. The hosts were great about the noise our young children made and said they enjoyed hearing them. We all had fun playing pool and running around outside. The host was also willing to give our van battery a charge when it needed a jump.
Kara
2016-02-06T00:00:00Z
Susan was great with communication before our arrival and she greeted us when we arrived. She showed us around the space, which is a separate basement apartment within their home. It was very big, more space than we needed! It was very clean and charming, and she even showed us where there were kids' movies for my young kiddo and brought her hot chocolate. We used the kitchen to bake cupcakes for a birthday party we were attending and everything worked out perfectly. Definitely the best place to stay in Paris, and we'll be back!
Jill
2016-02-08T00:00:00Z
We planned to stop here for a rest on a road trip, but plans changed and we didnt end up staying. However, Susan was ready to meet us with the keys and was very friendly and understanding.
Troy
2016-05-09T00:00:00Z
Susan is super accommodating and I love the apartment. She went out of her way to help me out when I needed it. I hope to return.
Pat
2016-05-19T00:00:00Z
Great people, accurate description and great place to stay...quiet...good WIFI...just what we needed.
LeAnn
2016-01-14T00:00:00Z
Type de logement
Logement entier
---
Type de propriété
---
Capacité d'accueil
6
---
Chambres
Paris, Illinois 61944, États-Unis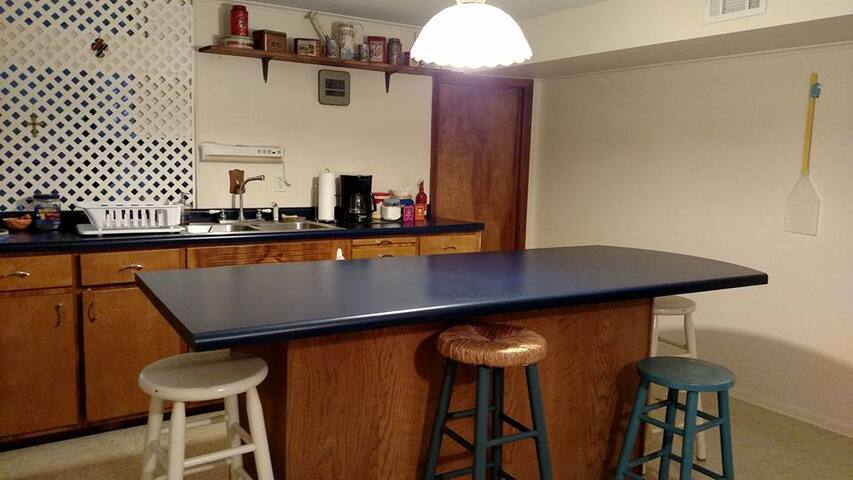 Saisissez les dates souhaitées pour connaître le prix total. Des frais supplémentaires s'appliquent et des taxes peuvent être ajoutées.