Que de dépaysement dans ce ranch au milieu de nulle part. Cela restera pour nous un séjour inoubliable .
Patrice
2016-05-09T00:00:00Z
Always enjoy stopping over at The JX Ranch. Peace and quiet and surrounded by nature.
Ella
2016-12-20T00:00:00Z
It is always a pleasure to stay at Mimi & Tom's place. If you have a love of nature and the outdoors you will enjoy Cow Camp. I bring my dogs to enjoy a little walk up to the mesa (if weather permits) to see the vast open spaces and possibly get the chance to see wild turkeys. Love it here and will be back soon I hope.
Ella
2016-12-23T00:00:00Z
Mimi's ranch is beautiful. We watched an amazing sunrise in the morning and saw the stars at night. Anyone who loves nature, horses, or being outdoors will really love this relaxing retreat. Thank you Mimi! We had a wonderful time.
Kriston
2016-09-22T00:00:00Z
A great place to unwind. Enjoyed seeing the big sky and taking a beautiful walk on n the ranch. Mimi hospitality was unbeatable she thought of everything. Hope to be back again.
Mary
2015-04-04T00:00:00Z
This little cabin with it's cowboy theme was delightful, cheerfully and thoughtfully put together with everything you could possibly need. It is set in a peaceful setting and their friendly dogs give you a warm welcome. While I was only there one night, I squeezed in a really cool little hike to the top of the cap rock and bolted back to the cabin just before a thunderstorm struck. What a lovely place! I just wish I could have stayed longer!
SueEllen
2016-06-26T00:00:00Z
Loved Tom & Mimi's "bunkhouse". The sound of livestock when we arrived was like being in the wilderness. Slept soundly. Lots of fresh air, wonderful scenery. Rustic and comfortable. We left with a booty of their natural hormone free grass fed beef. It was the best souvenir of our road trip! Will stay again.
Carole
2015-11-08T00:00:00Z
Simply a wonderful experience for us urbanized folks! World travelers, but the first time staying out on the rangeland of the southwest. Feel so lucky to have experienced this at least once in our lifetimes. More than worth every mile out your way to experience this sort of serenity in beautiful surroundings. Open rangeland.. Peaceful and quiet beyond knowing. During our stay in May, great draughts of fresh air as a sleeping elixir. Tom & Mimi, the real deal - hard working and friendly ranchers(URL HIDDEN)We will go a long way out of our way if we get the chance to stay again. Already plotting to create the chance...(URL HIDDEN) Highest recommendation, Kathleen & Richard, Searsport, Main(URL HIDDEN)
Richard
2014-05-13T00:00:00Z
Type de logement
Chambre privée
---
Type de propriété
Cabane
---
Capacité d'accueil
2
---
Chambres
Tucumcari, Nouveau-Mexique, États-Unis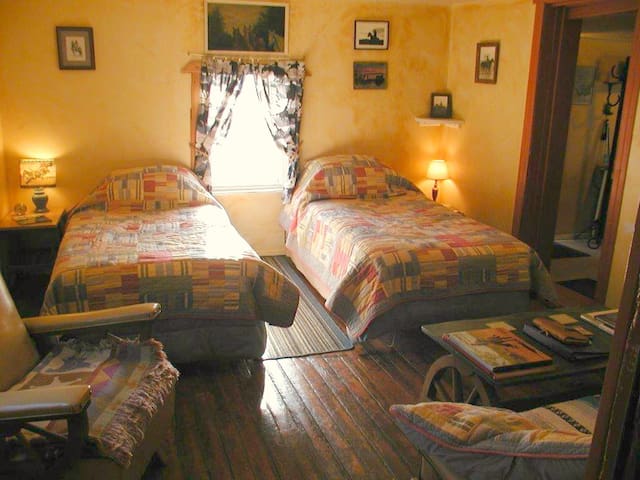 Ven a disfrutar de un poco de paz y tranquilidad lejos de las luces y el ruido de la ciudad en este viejo Bunkhouse situado a 20 millas al sur de Tucumcari en un rancho de ganado. 2.5 milla de camino de tierra después de pavimento.
Bienvenido a JX Ranch Bunkhouse - un corto de 30 minuto (carretera de 20 millas, más camino del rancho 2,5 millas no mejorada) en coche desde la carretera interestatal 40 y la vieja ruta 66 en Tucumcari, Nuevo México. Los viajeros con los caballos son bienvenidos! Las mascotas son bienvenidas - háganos saber si usted está trayendo un animal de compañía y leer las reglas de mascotas por favor. Nota - Pedimos que por favor no solicitar una reserva de más de 3 semanas antes de que desea venir - que simplemente no podemos estar seguros de que podemos acomodar más temprano que eso y tendríamos que rechazar la solicitud. Gracias por su comprensión. Nota: si usted es alérgico a las avispas saber que a veces nos parece que tienen a su alrededor. Contacta con nosotros si se trate. Situado en este 7000 acres ganadería, a dos millas de la acera, se asegura la privacidad, paz y tranquilidad, lejos del ruido y las luces de la ciudad. Aquí se puede disfrutar de la naturaleza de la sombra del JX Ranch Bunkhouse, construido por los primeros colonos y era el casco original. Si bien hemos hecho reformas, nos hemos esforzado para dejarlo lo más auténtico posible; No es de lujo, pero muy rústico y acogedor! Llevar zapatillas; los viejos de madera-pisos son de frío en el invierno, dura todo el año. El Bunkhouse consta de dos habitaciones separadas, cada una con su propia cocina, baño y entrada privada. Cada sala se puede alquilar por separado de la otra, con su propia entrada cocina y baño. Si buscar las fichas de Airbnb en "Tucumcari, NM" o ir a nuestro perfil, los tres se mostrará (Sala Longhorn, la vaca de campo y Whole Bunkhouse). La sala de Longhorn es el mayor de los dos - Cuenta con la roca original chimenea, tres camas individuales, un antiguo sofá vagón de ruedas y basculante, TV, zona de cocina pequeña con sus fundamentos, y un baño con patas de garra bañera utilizado como una ducha. Hay una puerta de comunicación (con llave) para el Camp vaca más pequeña para facilitar el acceso al alquilar todo el Bunkhouse. La vaca campamento tiene dos camas individuales, un sofá de la rueda del vagón y TV, y una cocina y baño. Todo el Bunkhouse, que puede acomodar a 5 personas (7 si el uso de los sofás), se alquila por $ 149 / noche (sin limpieza). Por la noche, se puede ver el pavo salvaje, mientras se preparan para posarse en los almeces Down- cañón debajo de la Bunkhouse. Es posible que vea una hembra con su cría en su camino hacia el agua, o un correcaminos ocupado pasando rápidamente por la pesca del día en su boca. La vista de nuestros colores de ganado de cuernos largos (si están cerca) le llevará de nuevo a la época de las unidades de senderos, uno de los cuales - el famoso Goodnight-Loving Trail - pasó por el rancho y el pasado justo donde se encuentra el barracón. El antiguo camino es perfecto para una noche o caminata mañanera. Al anochecer, los coyotes llaman el uno al otro a través de los cañones y crestas. En una noche sin nubes, el cielo lleno de estrellas se quita el aliento! Ofrecemos un desayuno continental - su cocina está equipada con rollos de canela (congelados, ya que sólo llegar a la ciudad cada 10 - 14 días), los huevos frescos de granja, zumo de naranja, café, té, azúcar y crema. Además, proporcionamos la harina, la sal y la pimienta, el aerosol para cocinar y aceite vegetal para sus otras necesidades de cocción. Que son bienvenidos a traer los alimentos básicos y preparar sus propias comidas - la cocina está equipada con una de dos quemadores cocina eléctrica, horno microondas, cafetera, tostadora, nevera pequeña y un mini-parrilla. Va a encontrar los utensilios básicos de cocina - ollas y sartenes, fuentes, platos, etc. Las sillas y la mesa se encuentran fuera del Bunkhouse donde puede sentarse y comer mientras se ve la salida del sol sobre la roca sello. Proporcionamos una parrilla de carbón y sala de estar fuera de la barraca para su disfrute. Criamos y vendemos filetes totalmente naturales ganado alimentado con pastos (sin hormonas ni antibióticos) y por lo general tienen o carne de hamburguesa disponibles para su compra. Vamos a saber de antemano si quieres algo para su cena para que podamos tenerlos descongelados para su llegada. Si usted quiere comprar nuestra carne de vacuno para llevar con usted, asegúrese de llevar una nevera. Las mascotas son bienvenidas, pero deben ser mantenidos con correa cuando esté fuera, y se mantiene lejos de los muebles cuando en el interior como cortesía a otros huéspedes. Apreciamos que la limpieza después de ellos alrededor de la Bunkhouse. Proporcionamos una caja de arena para gatos con arena y cuencos y un triturador de lata-excrementos de perro. Tucumcari, en sus días más salvajes, fue nombrado "Six Shooter Revestimiento"; se pueden encontrar muchos restaurantes y famosa Ruta 66 iconos y murales. Lowes es la tienda de comestibles uno - ir hacia el norte en la salida 332 a la luz, gire a la izquierda y Lowes está a dos cuadras abajo a la derecha. Vuelve misma forma y permanecer en 209. La pequeña ciudad ofrece dos museos - el Museo Histórico y el Museo de los Dinosaurios. Dos lagos se encuentran a una hora en coche de la hacienda; Ute Lago (45 minutos) y Conchas Lago (1 hora) oferta de navegación y la pesca. El Billy the Kid Museum en Fort Sumner es una hora en coche, y Palo Duro Canyon con la maravillosamente entretenido juego de Texas en el verano, está a dos horas. Tucumcari se encuentra en la I-40, aproximadamente 180 millas al este de Albuquerque, Nuevo México y 110 millas al oeste de Amarillo, Texas. Estamos a 20 millas al sur de Tucumcari en la Carretera Estatal 209, y 2 millas de la autopista. Ver direcciones.
Esto se RANCHING país, por lo que nuestro "barrio" se compone de tierra del rancho abierto. ciudad más cercana es Tucumcari, a 20 millas al norte. Por lo general, es muy seco en esta parte del Estado, pero si lo hacemos que llueva o nieve en el invierno, las 2.5 millas de terreno agreste camino de tierra puede ser transitable sólo con un vehículo 4x4. Si parece que ha llovido o puede llover (no muy a menudo!), Por favor llámeme antes de salir de esta manera.
Un petit coin de rêve perdu au Nouveau-Mexique! Nous nous sommes tout de suite sentis chez nous dans ce ravissant petit ranch de 1900, parfaitement équipé, situé à l'écart de la maison des propriétaires. Mimi nous a réservé un chaleureux accueil, en français qui plus est! Nous avons fait de magnifiques balades dans le ranch, croisant les chevaux venus nous dire bonjour et grimpant sur un plateau qui offre une vue magnifique sur l'immensité et l'aridité des pâturages.
Mireille
2016-08-01T00:00:00Z
The ranch is beautiful, and the bunkhouse is very cozy. We had everything we needed for our one night. We arrived pretty late at night and didn't have the opportunity to meet Tom, but we did meet Mimi the next morning. I would recommend this place to friends, and would also recommend purchasing some steaks from Mimi!
Patricia
2016-01-02T00:00:00Z
We loved the JX Ranch Bunkhouse! This place is a great get away for those looking for adventure. If the sky is clear, you'll enjoy an amazing dark sky brimming with stars. Bunkhouse features a cozy rustic frontier motif with a fireplace. Everything was clean and in order. The host, Mimi, was friendly and gracious. About 22 miles from the closest gas station, this is a remote location. Strong cell signal was a plus. In the morning, we took a 3 miles hike up one of the nearby bluffs for a stunning view of the surrounding plateau. Would definitely visit again. Cheers!
Keith
2016-03-13T00:00:00Z
A great visit to a favorite spot. I can't recommend a stay at JX ranch enough!
Sarah
2013-06-10T00:00:00Z
Driving into the JX Ranch, we were greeted by sweet new calves and their mamas as we made our way down the clay road. It was dry, and we had no problems with the road in our Honda. The canyon surroundings were beautiful in the setting sun. Mimi met us at the end of the road and showed us to the bunkhouse. The space is well maintained, cute and comfortable. We had everything we needed. Traveling with children, we felt safe and the kids agreed it was a great spot. I highly recommend trying their club steaks, dry aged - they provide charcoal and grill. Delicious! We split the bunkhouse with friends, taking the cow camp side. The next day after enjoying cinnamon rolls and eggs, we spent some time chatting with Mimi and learned about their holistic land management and cattle raising practices. She and Tom are extremely hard-working and responsible, warm, and kind folks. Walking around the grounds we played fetch with the dog and got to see some wild turkeys up close. Overall a great experience.
Sarah
2015-03-17T00:00:00Z
Upon arrival we were greeted by Tom at their house and then went down to the guest house and were greeted by Mimi. We were given a tour of the house and it's amenities. For us, the listing was spot on. We had a group of five so we rented the entire bunk house. There was no neighborhood, just miles of beautiful vistas. We saw a large herd of antelope along the graded dirt drive between the highway and their house, turkeys, hawks and of course their dogs, cattle and horses. There is plenty of room to explore, we took a hike up to a high point above the ranch for even greater views. We also purchased the grass-fed tenderloin beef. It was so tender that we did not even need a knife to cut it. Incredibly delicious! The breakfast offerings of farm fresh eggs, bagels and cinnamon rolls completed our overnight stay.
Jerre
2016-04-09T00:00:00Z
Very reliable landlord! Thanks Tom and Mimi to direct us avoiding possible chaos when unexpected rain damaged the country road nearby. We finally took their advise to take a motel instead otherwise we might sink into mud!They also refunded our money very quickly, We would certainly come again and their kindness keep our cowboy dreams live! Thank you very much again!
Shijun
2013-09-18T00:00:00Z
It was a refreshing comfort from our trip. We spent most of our time in a cabin in Colorado without electric or running water. Mimi and Tom's had a sincere atmosphere with great amenities. We loved the food and they were very courteous.
Brandon
2016-03-19T00:00:00Z
Type de logement
Logement entier
---
Type de propriété
Cabane
---
Capacité d'accueil
5
---
Chambres
Tucumcari, Nouveau-Mexique, États-Unis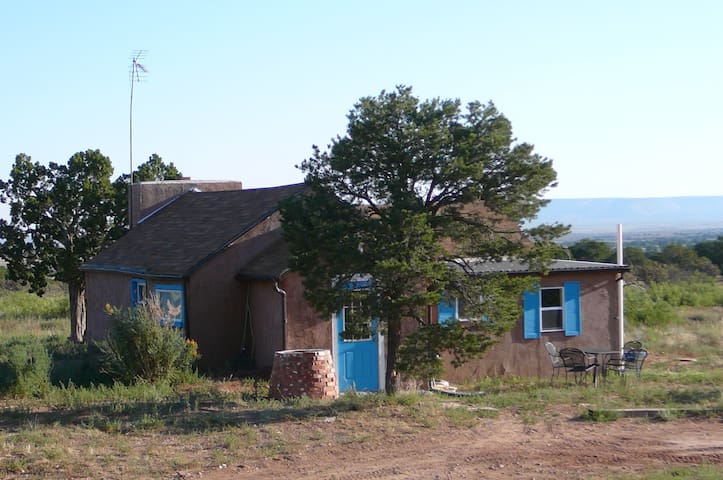 Kom og nyte litt fred og ro vekk fra lys og støy av byen i denne gamle Bunkhouse ligger 20 miles sør for Tucumcari på et storfe ranch. 2,5 miles av grusvei etter fortau. Vennligst: ingen booking ber mer enn 3 uker ut!
Dette er ranchområdet, så vår "nabolaget" består av åpen ranch land. Nærmeste by er Tucumcari, 20 miles mot nord.
Beautiful, magical. The real deal.
Susan
2017-03-27T00:00:00Z
We met both Mimi and Tom and they were warm and welcoming. They have a very interesting story. We read about their ecologically sound ranching practices and enjoyed see their beautiful land in person. We stayed in the larger room, which slept more than we needed, but the smaller room was taken. We felt the smaller room's price was more in line with what we were expecting. It is cabiny and rustic but warm and cozy, with everything you need and amazing views. Fixings for a good breakfast, including fresh eggs are provided. We also bought some steaks on the way out and can vouch for their quality. The ambiance Mimi provided made up for any shortcomings we felt.
Joe
2016-12-23T00:00:00Z
We had a terrific stay in the Longhorn Room. It was very peaceful and comfortable, and it was just what we needed after a 14-hour drive to get there. Mimi was very friendly and gave us all the info we needed. We also went to dinner at a place in Tucumcari that she had recommended, and it was very good. We slept well, then had fun walking up the trail the next morning...their dog Blue even joined us as a "tour guide"! (Be careful for rattlesnakes, though...we saw one alongside the trail and stayed out of its way.) All of the breakfast foods available were a nice touch as well. I scrambled some eggs, and we also had bagels and juice. It was a wonderful getaway, and we would definitely stay here again.
Cameron
2014-07-26T00:00:00Z
Wonderful place! We stopped over on a trip along HWY 40 and it was a perfect way to relax and recharge. Very clean and Mimi was a gracious host. We loved the views and the beautiful night sky. Would definitely recommend.
Megan Rose
2015-05-16T00:00:00Z
I loved everything about the ranch. I was passing through to Clovis and was blessed to find this place at the last minute. I'd recommend it to every/anyone who's looking for a private getaway or weekend vacation. I'll definitely be going back for the steaks I missed out on..
Maurice
2016-01-30T00:00:00Z
Mimi and Tom's bunk house was such an awesome place. It ranks right up at the top of the many Airbandb place we have stayed. My loved the wide open space and the great weather. Everything was as advertised as stated. Mimi and Tom were very gracious and so helpful. If you are a true city slicker and need to be in communication and close to attractions this would not appeal to you. We wished we could have stayed longer. Wild turkeys were greeted us as well as a million Dover flying over the many wild sunflowers. We even saw 2 coveys of wild quail which is so seldom for us. Can't say enough about this place. Would love to come back. We grilled 2 steaks and they were very flavorful. Must take advantage of this if you arrive early enough to eat.
Kathy
2015-09-07T00:00:00Z
Tom and Mimi's ranch is stunningly beautiful. The Longhorn room is cozy, clean, and just as it looks in the photos. Mimi greeted us and made us feel very welcome. This was such a lovely place, I hope to return before too long!
Szu-Han
2015-01-12T00:00:00Z
This is an amazing experience of staying in the middle of a huge, holistic!!!, New Mexico ranch. It was marvelous! Mimi is a great host who had a toasty bunkhouse waiting for us at the end of a long day on highway 40. The bunkhouse has everything you need including a kitchen, bathroom with shower and tub, and a fireplace! Heavy quilts keep you warm at night while you nestle in bed growing drowsy listening to the wind blow. The bunkhouse is over a 100 years old and it's a great experience to stand at the kitchen sink and think of the inhabitants who looked out of the same window while doing dishes many years ago. My daughter's favorite experience at the window was being the first to get up in the morning and seeing turkeys out of it. Mimi and Tom's ranch stay is a very unique experience and I highly recommend it!
Susan
2015-11-22T00:00:00Z
Type de logement
Chambre privée
---
Type de propriété
Cabane
---
Capacité d'accueil
3
---
Chambres
Tucumcari, Nouveau-Mexique, États-Unis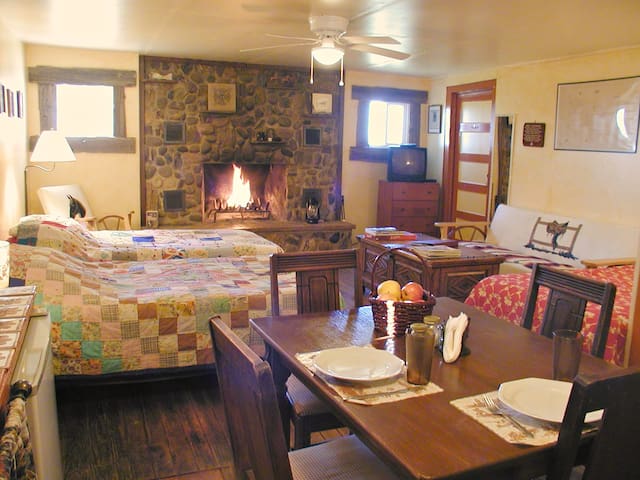 House - Airbnb
:
Moyenne de

5

sur

5

étoiles sur les

157

commentaires des voyageurs
Saisissez les dates souhaitées pour connaître le prix total. Des frais supplémentaires s'appliquent et des taxes peuvent être ajoutées.