Saisissez la date d'arrivée au format jj/mm/aaaa
Saisissez la date de départ au format jj/mm/aaaa
Logements que vous pouvez réserver sans attendre l'approbation de l'hôte.
Saisissez les dates souhaitées pour connaître le prix total. Des frais supplémentaires s'appliquent et des taxes peuvent être ajoutées.
Cet été (juillet et août), vous pouvez essayer l'un de ces 100 logements les mieux notés, dans toutes les gammes de prix, pour découvrir Sonoma d'un point de vue local. Entrée dans les lieux 24h/24, réservation instantanée, mais aussi vin et petites spécialités locales à disposition… autant d'invitations à vous détendre et à profiter pleinement de votre voyage.
Located just out of Port Alsworth, AK our cabin is the perfect retreat into Lake Clark National Park. Stay in our private rental cabin and enjoy lake views, fish from the front door and feel like you are in wilderness Alaska.
Newly rebuilt! Take advantage of our special 2017 rates! Our fully furnished cabin is the perfect gateway to your Lake Clark National Park Adventure. Huge windows overlook Lake Clark, the Tanalian River and long Bristol Bay sunsets. Watch salmon jumping while drinking your morning coffee, kayak right from the front yard or fish at the river just a few steps away. This fully furnished cabin includes a full kitchen, bedroom with queen bed and a twin Trundle bed in the living room sleeps 2. The cabin is plumbed for running water with on demand hot water so you can enjoy a hot shower at the end of the day. Toilet is a private outhouse located onsite. Full access to the entire building, yard and 40 acres of private old growth forest that includes historical landmarks from our family and Lake Clark's history. We are onsite and located a short 5 minute walk away. Call us with the local landline or come see our home, campground and other guest services. Assistance from the air taxi is available with a heads-up on your arrival. This cabin is located on our 40 acres of private property that was originally our great-grandmothers and where our grandmother Katie was born. The cabin is a remodel of our Grandma Katie's cabin. Stay with us and experience some of Lake Clark's history and culture.
Located on our 40 acres of private property at the mouth of the Tanalian River, and just 10 steps from Lake Clark National Park. Access is by an ATV/walking trail. During most summer months crossing a footbridge to access town is required. This cabin is located just out of town and all access is across our private property. This means you are removed from the busyness of Port Alsworth. Aircraft parking is available, please contact us for more info. Kayaks, motor boats and a water taxi are available through our company, Tulchina Adventures. Kayaks/motor boat can be parked at the cabin for your convenience. Port Alsworth is accessed by a 10 minute walk through our private forested trail system. Everything is accessible by foot. We will assist you on your arrival and departure. This is the best location in town. Located about a 1/2 mile from Port Alsworth and surround by private forest you feel like you are truly away. Wondering about food? We can assist you in arranging an expeditor to do your grocery shopping and deliver it the local air taxi for a small fee. It's really that easy. We can also arrange for you to eat meals at one of the local lodges, and there is a local restaurant open on Saturdays. Washer/Dryer are in building and include an additional fee for use.
Amazing location! Lakeside as advertised. There was a great little stream next to us that entered into the lake and the view from our cabin was amazing. Beth was a great host and took care of us the entire trip and made sure we had everything we needed. We would highly recommend staying at her lakeside cabin. The only regret is that we didn't stay longer.
Bryan
August 2016
Type de logement
Logement entier
---
Type de propriété
---
Capacité d'accueil
4
---
Chambres
1
Port Alsworth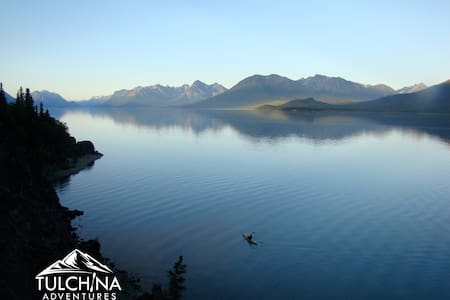 The General Lodge is Lake Clark's premier Adventure Lodge. Whether it's world-class Alaska fishing, adventure, hunting, or just simply a chance to get away from it all, The General will lodge you, feed you and outfit your needs.
Type de logement
Chambre privée
---
Type de propriété
---
Capacité d'accueil
2
---
Chambres
1
Port Alsworth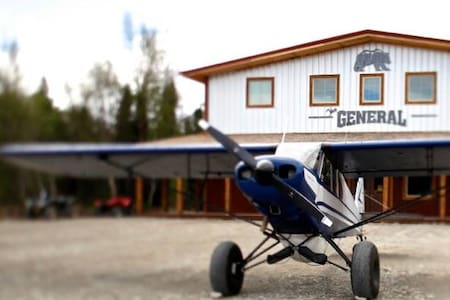 Stay in our Port Alsworth, Alaska campground for your Lake Clark National Park wilderness adventure. Our small luxurious campground has 10'x12' huts with solid floor, mosquito netted walls, and clear roofing to keep you dry and bug free.
Luxury camping at its' finest. With our mosquito netted walls and clear roofing you feel like you're in the Alaska wilderness without being exposed to the elements. Some guests choose to set a tent up inside, but most simply throw down a sleeping pad. Bring your own camping pad/tent or rent one from us. Space includes camp chairs, firewood, potable water, bear-proof food storage, outhouse and solar shower (not your average solar shower). Full access to our private 40 acres of old growth forest surrounded by Lake Clark National Park. Spend a relaxing evening around the fire pit or enjoy a sunset walk to the beach. We are onsite and available during reasonable hours. If arrangements are made in advance we may be available to shuttle you from the air taxi. We have 2 Karelian Bear Dogs (Oofta and Neli) who love campers and will make you part of their family. Their job is to protect us and you from bears.
Lake Clark National Park Visitor Center is a short 5 minute walk away. Hiking trails to access Kontrashibuna Lake/Falls and Tanalian Mountain are within 1 mile. Walk 5 minutes down our private trail for beach access and amazing fishing at the Tanalian River. During much of the summer you must cross a foot bridge to access our campground. All of Port Alsworth and the immediate hiking trails are easily accessed by foot. We rent kayaks, camping gear and motor boats. In addition we operate a water taxi and have remote campsites located around Lake Clark. Ask us about creating a vacation package. See our company Tulchina Adventures for more info.
Type de logement
Chambre partagée
---
Type de propriété
---
Capacité d'accueil
4
---
Chambres
1
Port Alsworth