Di ringraziamento per aver scelto Exuma! Uno dei posti più belli del mondo! Amerete il nostro cottage a causa della sua atmosfera accogliente e bella tranquilla spiaggia solo un attimo di distanza a piedi ... Trascorrete le vostre giornate in spiaggia e serate ascoltando il surf e sentire la brezza fresca dell'oceano ...
Bellissimo e molto tranquillo tratto di spiaggia ... un momento di distanza! Il cottage è accogliente e ha un piccolo angolo cottura a disposizione per voi con un forno a microonde, frigo bar, macchina per il caffè. Ci sono sedie patio per godersi la brezza marina sul ponte ... trascorrere la giornata sulla un tratto in gran parte di spiaggia privata, gustare il pranzo in Exuma Point Beach Bar & Grill, visitare i maiali di nuoto con Elvis, sorseggiare un drink al Shoreline Restaurant & bar e poi stabilirsi nella vostra accogliente cottage per ascoltare il surf, come si sogna ... idilliaco!
Leonhard
2017-03-09T00:00:00Z
We had a great stay at Martin's cottage. We arrived on our boat from Long Island with our 2 year-old and Martin went out of his way to make sure we were comfortable, relaxed, and cared for. The cottage is well appointed and has everything needed as a comfy base to enjoy the area. Be sure to go to the Exuma Point Bar and Grill for their epic buffet! It's a short walk up the beach but check the hours as I think it's only open until 5pm. If you are bonefishing, you will not be disappointed. Ask Martin to point you in the right direction and have him recommend a local guide.
Jonathan
2017-03-19T00:00:00Z
Martins place was a wonderful place to stay. Clean, quiet and away from it all. Everyone involved were excellent hosts, they definitely made us feel special!! You will need a car to get around the island- Taj is a great help with this. Check out the local Cocoplum beach- in my opinion it is the best one on the island. Right in front of the cottage you have a private beach which is also a plus (but bring bug spray). This place is a great place to stay, you won't regret it!!
Samantha
2017-02-28T00:00:00Z
Type de logement
Logement entier
---
Type de propriété
Cabane
---
Capacité d'accueil
2
---
Chambres
Rolleville, Exuma, Bahamas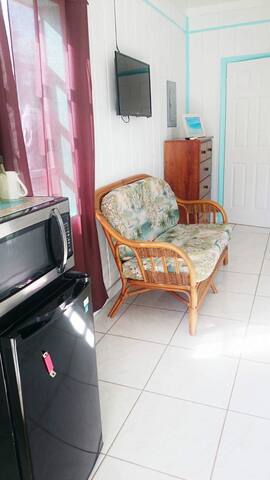 Buchen Sie eine Tour zu gehen, schwimmen mit den Schweinen, dann kommen Sie entspannen und entspannen Sie sich auf Ihrem eigenen privaten Strand für ein paar Tage bei uns. Holen Sie sich Ihre Hemmingway auf und erhalten Sie inspiriert und beleben auf der Welt zu nehmen.
Notre maison de vacances à la plage se composent de 2 étages construction d'une salle de bain appartement 3chambres 1 au rez-de-chaussée et à l'étage supérieur chacune avec sa propre entrée privée. Du rez-de-chaussée, vous pouvez ouvrir la sortie arrière et en quelques secondes tout simplement vous détendre sur votre propre plage privée
空港からは近いが徒歩圏内に飲食店は少なくタクシーでの移動が基本。ホストが車を回してくれることもありました。とても親切なホストでした。
SHIORI
2017-03-20T00:00:00Z
Very nice rbnb
Johannes
2017-04-06T00:00:00Z
Type de logement
Chambre privée
---
Type de propriété
Appartement
---
Capacité d'accueil
2
---
Chambres
Exuma, Exuma, Bahamas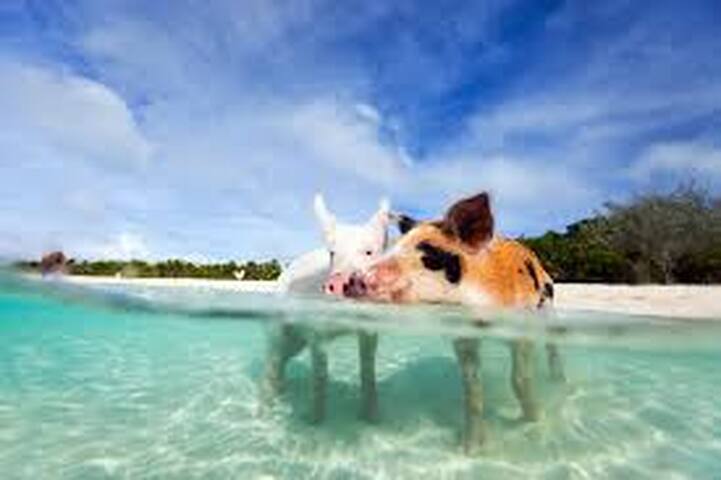 Nous sommes situés sur un 2 miles étirez off tandis que la plage de sable juste à côté de la route Mt Thompson sur Great Exuma, idéal pour la plongée, la natation .... Toutes les chambres disposent d'une baignoire, climatisation, wifi gratuit et accès au barbecue et la cuisine en plein air sur le pont. À 10 min de l'aéroport (GGT), Marche restaurant et de l'église, à 5 minutes de la station de gaz et l'épicerie. George ville, la principale ville est à environ 15 minutes en voiture.
Visited Sunrise for 10 days in March and had a fantastic time. First off Levi treats you like family once you arrive. Very friendly and welcoming. We rented the two bedroom on the ground floor. It was clean and footsteps to the beach. The beach was exactly what you would expect from Exuma long and deserted. This is the type of place where if you are simply looking for a place to put your feet up and relax. I would recommend renting a car and driving around the island. Get Levi to rent the car for you as he can try to get you a better rate. Get your groceries in Georgetown and try to avoid the mini mart up the street. The fish fry is great place to hangout but there is hideaways which had a DJ on Friday and Saturday. There is a roadside bbq not far from Sunrise which is open from 6 till 10 Friday and Saturday. You can walk there on the street but bring a flashlight as the road is dark. Would go back in a heartbeat.
Marc
2016-04-04T00:00:00Z
levi's place is awesome. he took us with him on one of his boat tours on the first day and we really loved it, also it was half the price than comparable ones. also he borrowed us a car for getting groceries and stuff for free. i can really recommend staying there.
Martin
2016-11-06T00:00:00Z
Three great things about Three Sisters is the location, the place and the Host. If you are renting a car, rent with a lady named Janet. Everybody knows Levi. Just in case you arrive at night, and you are driving, his place is very near the airport which is located in the middle of the map, right of SDA church. To the south (they call it east ) is the Trophic of Cancer beach. It would take about 45 min to travel each side, so if you want convenience, you can definitely benefit from Levis location. Make to read the map and research on it. There are cell sites all over but dont expect top of the line online access. Plus, keep in mind that you are on vacation. The house is clean and comforable. The towels and bed sheets are nice, It is by the beach. Youll have the view of the three sisters rock. Its about a 3 sister... you can research online. The host Levi is hospitable and very helpful. Bahamians are genuinely nice and happy people from our experience. They remind me of home.
marvie
2016-11-24T00:00:00Z
Levi was a responsive host. The house is more like a hostel, but the interior is as described, and it has direct access to a large and beautiful beach. Levi rented us a car and borrowed kayaks. He was flexible with the arrangements and responsive. Probably the best thing of the stay was joining Levi on his boat tour. It was amazing: he took us to see the rays, pigs, iguanas, turtles and the disappearing island. It was amazing and as well reasonably priced compared to other similar tours in the island. The kitchen was well equipped and we had a very nice stay.
Clara
2016-11-13T00:00:00Z
Levi was an amazing host! The place was very clean and spacious! It was just the two of us, but I would recommend this for a group of 4 as there are 2 beds that would sleep 2 people each. The family room/kitchen was also nice for hanging out in in the evenings. The beach and water were amazing! Definitely book Levi's tour if it's available. We got to have a day full of adventures including swimming with pigs and feeding iguanas! Exuma is lovely, but food is expensive. If possible, I would recommend bringing things like mini condiment packages, coffee, etc. The nightlife is also quiet and you may be tired from all the fun in the sun during the day, so it may be a good idea to bring some evening entertainment like movies or a laptop (though keep in mind internet may be limited).
Lana
2016-12-06T00:00:00Z
Levi was incredibly welcoming he made me feel right at home. He made every effort to to help out with anything and everything
Jen
2016-03-16T00:00:00Z
Exuma is all about being out on the water and Levi's boat tour is the best value - whole day for less than the others charge for four hours. All in a modern 23 footer with snorkelling gear provided.
Tim
2016-08-05T00:00:00Z
Exuma e' una bellissima isola , con spiagge e mare stupendo. L accoglienza non e' stata delle migliori , causa Di un mio disguido , ma non e' stata piacevole. La posizione Della Casa e' molto Bella . E con auto si puoi' raggiungere tutto, ma e' assolutamente necessaria .
Stefania
2016-08-15T00:00:00Z
Type de logement
Logement entier
---
Type de propriété
Appartement
---
Capacité d'accueil
5
---
Chambres
Exuma , Bahamas

Coral Breeze is conveniently located just outside of George Town. The property is perched hilltop overlooking spectacular views of Elizabeth Harbour.
This room includes a queen sized bed with en suite bathroom, large walk in shower and oversized tub.
Coral Breeze is apart of a secluded up scale subdivision with elevations that take in panoramic views of the Atlantic Ocean.
Mel and Freddie are very nice. The place is very beautiful, calm a perfect place to relax, on a little hill where you have great view with the sea. Their place is very modern, big and you find everything you need. Grocery store is 15 - 20 min walking. If we ever come back to exuma would love to stay at this place again. Definately recomand to everybody.
Olga
2017-03-22T00:00:00Z
The house is new and while it is still missing a few kitchen appliances and living room items, Mel and Freddie made my stay as comfortable as possible. They are great hosts and very kind. The house is up a small hill with it being halfway between Georgetown and the fish fry (less than a mile to each location) so making it very easy to walk around. The views from the house are indescribable. I would 100% stay here again as once this house is completed, it will be a gem within Exuma.
Kyle
2017-02-09T00:00:00Z
new and clean,close to the restaurant
Bihong
2017-02-17T00:00:00Z
The house is so cute and completely new, modern and clean. It's located very close to the center of George Town but I would recommend everybody to rent a car. They were super lovely, showed me the way to the house, showed me beautiful places to see and helped me out with everything I needed. I absolutely enjoyed it and I will come back for sure.
Doreen
2017-01-07T00:00:00Z
Mel and freddie's home was great. They were quick to answer our questions and gave us good tips. The house is very nice inside and close enough to the main shops, but i would definitley recommend renting a car to get places !
jose
2017-03-28T00:00:00Z
Really nice people. They will help you if nessecary. Nice new house. Furniture and kitchen supplies are not there yet. Just a bed, shower and bath. All you need because bahamas is to pretty to stay in your room. I would come back here.
Karolina
2017-03-02T00:00:00Z
Very nice house, it's all new and still in progress. Mel and Freddie are helpfull and did everything so we could enjoy our stay. If we ever come back to Exuma we definately would stay there again!
Daniel
2017-02-01T00:00:00Z
Mel&Freddie are wonderful hosts. The house is exactly how it is advertised . Very clean and modern with a wonderful breeze that cools the house quickly. It's in a great location that's close to everything. Beautiful views of the harbor. Their communication is top notch. They answered our questions quickly and gave us appreciated tips and advice and they didn't make us feel silly when our jet lag interfered with us finding the house. We still laugh about that experience. Wonderful island, wonderful people, wonderful scenery and wonderful hosts! We look forward to staying again in the future.
Sarah
2017-04-04T00:00:00Z
Type de logement
Chambre privée
---
Type de propriété
Maison
---
Capacité d'accueil
2
---
Chambres
Great Exuma, Exuma, Bahamas
Modern spacious ground floor apartment the house runs on solar power with propane cooker so we have plenty of power during the day not so much at night
Had a great time, we were well taken care of. Hosts were very helpful. Secluded location appreciated but be prepared for rough road and the need for a vehicle. Positive adventure for our family with teens.
Andrew
2017-03-15T00:00:00Z
Great Hosts easy to contact. A nice comfortable place in a quiet location, comfortable bed, big TV, nice little kitchen. great place to stay at a reasonable price. I will be staying here again.
Michael
2017-04-05T00:00:00Z
Nice place, great host and beautiful landscape! But you need a car.
Georg
2017-03-06T00:00:00Z
Cecil was very communicative and helpful. We only ended up being there less than 24 hours due to flight delays; however, the place was perfect for what we needed. Our one mission was to swim with the pigs, and thanks to his advice, we were able to find someone to take us when he missed our tour. Cecil's place is amazingly remote, and I'd definitely stay again when I return to Exuma!
Leah
2016-12-04T00:00:00Z
Great Hosts easy to contact. A nice comfortable place in a quiet location, comfortable bed, big TV, nice little kitchen. This is not the Ritz or Sandals so if you set your expectations appropriately you'll have a great time. I will be staying here again. Now a little about Exuma if you've never been there before, other than the main 'Highway' the roads are awful, the internet access is not the best or fastest, food is not the cheapest, BUT the beaches are some of the best in the world, the people are friendly, and then to find a nice quiet reasonably priced place to stay.....
Michael
2017-04-09T00:00:00Z
Very good value for money, Cecil Was always accessible in case we needed anything! The house is really quiet! Car is needed to go anywhere, but it's really close to Town!
Raquel
2017-03-25T00:00:00Z
Overall we had a great stay at Cecil's place and on Exuma. We stayed with Cecil's partner and his son who were both very friendly and helpful. The property was actually much nicer than we expected based on the price we paid. It's off a dirt road and the only house on the street. It's a quick 100m walk to the water and at low tide you can walk to a nearby deserted island with a nice beach and the best snorkeling that we found. If you're looking for a place to stay while you explore the Exumas this apartment is a safe bet
Michael
2017-04-01T00:00:00Z
Cecil and family are very helpful with any questions and very accommodating with any items that you bring up to them. Definitely recommend their home as a quality destination, at a good price.
Tom
2016-12-20T00:00:00Z
Type de logement
Logement entier
---
Type de propriété
Appartement
---
Capacité d'accueil
4
---
Chambres
George Town, Exuma, Bahamas
Great Exuma Cottage Rental Photos and Description Secluded Beautiful Beach Cottage on Hooper's Bay, Exuma. 10 Mins From Airport. Sunset Cottage is a beautiful secluded beach house that is a home away from home. This 1 bedroom, 1 bath cottage sits o
My wife and I rented Peter's cottage for a week for out 25th Anniversary. The location could not have been more perfect for what we wanted, seclusion, quiet, peaceful and BEAUTIFUL. Peter came to meet us shortly after we arrived to greet us and explain about the cottage and use of the amenities. He was very nice and helpful telling us about the local markets and such We had a little trouble finding the cottage at first but once we were there it was amazing. Being from the states we were expecting a numbering system for addresses. On Exuma, it seems the address is merely the highway, settlement and name of the Cottage/House. Thank you Peter. Hopefully we will be able to return next year with the family, and rent you larger cottage.
DeWayne
2016-08-14T00:00:00Z
We stayed at Peter's cottage for a week. The setting couldn't be more beautiful - right on the sea shore in stunning Hoopers Bay. The cottage is ideally located. The airport is a short drive away and George Town is a few minutes drive in the opposite direction with various restaurants on the way. There is also a small supermarket, pharmacy and liquor store (Smitty's) very close by. The beach in Hoopers Bays bay is private so you pretty much get the beach to yourself (and it's beautiful!). The water is calm and very good for swimming. We saw turtles every day of our stay. Peter has a kayak which we used to explore neighbouring beaches and to spot turtles. The cottage is perfect for two people. It has everything you need. A well equipped kitchen, outdoor grill, verranda, washing machine and dryer. Peter was a great host. He lives nearby which is always reassuring. He can help with car hire and also runs various tours and trips. Peter was there to meet us when we arrived and gave us loads of advice as to what to see on the island, the best food spots and beaches. A superb week. We hope will be back!!!
Katherine
2016-12-18T00:00:00Z
Words cannot describe the beauty of this place. It is truly a little piece of heaven on earth. The location was wonderful. It was close to many markets at which you could buy food and other necessities. The setting of the house is gorgeous. It is located at Hooper's Bay which is a very quiet serene place. The water is beautiful as it is anywhere on the island. We were able to walk or swim depending on the tides. We were also able to go kayaking as one was provided to occupants of Sunset Cottage. The house was very clean and well equipped. It had everything anyone would need for a perfect stay. There were also plenty of amenities. Peter had even included towels which were meant for use on the beach. Peter was the perfect host. He was always available to answer our questions, but was wonderful concerning our privacy. Peter also took us by boat on a wonderful tour of the area. We were able to see many places that we had read about but could only be seen by boat. We will be back to Exuma and when we return we will stay at Sunset Cottage again
Carla
2017-02-19T00:00:00Z
We picked up a car from Don's Car Rentals at the Georgetown airport and met Rita at Smitty's store (10 mins drive) where we did some shopping and then Rita showed me to the cottage down a dirt track road. Hooper's Bay* is lovely and protected which is important at this time of year (mid Feb) when can be quite windy. . The beach is private to the few houses on its stretch and green turtles swim in the shallow azure blue waters. We saw ospreys and oyster catchers too. At low tide you can walk round the coast and explore other small beaches. The cottage also has a double kayak which is great fun. The cottage is well equipped and has a great bed (so rare!) It also has a beach side shower and bathroom in addition to the one inside. It is a wonderful cottage for two and Peter also has a 5 bed house nearby which also looks fantastic. You can rent small boats in Georgetown and tie up at the marked snorkelling points in Elizabeth Harbour, or take a water taxi over to Stocking Island for lunch at Chat n Chill. I went scuba diving on the wonderful reefs with Exuma Dive and even played in the water with a small pod of dolphins one day! It was the most relaxing holiday we've had in a long time. Peter and Rita are really kind people and in fact all the people on Exuma island are very welcoming and relaxed. *N.B the (SENSITIVE CONTENTS HIDDEN) map shows the Cottage at Rokers Point Settlement further north, it is actually in Hooper's Bay. More Tips: All activities are really water based so plan your days out on the water based on the wind speed. There is not a great deal to do inland so on windy days we relaxed at the cottage because the Hoopers Bay is so nicely protected. Don't be surprised by the sandbags and other debris on the beach, there was a hurricane about 5 years back which has left quite a bit of damage around the island.
Genevieve
2016-02-21T00:00:00Z
The host canceled this reservation 45 days before arrival. This is an automated posting.
Shiv
2015-11-09T00:00:00Z
Type de logement
Logement entier
---
Type de propriété
Bungalow
---
Capacité d'accueil
2
---
Chambres
Rokers Point Settlement, Exuma, Bahamas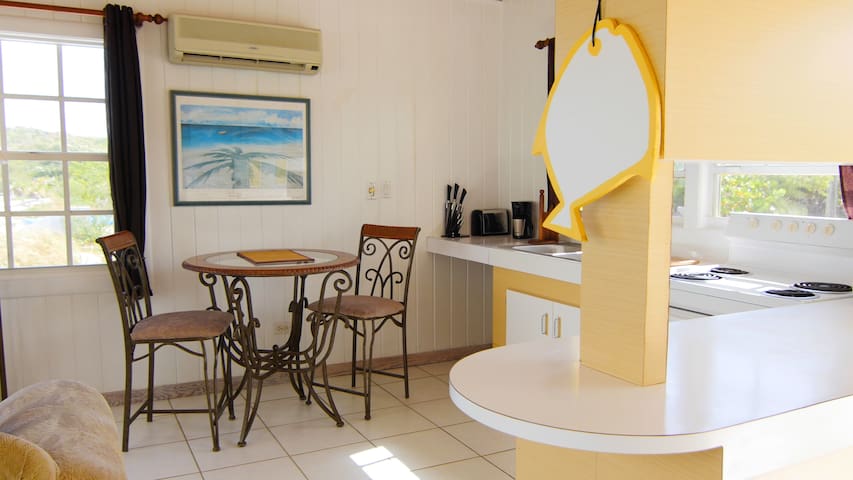 Sea Horse Cottage at Masters Harbour boasts its own shallow water private beach. You'll love the location for its balmy breezes and awesome views of the Exuma turquoise blue waters. Sea Horse Cottage is a cosy couples get-away!
The Cottage is three miles from George Town, where you will find grocery stores, liquor stores, restaurants, gift shops, bars, and banks with ATMs. From Sea Horse Cottage, you can head east by rental car and explore the many beaches, including the world famous Tropic of Cancer Beach. Head further east to Williams Town, and make a stop at Santana Beach Bar. Head west from Sea Horse Cottage into George Town and hop on the water taxi to Chat & Chill Beach Bar at Stocking Island, in picturesque Elizabeth Harbour. Fly fishing flats are also nearby Sea Horse Cottage. From the living room of Sea Horse Cottage or its front porch, you will be able to enjoy the balmy breezes and feast your eyes on the ever-changing shades of blue waters steps away. Stay with us and experience the breezes of the Sea Horse Cottage.
Sea Horse Cottage at Masters Harbour is part of a quaint, quiet property. There are neighbours around, however you are not within walking distance of restaurants, grocery stores etc. We highly recommend a rental car and would be happy to assist you in arranging for one.
Hôte et Accueil exceptionnels! Nous avons été plus que bien reçus. Le logement est très bien situé, très propre, bien équipé, spacieux et donne directement sur la plage privée. Vous pouvez y aller les yeux fermés. Encore merci Donna pour ce séjour de rêve.
Sébastien
2017-03-30T00:00:00Z
My husband and I spent five nights at the cottage. Location: Great, just a few steps from the small private sandy beach. There are four cabins on the compound, three for guests, and in the fourth one lives the owner, Captain Jerry. The surroundings are beautiful and quiet (though be aware that there are many sand flies, so bring bug repellent with at least 10% DEET). Shops and restaurants are a few minutes drive away, on the way to George Town or in town. The nearby resort February Point has a restaurant with outstanding food which we enjoyed on our last night thanks to a recommendation by manager Donna. Thanks to the location roughly in the middle of the island, all attractions are within easy reach with a rental car (Water Taxi to Stocking Island: 10 min. drive; Tropic of Cancer Beach: 30 min drive; Coco Plum Beach: 40 min. drive). Facilities: The cottage is simple but has everything you need (fully equipped kitchen, well working bathroom, comfy bed, nice living room with table for eating and sofa, porch with gorgeous view a few meters from the beach, equipped with table for eating outside). The cottage and the compound are well kept and recently refurbished, with much attention and love to detail. I understand the cottages are available for rent for a month now, which explains that there are no other reviews yet. Amenities: Free use of kayaks, beach chairs and umbrella, beach towels. All much appreciated! You can use the kayak to paddle into the nearby mangroves. Host & Manager: Captain Jerry and Manager Donna are brilliant hosts. Donna was very responsive to our requests. She provided some water and bug repellant for our arrival, made sure wifi was repaired in time for our arrival and even postponed her flight to get us two beach chairs. Captain Jerry was a fun and very kind host and helped us out with getting a taxi when our rental car broke down. Lovely hosts, thanks a lot to both! Value: This is probably the best place you can get on the island in terms of value for money.
Ursula
2017-01-10T00:00:00Z
Amazing place, great location with nice and wonderful hosts! You'll love this place! Fun and vibrant on a beautiful piece of land!
Jakob
2017-02-15T00:00:00Z
We found the location to be very convenient for getting supplies and exploring the Island. The view was a lovely one to wake up and come home to. Our host, Donna, went out of her way to accommodate us.
Kathleen
2017-03-12T00:00:00Z
I just spent 10 glorious days in January 2017 in the most coziest cottage in Exuma. This place put a smile on my face when I first drove up. I couldn't ask for anything more than blue water and white sandy beach just steps from the cottage. I found the cottage to be very clean, comfortable and well equipped with everything I needed to cook. I prepared most of my meals there. The bed was very comfortable and I slept well. It was nice to go and sit on the patio in the early morning to drink coffee and look out at the water. You will need bug repellent. You will need a rental car. The town center where the market is as well as some restaurants is about a 12 minute drive. The cottage is in a good location with Little Exuma to the south, Coco Plum beach to the north and the market central with the airport north of Georgetown. Jerry the owner is a great guy. His family has been there for generations. He lives on the premises and if you need help he is there. He knows the island very well. DONNA what can I say. She is the most pleasant sweet woman I have ever met. She met me at the airport and helped me get a rental car. She made sure I was comfortable and satisfied during my stay. She knows the island well and can give great ideas where to eat and places to see. She was so generous to take me to west side of the island to see the sunset so I could get pictures. She is easy to talk to and I felt we had been friends for a long time. I will forever be thankful to her kindness and making my vacation all smiles. I would most definitely stay at the cottage again and again.
A.J.
2017-01-27T00:00:00Z
My boyfriend and I spent four days in the seahorse cottage. It was a fantastic experience beyond my expectation. Donna is very nice to help us with everything we need on the island. She picked us up in the airport, show us the town and take me to grocery shopping. We were not able to rent a car so she arrange taxi for us and help us to call the day tour company. The house is just like pictures with a small private beach in the front. It is very clean and has everything you need in the house! The view out of the cottage is fantastic, you can swim and kayak, also, the gas grill is great for BBQ. Overall, it is definitely worth to stay and I recommend it for sure!
Eva
2017-02-23T00:00:00Z
Donna and Bryon are great host. Bryon picked us up from the airport and organized already a rental car for us. Then he went with us to a local festival before we drove to the apartment. The apartment is very clean and comfortable. Has a nice little private beach with a great view. Bryon provided us all information we need to come around in exuma.
Stefan
2016-12-30T00:00:00Z
I was there with my wife and daughter. It was our first airbnb experience! And let me tell You - it was great! Why it was great? The exuma is beatiful! just one of the most beautiful and pristine beaches in the world. Hosts Donna and Byron were really really awesome! Very friendly and open! Donna was able to pick us at the airport, and the drop us off, take us to the hospital for the baby, take us to the beach, to the shop, show us around and advice on experiences. What I am saying that was a lot of care. But the best thing I would recommend is to get a car, since You wanna see more of exuma's beauty House is sweet and location was best fit for us! From pics it seemed like pink and blue is too extreme, but when we came it turned our so cozy, we loved it. As soon as You enter the house you feel the beiach vibe and beach is really private and well maintained, we spent most of the time on this beach, since it was located in a place with little waves and lovely scenery, which is best for family relaxation and sun bathing. So verdict is: we would deffinately come back and this is the best description of our stay
Rustem
2017-02-07T00:00:00Z
Type de logement
Logement entier
---
Type de propriété
Bungalow
---
Capacité d'accueil
2
---
Chambres
Rokers Point Settlement, Exuma, Bahamas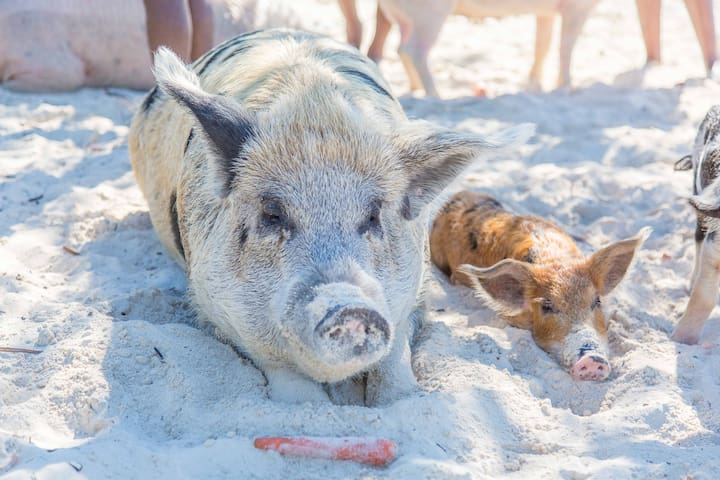 Crépuscule Vista est proche de Georgetown. De nombreux marchés commerciaux, des restaurants là-bas. Location kayaks, planches à palettes ou des bateaux et des croisières autour des nombreuses îles. La vue de cette maison est incroyable. Quand il est à marée basse, vous pouvez marcher à la barre de sable, un pique-nique privé, ou tout simplement se détendre avec un flotteur à quelques pas de la maison. Profitez de lever et le coucher du soleil, sans jamais quitter. La maison est très confortable. Une parfaite getaway..Twilight Vista est bon pour les couples, les aventuriers en solo, et les familles (avec enfants).
Le salon dispose de la climatisation et refroidit toute la maison. La cuisine est entièrement équipée avec tout ce dont vous avez besoin pour cuisiner quelques bons repas. Chaque chambre dispose d'un lit double et un placard avec des ventilateurs de plafond pour vous garder au frais. Il y a une grille de barbecue, et quelques flotteurs si juste se détendre et profiter des vues étonnantes de cette maison.
Il y a quelques maisons dans la région, mais généralement vous êtes le seul dans les eaux. Il est une escapade privée et romantique si c'est ce que vous cherchez, ou occupé, et aventureux que vous le souhaitez.
The host canceled this reservation 86 days before arrival. This is an automated posting.
Melanie
2017-01-12T00:00:00Z
The house is beautiful, you'll have a great time there. Make sure you're renting a scooter or car to discover the island! It's an awesome place to stay.
Marcella
2017-03-03T00:00:00Z
Had an excellent stay here with my boyfriend and another couple. Rent a car and you will be able to drive wherever you want on the island. You are just 5-10 minutes from Georgetown where you can buy food, water, and gas. Take a day to go to the Tropic of Cancer beach and Santana's for lunch. We also took a tour with 4 Cs adventures to see the pigs, iguanas, and go snorkeling. A must do! The house is in a safe quiet area and you can walk out to the sand bar and wander around for hours. The island is not touristy so it is a great place to get away and relax for a while.
Becky
2017-01-15T00:00:00Z
Thank you Laura for a wonderful experience in Exumas. The house was was well kept and in a great location. The access to the sandbar was a great addition. You had everything laid out for us when we arrived. I would recommend this property to others looking to explore Exumas! Tips for new travelers: -A car is a must if you want to explore the north and south end of the island. Cabs are expensive and sometimes hard to find at night. -Bring food with you if possible. -We took a full day tour with Coastline Adventures which took us all around the Cays and swam with the pigs, went to Thunderboat Grotto and iguana island. Snorkeled over a sunken plane wreck, swam with sharks, turtles, and stingrays and more. The tour left on the north end of the island but if you don't have transportation they will pick you up from George Town.
Gina
2016-09-06T00:00:00Z
The house is just as you see it in The Ad. It has a lovely terrace on the Sea! You can swim right from the stairs access below the house..amazing. Clean and fully equipped. The Host was always available. Exuma is just wonderful!
francesca
2016-08-17T00:00:00Z
The host canceled this reservation 43 days before arrival. This is an automated posting.
Jennifer
2016-11-16T00:00:00Z
We had a great time in Exuma! The house was perfect and exactly how it looks in photos. Laura was always quick to respond to my questions via email. The bay at the house offers both sunrise and sunsets! We loved having kayaks at our disposal to get some activity on the water from our home too. We are in love with Exuma and can't wait to come back. Plus my boyfriend proposed!!! So it will always have a special place in our hearts.
Julie
2016-12-29T00:00:00Z
Type de logement
Logement entier
---
Type de propriété
Maison
---
Capacité d'accueil
4
---
Chambres
Exuma, Exuma, Bahamas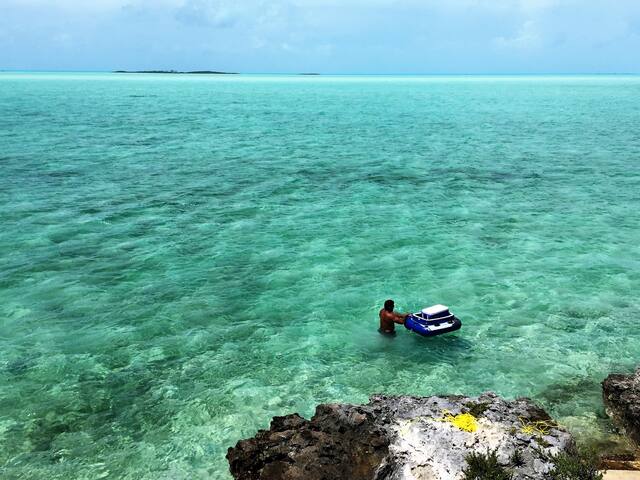 Ma place est à proximité de la plage et des restaurants et des restaurants. Vous allez adorer ma place à cause de l'ambiance et le lit confortable. Ma place est bon pour les couples, les aventuriers en solo, et les voyageurs d'affaires.
Perfetto!
carla
2016-12-26T00:00:00Z
Great place. Not as photo and location not as indicated however and wifi didn't work.
Michelle
2017-01-06T00:00:00Z
Very nice villas, clean and modern. The staff is very considerate and helpful. So far a great experience!!
Laurie
2017-02-23T00:00:00Z
Type de logement
Chambre privée
---
Type de propriété
Autre
---
Capacité d'accueil
2
---
Chambres
Clarence Town, Long Island, Bahamas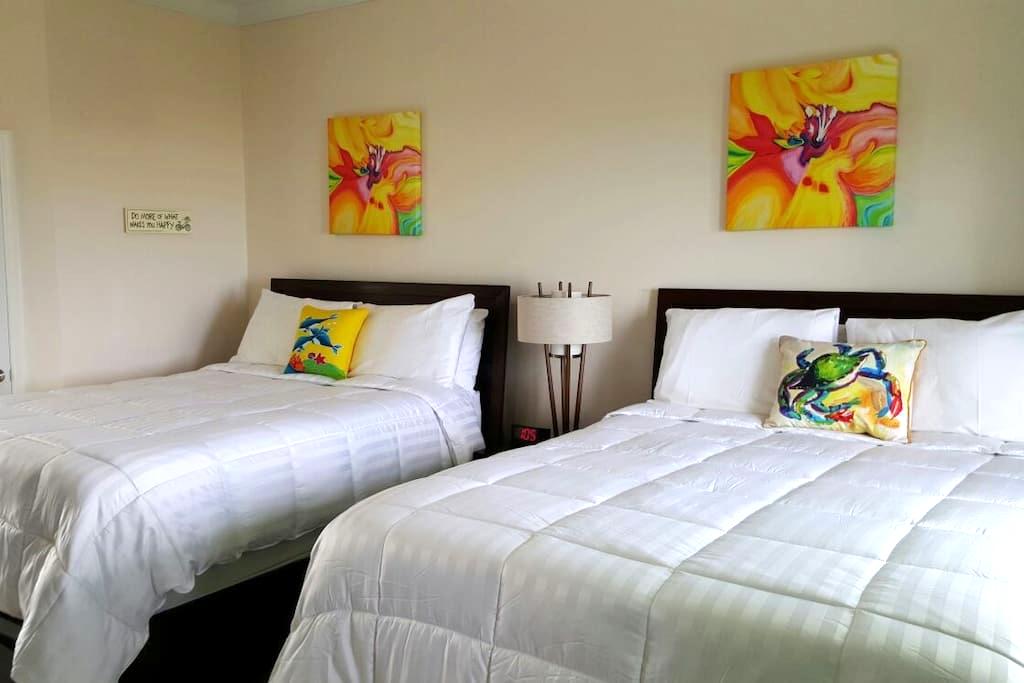 Ocean Sunrise Villa on the beautiful Island of Exuma, Bahamas, is the ideal private and romantic get-away. Watch the sun rise, fish off the rocks, splash in the colorful sea or simply sunbathe on your private deck as you enjoy the cool ocean breeze
You have a private entrance to the top apartment, which includes a kitcken equipped with the basic necessities; there are two bedrooms, one with a double bed and one with two twin beds; one bathroom is for your use, the other is keep locked and used as storage. Air conition is available in the two bedrooms but not in the livingroom.
While there are other houses around there are none close enough to disturb your privacy. There is a food store 5 minutes walk away; resturants, bakery, food take-aways and two resorts are only a few mins. bike/car drive away. Ocean Sunrise is located(URL HIDDEN) + 10 mins car drive from the international airport(URL HIDDEN) + 3 mins. from the 5 star Sandals Resort which boast an award-(URL HIDDEN)winning golf course designed by the legendary Greg Norma(URL HIDDEN)mins from Grand Isle Resort and Marin(URL HIDDEN)20 mins. from downtown (George Town.
Photos conformes à la réalité, le logement est un peu ancien mais la vue sur l'océan est extraordinaire. L'accueil est top, Ariel nous a contacté plusieurs fois pour savoir si nous avions besoin de quelque chose et nous a même fourni un téléphone portable en cas de problème. Le quartier calme et reposant sans être complètement isolé, et un supérette est accessible en 5 minutes à pied. Excellent rapport qualité prix compte tenu des prix des logements aux Bahamas.
Nathalie
2016-03-04T00:00:00Z
La maison d'Ariel bénéficie d'une vue magnifique sur l'océan! Un séjour reposant qui nous a vraiment permis de décompresser. Ann (la maman d'Ariel) a fait preuve d'un accueil chaleureux et même si nous n'avons pas rencontré nos hôtes ils étaient malgré tout présents (par téléphone ou mail). Le wifi capte plutôt bien et nous avions un telephone portable à disposition. La maison est joli, typique des bahamas. Nous l'avons trouvée spacieuse, un peu rustique mais cela fait parti de son charme! Les deux chambres bénéficient de la climatisation ce qui est fort appréciable, voir même indispensable! Nous n'avons pas voulu loué de véhicule (assez cher sur l'île 60-80$/jour) nous nous sommes donc déplacés en faisant du stop! Et croyez moi nous avons passés des moments extra avec les locaux qui n'hésitent pas à s'arrêter pour vous et vous emmener ou vous le souhaitez (même si ce n'est pas leur chemin). Les locaux sont des personnes charmantes qui s'intéressent facilement aux touristes. Malgré tout la maison étant assez isolé, si vous restez plus d'une semaine, prévoyez de louer un véhicule au risque de vous ennuyer. Une petite supérette se situe très proche de la maison et vous y trouverez le nécessaire. Attention car les prix aux bahamas sont assez exorbitants. Enfin concernant la baignade il y a une joli plage (à gauche de la maison lorsque vous êtes face à la mer) mais si le vent est de la partie l'océan sera agité. La maison n'est pas sur la partie "lagon" mais plutôt pleine mer, il vous faudra donc faire quelques km pour être plus au calme. Bref, un séjour magnifique, des plages de sable fin époustouflantes, des gens très accueillants, un séjour reposant! Mais pour une semaine c'est suffisant ;)
Lucie
2016-12-17T00:00:00Z
Ann was so sweet and accommodating. She provided a lot of info for us and continually checked in to make sure all was well (on the prepaid phone she provided). The house is gorgeous on an epic rocky beach with a nice beach 5 min walk away. You fall asleep to the sound of the ocean and are truly comfortable in the spacious 2 bedroom. Wifi and tv are great. I highly recommend! Also, Exuma is the best island in the world
Colin
2016-01-26T00:00:00Z
Thank Ann I really appreciate all those things that you have done for me and my fiance! from the taxi at the airport to the water from the fridge, emergency local cellphone, bug spray, and cooling gel after sunburn!! Thank you very much!!! Tammy n Jason ---- house clean 5 stars private beach 5 stars 5-10 minutes walk to liquor store / food store Upstair: 2 bed room with full AC + fans kitchen living room restroom extra bed sheets, pillow cases, towels, blankets beach chairs ---- will be back if we are in town!!!!
Tammy
2015-09-25T00:00:00Z
Nonostante un piccolo contrattempo non dovuto alla sua volontà Ariel è stata una host gentile e presente. Ci ha lasciato il suo telefono ed ha fatto persino una ricarica. Nonostante il mio inglese pessimo ha avuto la pazienza di capire ciò che le dicevo. Consiglio la casa a chi ama la quiete.
irene
2017-03-15T00:00:00Z
Excellent house and a great location on the ocean! Ann is a great host and does everything she can to help you have a great stay.
Chris
2017-01-12T00:00:00Z
Despite having to be relocated to a second property (due to unexpected damage at Ocean Sunrise) we were pleasantly surprised that the second property they found us was right on the beach and completely private. We appreciated how well take care of we were, despite the last minute cancellation. Richard was very friendly, and respnded quickly to any of our requests. The view of the blue sea from the top floor unit was breathtaking. The island of Exuma is so private, extremely safe and the beaches are pristine. We loved renting a car and discovering new places- you will not get bored here. We found many little restaurants with a variety of foods- traditional Bahamian dishes to American style foods. The Bahamian people were so welcoming and friendly. The excursion to swim with the pigs is a must! We can't wait to come back and we would recommend the Exumas to anyone who wants a relaxing vacation.
Danica
2017-03-23T00:00:00Z
Ann is simply wonderful! She helped me arrange transportation and the swimming pigs tour (incredible, also highly recommend stocking island!) I regret not renting a car; the house is secluded and the drivers on the main road go fast. I was too scared to walk or ride the bike. From the airport to the house is $20, to Georgetown is $50, and Georgetown to airport is $30. I wish I would have taken Ann's advice regarding the car. The house itself is great! There are two bedrooms and the beds are super comfy! There is also ac and cable in the bedrooms and wifi! Ann had a prepaid phone ready for me which made me feel safe as a solo traveler. The view is incredible and even at night-there are so many visible stars!! Overall I had a great time, everyone was so helpful and friendly. Iwill definitely return!!
chrissy
2017-01-31T00:00:00Z
Type de logement
Logement entier
---
Type de propriété
Appartement
---
Capacité d'accueil
4
---
Chambres
Farmer's Hill, Exuma, Bahamas, Bahamas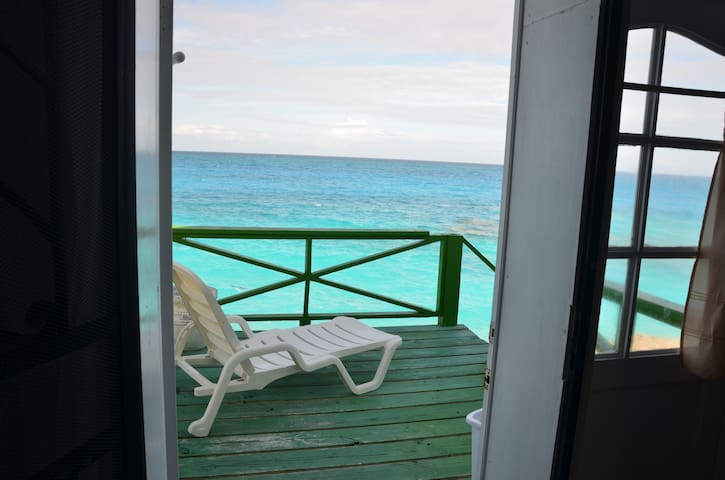 Type de logement
Logement entier
---
Type de propriété
Maison
---
Capacité d'accueil
4
---
Chambres
Little Exuma Island, Bahamas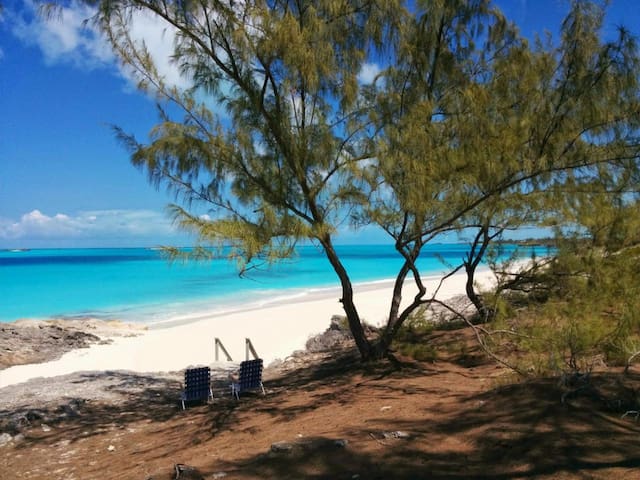 Hurricane Hole Tiny propose deux studios en bord de mer "plage chic" entièrement rénové cabanes nichées sur la plage dans le paysage pittoresque de palmiers et de sable. Tous les voyageurs de charme et de détails rechercher dans tropical sortir. atmosphère "Getaway" vibes insulaires Relaxed Sable, soleil, eau bleu clair hébergement de style Boutique Sur place, bar de plage et grill informations et tarifs des chambres. . . • studio plage cabanes - Sea Grape & Key Lime • Occupation double • séjour minimum de trois nuits • Récemment rénové 2016 • Reine 4 lits à baldaquin • 8 'Sofa • AC et ventilateurs de plafond • une kitchenette entièrement équipée • Sèche-cheveux, fer et planche à repasser, linge de lit • Utilisation gratuite de Kayaks, chaises de plage, glacières, Grill
Tiny est situé sur Salt Pond Port dans le règlement de Thompson Bay, sur le trou Indian Point Rd. 3/4 mile de Queens Hwy. Le quartier calme et sûr la plupart du temps se composent de 2e propriétaires et le port est également bien connu comme un mouillage sûr pour les croiseurs et les plaisanciers de partout dans le monde.
Michelle et Jason ont été de parfaits hôtes, très accueillants, chaleureux, aidants. Le cottage était magnifique dans un endroit paradisiaque, on ne pouvait rêver mieux. On n à l impression d être seul au monde et en même temps , Michelle et Jason ont leur restaurant juste à côté , délicieux restaurant qui ferme tôt le soir donc pas de bruits la nuit. Attention, il est fermé le lundi et mardi. On y reviendra avec plaisir et le recommanderons. Merci Michelle et jason
Fanny
2017-03-14T00:00:00Z
Highly recommend a stay, love staying at Michelle's.
Jennie
2016-11-28T00:00:00Z
First of all, Michelle is the best host you will ever have. She is warm, accessible, helpful and has a wonderful eye for decorating. We loved everything about the cottage we stayed in and the bonus is there is a bar/restaurant just steps away. Tiny's is also centrally located so you can easily get to all of the attractions on the island.
Straty
2017-01-24T00:00:00Z
This was our first time to Long Island and both Michelle and Jason were the most gracious hosts. They are enamored with the heart of this secret little paradise in the Bahamas and it shows in the way they made sure our visit was perfect. The cottage is super clean, comfortable and tastefully done. They are most respectful of the balance between guests of the restaurant/bar and those who are staying with them, thus they weren't typically open very late and the noise was not an issue for us. Plus after a day out exploring it can be pretty nice to have access to a cold drink, great food and an amazing sunset view at your doorstep since the island itself is quite spread out. The beach at the cottage is a bit rocky, but there is a beautiful array of them all over the island, with most you will have all to yourself. We too have now become enamored with Long Island and only hesitate to recommend Michelle and Jason's place at Tiny's so as to make sure there will be availability for us to stay with them in the future.
Jennifer
2017-02-16T00:00:00Z
An amazing place to stay to get away from it all. Michelle and Jason are a gorgeous couple who will make sure you have a wonderful holiday. Highly recommend this place.
Samantha
2017-03-30T00:00:00Z
Michelle did do everything to feel us confortable. She picked us ip from airport and arranged car. She was always there to give us good advise about beaches, restaurant and anything else. Michelle is a super host for sure. Thanks very much for staying with you. With all love Piet and Elena
piet
2016-12-22T00:00:00Z
(Fast) perfekter Urlaub direkt am Karibik-Strand... Auf dem einsam und wunderschön gelegenen Gelände direkt am Strand befinden sich zwei Einzimmer-Cottages und eine kleine Strandbar. Die ganze Anlage ist noch sehr neu und entsprechend modern und hochwertig. Ein großes Plus sind die Gastgeber - Michelle hat uns im Vorwege großartig bei der Organisation geholfen - sie hat sich um einen Mietwagen gekümmert, der dann mit Schlüssel unter der Fußmatte am Flughafen auf uns wartete (auf Wunsch hätte sie uns auch vom Flughafen abgeholt), sie hat uns wertvolle Tipps für Unternehmungen gegeben und extra Karten für unsere Trips zusammengestellt und ausgedruckt. Ja, und als wir im Vorwege nach den Mietmöglichkeiten für Stand Up-Paddle-Boards fragten, überraschte sie uns riesig mit der Aussage: "Hey, wir haben eh schon überlegt welche anzuschaffen - jetzt kaufen wir pünktlich zu eurer Ankunft zwei Boards!" Und was sollen wir sagen: Bei unserer Ankunft lagen tatsächlich zwei nagelneue Paddle-Boards vor unserem Cottage, die wir jederzeit nutzen konnten und auch ins Auto packen und mit an andere Strände nehmen durften. Gleiches gilt für die zwei vorhandenen Kayaks, für die Schwimmwesten und die Strandstühle! Sehr praktisch, sehr angenehm! Die Cottages selbst sind liebe- und geschmackvoll eingerichtet - man merkt, dass Michelle im ursprünglichen Beruf Designerin war - hier ist selbst farblich alles stimmig. Das Bett ist groß und bequem, die Küchenzeile ist gut und vollständig ausgestattet, am Tresen lässt sich prima frühstücken, die Sofaecke ist optisch schön und bequem, das Bad ist recht groß und schön mit einer ebenerdigen, großen Dusche, auf der Veranda vor dem Haus kann man prima auf zwei Schaukelstühlen sitzen. Und die auf dem Gelände befindlichen Waschmaschinen und Trockner kann man jederzeit kostenlos nutzen. Das W-Lan ist kostenlos, aber nicht immer schnell und stabil. Kurzum: Für einen angemessenen Preis bekommt man eine neue, richtig schöne Unterkunft direkt am Meer, zuvorkommenden Service und als Bonus noch kostenlos Kayaks und SUPs! Kleine Achillesferse: Die auf dem Gelände befindliche und ebenfalls von Michelle und ihrem Mann betriebene Strandbar lädt einerseits zu einem netten Abend mit gutem Essen unter Einheimischen ein, ist aber andererseits auch ein wenig ein Hemmschuh für die ganz große Romantik, die man sich vielleicht von einem Cottage in der Karibik direkt am Strand erhofft. Da die Strandbar gut läuft, hat man sie mittlerweile mit einigen Tischen bis gefühlt fast vor die Haustür der Cottages ausgeweitet. Als Feriengast im Cottage muss man daher damit leben, dass man mitunter nicht wirklich ungestört und allein auf seiner Veranda vor dem Haus sitzt und die Musikbeschallung von der Bar bis ca. 22 Uhr, einmal bis fast 23 Uhr, ein wenig ins Cottage-Innere dringt.
Kai
2017-01-11T00:00:00Z
Type de logement
Logement entier
---
Type de propriété
Chambre d'hôtes
---
Capacité d'accueil
2
---
Chambres
Long Island, Long Island, Bahamas

Dit onlangs gerenoveerd, volledig gemeubileerd, mooi strand huis heeft een adembenemend uitzicht op de oceaan en heeft een gunstige ligging direct aan het strand. Vanwege de unieke lay-out, bieden wij de mogelijkheid te huur 1BED / BAD voor $ 199 / nacht of 2bed / BAD voor $ 275 / nacht. Let op: Met de optie 1BED / BAD, is de tweede slaapkamer niet verhuurd, maar gewoon op slot. U heeft toegang tot het gehele pand.
Île rêves Cet hôtel récemment rénové, maison de plage entièrement meublé a une vue imprenable sur l'océan et est idéalement situé directement sur la plage. Il dispose d'une terrasse spacieuse de 35 pieds pour prendre le soleil, et un pied 27 couverts breezeway pour manger en plein air, sur le plaisir du soleil et de détente. Notre maison de plage est parfait pour une escapade romantique, confortablement accueillir une famille de 4, ou 2 couples qui voyagent ensemble. Cette propriété est divisée en 3 structures autonomes qui sont séparés par breezeways: la zone d'habitation principale et 2 chambres avec chacune leur propre entrée et salle de bains. Cette offre à ses clients la possibilité de choisir entre la collecte dans le salon principal à des fins de divertissement ou le luxe de battre en retraite à l'intimité de leur chambre. La mise en page unique de notre maison de plage nous permet d'offrir 2 options: A 1BR / 1BA ou 2 BR / 2BA. Les tarifs indiqués sont pour un 1BR / 1BA; Cependant, vous pouvez louer le 2BR / 2BA pour seulement 100 $ de plus par nuit. Quelle que soit l'option, la maison est louée à un ensemble de personnes à la fois. La Chambre Starfish Le salon principal de la maison dispose de hauts plafonds et des portes coulissantes en verre. Profitez de rassembler autour de la grande île, tout en préparant les repas dans le tout équipé, cuisine spacieuse. Détendez-vous en regardant la télévision et des films sur le téléviseur à écran plat de 50 pouces et un lecteur DVD, écouter de la musique ou la lecture d'un bon roman de notre sélection de livres. La Chambre Turquoise Dormir dans le confort dans la chambre Turquoise joliment décoré qui dispose d'un lit king size, des draps de qualité, privé salle de bains avec grande douche avec la tête l'eau de pluie de douche, air conditionné, dressing, 32 pouces TV à écran plat, et des portes coulissantes en verre. La chambre Coral Cette chambre de charme est situé à l'arrière de la maison et offre un peu plus d'intimité. La salle de Coral confortable dispose d'un lit queen size, des draps de qualité, un grand privé salle de bains avec douche carrelée et l'eau de pluie pomme de douche et de la climatisation. Beach Bungalow (de Gazebo privé) Commencez votre journée en regardant le lever du soleil à partir de votre gazebo privé et tremper vos orteils dans l'océan. Profitez de longues promenades sur la plage, plongée en apnée, et la plage de peignage à partir de votre propre porte. Découvrez la beauté de Long Island avec nos vélos et kayaks gratuits. Visitez les ruines Seigneur Dunmore (à distance de marche), Blue Hole Dean, les grottes de Hamilton et le Musée Long Island. Long Island a également Eco - Tours, pêche en mer profonde, pêche os, pêche sous-marine et bien sûr, beaucoup de belles plages. À la fin de la journée saisir votre boisson préférée et vous détendre encore une fois dans le gazebo ou sur le pont, attraper une étoile filante ou simplement profiter de la musique de l'océan. Nous sommes impatients de partager l'expérience de Long Island avec vous à l'île Rêves. Comforts supplémentaires inclus: Outdoor barbecue à gaz Stand by générateur Kayaks (2 - 2 kayaks personne) Tubas et masques Vélos Hamac (gazebo) Des chaises longues sur le belvédère, le pont et la plage Glacière serviettes de plage Air conditionné ventilateurs / plafond dans chaque chambre Télévision par satellite Internet WiFi Livres Lave-linge / sèche-linge Séchoir à cheveux linge de maison de haute qualité Mixeur Machine à glaçons
Type de logement
Logement entier
---
Type de propriété
Maison
---
Capacité d'accueil
4
---
Chambres
Clarence Town, Long Island, Bahamas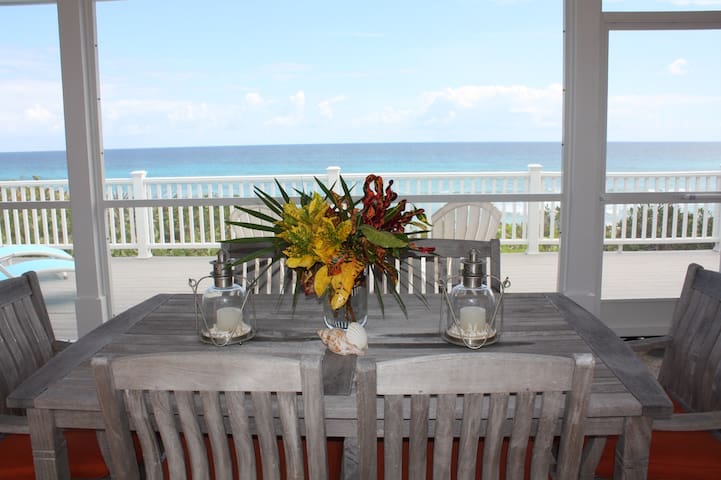 The Exuma Pearl is located in Great Exuma, Bahamas. Minutes away from Grand Isle and Sandals resort on a private property situated in Roker's Point. Cottage includes a queen-sized bed, bathroom, and fully equipped kitchen. Internet and Cable are available.
Nous avons séjournés 6 jours à exuma pearl , petite cabane avec ce qu'il faut pour dormir , manger et se laver .Daniel à tout mis en œuvre pour essayer de nous mettre dans les meilleures conditions possibles. La cabane est située à côté d'une des plus belles plages de l'île , vous pouvez également aller à pied au restaurant la fourchette tenu par un français , bonne ambiance assurée ! Si vous aimer l'aventure et la simplicité ce lieu est pour vous . Nous nous sommes régaler à exuma . S'il vous manque quelque chose n'hésitez pas à demander à Daniel il fera tout pour vous , soyez indulgent il débute sur air b&b il est adorable . Merci beaucoup on reviendra !
Helene
2017-03-17T00:00:00Z
The apartment was not in Georg Town but we had a beach, which we had nearly on our own. Daniel has driven us to the places we wanted to see and gave us a lot of advices and food. Thank you for everything. You made our stay special!
Prima
2017-03-23T00:00:00Z
Type de logement
Logement entier
---
Type de propriété
Cabane
---
Capacité d'accueil
2
---
Chambres
Great Exuma, Bahamas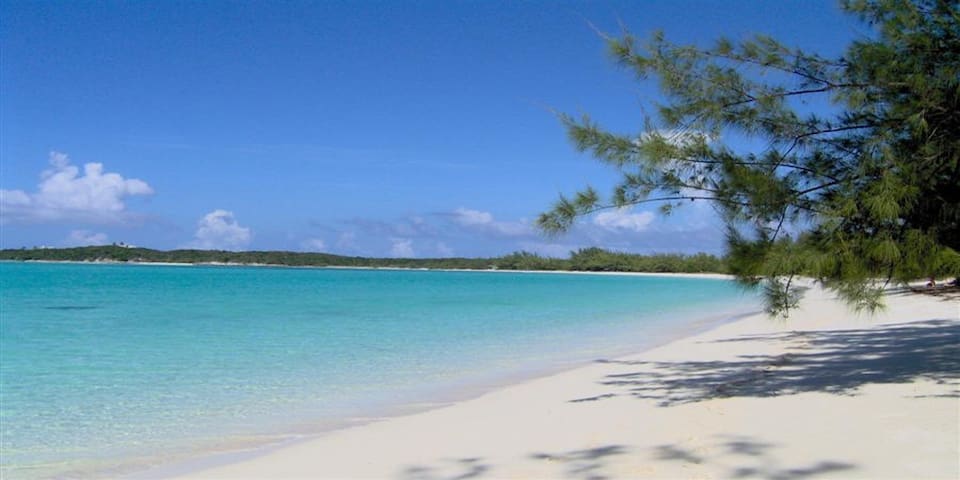 My place is close to great views, restaurants and dining, and the beach. You'll love my place because of the people, the outdoors space, the ambiance, and the neighbourhood. My place is good for couples, solo adventurers, business travellers, and families (with kids).
Type de logement
Logement entier
---
Type de propriété
Villa
---
Capacité d'accueil
4
---
Chambres
George Town, Exuma, Bahamas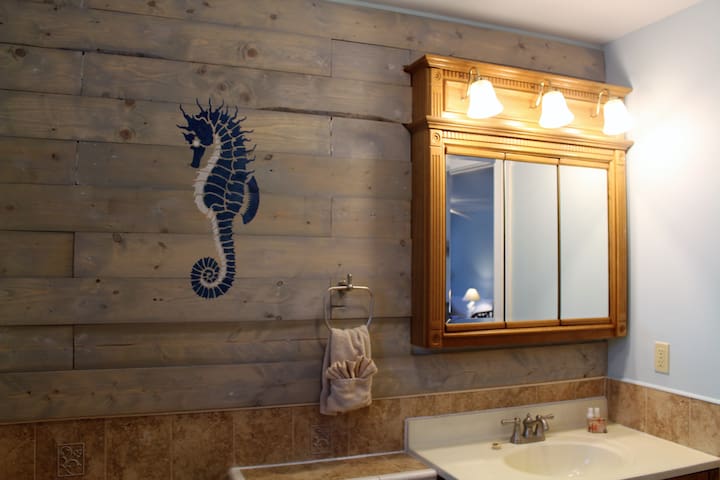 New Oceanfront Cottage, distance de marche de Blue Hole Dean, a beaucoup à offrir! plage exceptionnelle pour la plongée libre, la plongée, le surf cerf-volant, et plus encore! Êtes-vous un passionné de sport extrême ou une famille à la recherche d'une île escapade out? Ce chalet est pour vous! Regardez la vidéo National Geographic "La beauté invisible des Bahamas" pour avoir une idée de l'aventure qui vous attend ici!
Ce chalet est dans un règlement hors de la route principale. Vous pouvez marcher jusqu'à deux rives en circulation (au Turtle Cove et Blue Hole Dean) pour l'échouage, la méditation, la plongée en apnée, plongée libre, kitesurf, feux de joie, etc.
We went in Atil house with our two children (4 and 7 years old). We really had a great time there. We had a car so it was easy to visit the entire island and all beaches. Water was cristal clear and the Dean's blue hole is a must see. Even our child went to snorkeled there and we saw many fishes. We also really enjoy eating at the Max Grill to eat the legendary Conch salad. Atil friend's Melvin brought us lobster tail and conch so we had a great dinner that night. We have to be really carefull on the road but Atil prevent us before so we were ok. We saw stingray and sharks and if you go at Clarence town marina, you could feed them. We also went in Hamilton's caves and saw different types on bats. Child liked it!! Things we've noticed is that you have to be carefull because the sea brings lots of broken glass one the beaches and also there is some sand fly so bring your Off before you go at the beach. The lighthouse restaurant was also a place we enjoy for dinner in Clarence town. The groceries has almost everything you need but it is kind of expensive and most of them take credit cards. We went to cape santa maria where the beach is incredible and calm and we enjoy having a lunch and drinks at the hotel there. Hope it helps and I thank Atil for everything. He was there to answer all our questions before and during our trip. He was really nice to us and make our trip memorable. Anne-Marie :)
Anne-Marie
2017-03-11T00:00:00Z
Atil did a great job communicating prior to my arrival. Melvin was really helpful and took me to get groceries on our way from the airport, he also gave me a ride to the local sports bar Lloyd's. During my time there we didn't have any real problems and those we did have Atil addressed when he arrived a few days after us. He even gave us some fresh fish that he had caught and it was really delicious. The house is beautiful, I was so impressed by how clean it was given how easy it to track dirt in there. There was an outdoor shower and a hose for rinsing off sand. Turtle Cove is excellent. The car rental was a bit pricey at $50 a day but considering how expensive everything is there I think it was reasonable. And Dean's Blue Hole is a 5 min drive and I visited there about twice a day. The cove has a beautiful beach but it is a bit rocky and my mother didn't feel safe swimming past there, but the Hole has an amazing shallow sandbar that was perfect for her. Everything you could need is there as far as kitchen appliances, wifi, etc. and small touches like the kids' drawings on the wall really make the place feel like a home.
Nureen
2016-09-29T00:00:00Z
Atils place was absolutely perfect! Great location 2 mins walk from the world famous blue hole. Located right on a beach with great snorkeling within swimming distance from the shore. The house was clean and had everything you would need, including stand up paddle boards, snorkeling gear and kayaks. Atil was a great host, he took us to some local spots for food and we were even lucky enough to go spear fishing with him. I would highly recommend this house for anyone who is thinking of coming to the Bahamas.
Alex
2016-07-12T00:00:00Z
House is in a fantastic location, close to Deans Blue Hole, fishing, groceries, Max's Conch Bar and Lloyds Sports Bar. Soft sandy beach is steps away and is beautiful, water is sparkling blue, good snorkeling a short swim from the beach - coral reef with colorful fish and sea turtles. We stayed in the main house, with a large ocean front porch, clean comfy bed with ensuite bath, a powder room in the hall, and outdoor shower. Had use of two paddleboards, one-person kayak. House has dsl wifi. Atil was excellent, he was very communicative and can give you good information about the island, and wants to be sure you enjoy your stay. Thank you!
heather
2016-08-14T00:00:00Z
Atil is a kind a generous host. He goes out of his way to make you comfortable and to make your stay memorable. His place overlooks some truly amazing snorkeling. Dean's Blue hole is walking distance. I'd highly suggest visiting!
Michael
2016-12-30T00:00:00Z
A wonderfull location ! private beach, paddle and kayak, everything you need, atil has it ! He is also very available, and cautious to be sure his guest has everything. The location Is 1km from dean's blue hole. That's great ! I really recomande that place
Jean baptiste
2016-08-18T00:00:00Z
Type de logement
Logement entier
---
Type de propriété
Maison
---
Capacité d'accueil
5
---
Chambres
Long Island, Long Island, Bahamas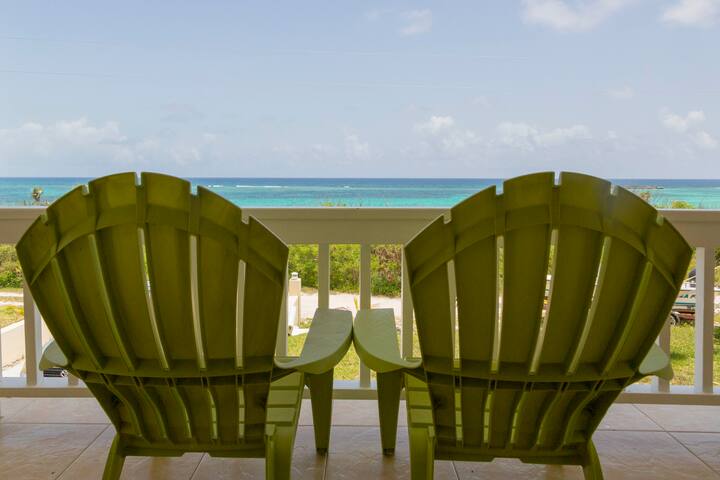 Ernest Place is inspired by Ernest Hemmingway's travels and writing adventures in the Caribbean. A comfortable 2 bedroom, 2 bath home with all modern amenities located in the Stella Maris Resort Development on Long Island Bahamas. The home is furnished with java stained wood dining for 4, comfortable queen sized beds, and plenty of desks for writing that new novel. The property has a beautiful yard and lush garden with ocean views from an observation deck.
The home décor includes natural stone walls, Caribbean style furniture, and the property is surrounded by a beautiful grassy yard and lush garden with ocean views from an observation deck. Large coconut trees shade the property. Walk to the beach, ocean-rock pool, or swimming pools... there is plenty of world-class beaches within arms-reach, and dining or night-life close by. The home has full dining-room, living-room, and breakfast area in an open floor-plan. The kitchen if fully equipped with all the things you need to prepare all your meals and the living room has a large flat-screen TV. The master bedroom has a connecting bathroom and both bedrooms are spacious, have views of the garden, air conditioning, large comfortable beds, and desks.
The Home is located in the Stella Maris Resort providing you all of the amenities that the development has to offer: Multiple beaches & ocean rock pools, restaurants & bars, snorkeling, scuba-diving, rum-punch parties with live music, thatched roof beach cabanas with hammocks, rental bikes, sea-kayaking, game room, pool tables, swimming pools, gift shop, caves, and much more… Enjoy resort facilities in the privacy of your own home estate at Ernest Place.
What an excellent place to stay. Great value especially if you use the second bedroom. Thanks and we would definitely use it again!
Brandon
2016-12-31T00:00:00Z
Type de logement
Logement entier
---
Type de propriété
Maison
---
Capacité d'accueil
4
---
Chambres
Stella Maris, Long Island, Bahamas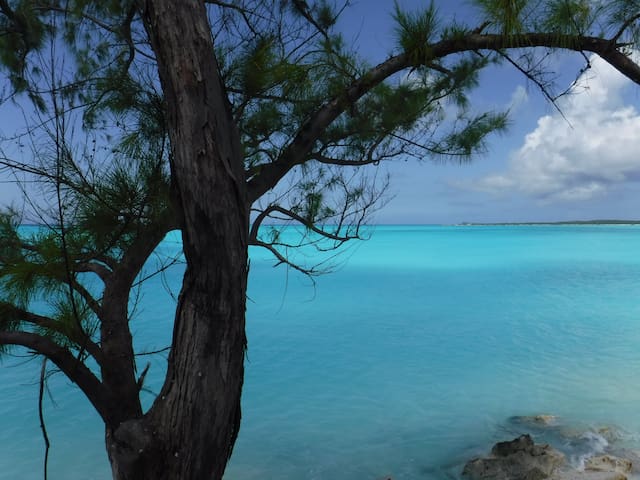 Getaway í Karíbahafi Blue Beach Villa á Long Island, Bahamaeyjar! Dvöl, spila, og slaka á í þessu 2 svefnherbergi Villa staðsett á 2 hektara BEACHFRONT eign með stórkostlegu útsýni sjó og Breezes. Ströndin okkar & Cabana eru bara skref í burtu! Ströndin er hluti af aðeins nokkrum öðrum heimilum og gestir njóta ströndina allt til sín.
Notre 2 ½ mile plage isolée est à quelques pas avec un grand cabana au toit de chaume vous attendent! La plage a de nombreuses criques protégées et des baies parfaites pour la baignade et l'exploration. Un jardin botanique luxuriant entoure la villa offrant des paysages sensationnels et les parfums floraux. La maison est en vedette avec toutes les commodités modernes pour vous faire sentir à la maison, y compris: Wi-Fi Internet, ordinateur invité, 40 "TV à écran plat, Surround Sound, Netflix, et lecteur DVD. Climatisation, cuisine entièrement équipée, laveuse et sécheuse, draps et serviettes. Wrap-around porches avec des canapés, des hamacs et des chaises longues, une aire de barbecue en plein air, et les chemins de jardin. Caribbean Blue fournit également des équipements de plongée en apnée, la bobine de pêche avec des crochets, Sling hawaïen pour la pêche au harpon, des planches de bodyboard, et une variété de jouets de plage pour tous les âges, idéal pour passer du temps sur la plage. La maison est parfaitement adapté pour les familles avec enfants et les nourrissons équipés: bébé pack-n-play crèche, nourrissons et voiture tout-petits sièges, porte-bébés, des jeux et des jouets.
À proximité d'autres plages mondialement célèbres et les merveilles naturelles comme Deans Blue Hole, le plus profond trou bleu dans le monde, les grottes et les récifs coralliens uniques qui sont idéales pour les plongées du bord et la plongée avec tuba! la capitale de Long Island Clarence Town est situé à seulement quelques miles de la villa où il y a des églises historiques, un charmant port de plaisance, et de grands restaurants. Des habitants sympathiques sont toujours heureux de vous diriger dans la bonne direction.
We arrived to Caribbean Blue and were met by our host Brian and Audra. This is a wonderful family and they made us feel very welcome and at home. The property is better than advertised in my opinion, as words and pictures cannot do it justice! this is truly a remote paradise retreat. The beach has to be one of the best beaches we have found anywhere! Brian and Audra were perfect as we progressed through our week, they checked to make sure all was perfect, my son was a little warm on the first night so we asked where we could buy a fan. We found them to be a little pricey on the island so we passed, only to arrive back that evening to find a fan Brian and Audra left for us on the front porch. If you like remote and some of the most beautiful, untouched beaches in the world, you must visit Caribbean Blue! Thanks Audra and Brian, we look forward to seeing you again soon!
Roger
2015-06-22T00:00:00Z
This is an amazing and very cozy but spacious villa only a few steps away from the ocean. The nice hosts, that also live on the island, were very engaged and helpful to make our stay the most comfortable. The put a lot of effort in hosting and give tons of great tips and ideas what to do and where to go. The beaches on the east side of the island, as the beach at this house, can get a bit rough and windy especially during hurricane season, but only a short car ride away in the other side you will find the most secluded and lovely beaches that are calm as a swimming pool. Great place, nice island, recommended.
Nik
2016-08-31T00:00:00Z
Brian and Audra were absolutely amazing hosts during our stay in Long Island. The house and beach are exactly what we were looking for in a tropical retreat. The beaches were incredible and pictures simply do not do it justice. Brian and Audra were incredibly gracious hosts, taking their time and doing anything and everything for us to make sure we had a great and enjoyable stay. Despite some adversity and unpredictable travel, they accommodated us extra and did anything to make sure we were happy and had a great stay. I highly recommend the Caribbean blue for anyone looking to get away from the daily hustle and bustle and enjoy some beautiful beaches and a taste of pristine tropical paradise.
David
2015-01-04T00:00:00Z
The host canceled this reservation 131 days before arrival. This is an automated posting.
britt
2016-06-06T00:00:00Z
I can only imagine how Audra, Brian and Elijah felt as they waited for my wife and me to finish clambering up the hill of the driveway for the Caribbean Blue Beach Villa in our rental SUV in a pouring tropical rain, hours late due to a delayed flight. But my wife and I were heartened by their assurances and pleased that they had stayed around the Villa until we had arrived and shown around the house. We greatly appreciate our host's efforts in making sure we were welcomed and comfortable throughout our stay on Long Island. We enjoyed our time ensconced at Caribbean Blue Beach Villa. The villa's description was accurate; the villa was clean and met our wants and needs. And the immediate neighborhood presented itself with nature's beauty and charm during our stay. The flora and fauna (particular the multiple brief encounters with scurrying small crabs), the appearance and sounds of the ocean, the refreshing breeze, and the consistently pleasant, sunny weather (notwithstanding the initial rainstorm upon arrival) led my wife and I to enjoy hours of contentment and relaxation during our stay at the villa. As it has met and exceeded our expectations we heartily recommend this villa to our friends, neighbors, and any traveler who needs a place to stay while at Long Island. The Caribbean Blue Beach Villa left nothing to be desired.
Daniel
2015-08-07T00:00:00Z
My husband and I had a fantastic time at the Caribbean Blue Beach Villa. The villa itself is attractive, comfortable, and is a short walk away from an amazingly beautiful beach. During our 9-day stay, we saw only 3 other people ever on the beach, so we had it pretty much to ourselves. Our hosts were warm, friendly, and so helpful--they are lovely people. Long Island is a gem that is worth discovering.
Michele
2014-12-30T00:00:00Z
Everything was as advertised. Local caretaker was very attentive and with the host made certain we had access to everything we needed. Fabulous location. Great beach. Only 10 minutes from Clarence Town. We were there for a research project and the house was the perfect place to relax after work. Look forward to staying there again!
William
2016-12-13T00:00:00Z
We had a wonderful time at Audra and Brian's house on Long Island. Lots of space, a mile or two of de facto private beach (there was never anybody else around) facing the Atlantic ocean. Audra and Brian were very helpful; they arranged the rental car for us, Brian picked us up at the rental car offices and took us to the house, they both showed us around and explained the inner workings of the island to us and recommended places to go. Our favorite spots on the island were the gazebo on the beach and the hammock on the porch, anyway (but Dean's Blue Hole and Galloway's beach were cool as well). During the first few days the internet connection was a little shaky but did stabilize later on. Blame it on BTC – they were constantly working on the telephone and power lines along the road. In order to get fresh fruit, vegetables and fish, Seawinds supermarket is a 15-minute car ride away, so don't even think about not renting a car. The best day to go shopping is Tuesday because this is when fresh produce arrives. Thanks to the breeze from the Atlantic ocean mosquitoes were no trouble at all, but the one thing you must not forget is baby or eucalyptus oil to fight off the sun flies. Those tiny buggers' bites (or stings or whatever it is they do) will itch terribly. What else can I say? The kitchen is well-equipped, the washing machine does a swift job, the house itself has a really nice groove, and you fall asleep listening to waves crashing. I hated to leave.
Thomas
2015-02-13T00:00:00Z
Type de logement
Logement entier
---
Type de propriété
Villa
---
Capacité d'accueil
6
---
Chambres
Clarence Town, Long Island, Bahamas