Saisissez les dates souhaitées pour connaître le prix total. Des frais supplémentaires s'appliquent et des taxes peuvent être ajoutées.
Big appartment in the frontier of Colombia, Ipiales, new, three bedrooms, two bathrooms (hot water), comfy living room, modern and safe. Close to shops, restaurants, the frontier, the Lajas church and the city center of Ipiales! Great view and lots of space
5-10 minutes walking from the city center, 5 minutes in car from the bus terminal and 10 minutes in car from the frontier with Ecuador. Next to shops, internet and restaurants. The appartment is in a closed set of appartments, so safetyness is assured We can pick you up from the main places for only 5 extra USD, and ofc we will be available in case you need anything
The neighborhood is 5 minutes walking from Only 10 minutes in car from the famous Basilica de Las Lajas! One of the most important churches in the world due to its architecture and location! Cheap public transportation and taxi are available next to the appartment, but you can also walk everywhere you want! Everything is close!
Très bel appartement dans une belle résidence sécurisée et très proche du centre ou même du terminal de bus! Notre séjour s'est bien passé là-bas, la personne qui s'occupe de l'appartement est vraiment à l'écoute et prêt à aider en cas de besoin! Il y a de l'eau chaude pour se doucher (2 salles de bains) et il y a 3 chambres avec de grands lits confortables! Merci beaucoup!
Séverine
July 2016
Nice apartment in new tower block. Easy to find. Pre-arranged collection of keys so no access problems. Gated community with 24hr security. Fully equiped kitchen, comfy bed, nice bathroom etc. Lots of natural light. Only downside was no wi-fi, however (at the time that I stayed) this was a brand new apartment. I'm sure this will be installed not long after I stayed. Good contact with the host throughout. Would recommend.
Mike
March 2016
We had nice stay in Lorena's apartment. Lorena was not present, but was extremely helpful in giving us detailed directions and communicating quickly when we had questions. We had no trouble locating the apartment because it is largest tower in Ipiales, and all the taxi cab drivers knew of it once we showed them a picture. The apartment is modern and spacious. We slept well in the bed and being on a higher floor it lends beautiful views. We really appreciated how safe and secure the apartment was, we felt very safe here and the security guard is helpful and kind. There is no wi-fi, however you can walk across the street to an internet cafe. It is also within walking distance to the center of the city. All in all a great stay. Thank you!
A.T.
November 2016
Llegamos bien tarde, el concierje del edificio nos recibio muy bien. El departamento es agradable y en el octavo piso, hace un poco de frio en la noche. Dormimos muy bien, sin ruidos.
ANA
August 2016
Nos fue muy bien, el apartamento esta bien ubicado y es nuevo, igual que en las fotos, nos fue muy bien en general en la estadia, seguro lo recomiendo.
Pablo
August 2016
La estancia fue muy acogedora y cerca la centro de la ciudad. La pasamos muy bien, recomendamos el lugar.
Angel
August 2016
We stayed in the flat for one day and were positively surprised by its size and cleanliness for its price! It has three bedrooms, two bathrooms, and is very comfortable. The hostess was very available in helping us get to the flat from Pasto. Nevertheless it was very cold, there was no wifi, and the tv only had one channel. It's a true shame because it's a really nice place very close to the centre but the cold makes it a little unbearable.
Caterina
August 2016
Much larger than I expected and beautifully furnished. I would stay here again.
João
July 2016
Type de logement
Logement entier
---
Type de propriété
Appartement
---
Capacité d'accueil
6
---
Chambres
3
Ipiales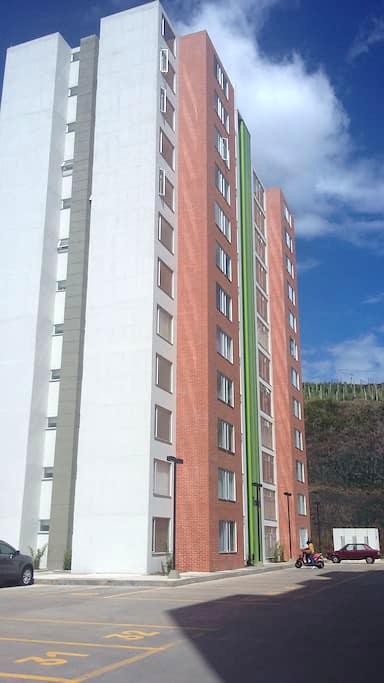 Te invitamos a hospedarte en el increíble Hotel Las Vegas. Contamos con habitaciones para 1, 2, 3, 4 y hasta 8 personas. Disponibilidad de aparta estudios, con cocina ,sala, dormitorios y baños. Servicio de televisión, WiFi, parqueadero, agua caliente, entre otros. Somos reconocidos localmente por ser un hotel económico y de buen servicio. Nuestra ubicación es en el CENTRO de la ciudad carrera 6 # 9 - 59 Contamos con 30 habitaciones, todas con televisión, WiFi y baño privado con agua caliente
Contamos con camas extra cómodas, agua caliente, TV, WiFi y parqueadero. Nuestra ubicación es en el centro de la ciudad, cerca a todo el comercio, al alkosto a la iglesia las lajas, menos de 10 minutos del aeropuerto. Tendrán acceso a una habitación privada, con baño privado, servicio de limpieza, agua caliente, WiFi y TV Estamos dispuestos a cualquier necesidad del huésped, contamos con recepción de 24 horas
Es en el centro de la ciudad, donde todo esta al alcance, de noche es tranquilo y se puede descansar. Contamos con parqueadero, el servicio de taxi es muy económico.
이피알레스를 구경하기에 좋은 위치에 있습니다
상민
February 2017
Great spot to stay before crossing the border to Ecuador. Close to everything you need. I recommend seeing the Las Lajas Sanctuary while you're in town.
Elizabeth
February 2017
Type de logement
Chambre privée
---
Type de propriété
Résidence de tourisme
---
Capacité d'accueil
16
---
Chambres
10
Ipiales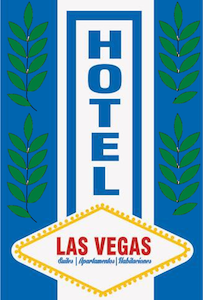 SUIZA APARTA SUITES, ÚNICO EN IPIALES APARTAMENTOS UBICADOS EN EL CENTRO DE LA CIUDAD, CÓMODO PARA 5 PERSONAS (PRECIO OFRECIDO) UN MÁXIMO DE 7 PERSONAS (VALOR PERS. ADIC)COCINA COMPLETA, TVE CABLE CON PANTALLA PLANA, PARQUEADERO NOCTURNO (7pm a 8am).
SUIZA APARTA SUITES ÚNICO EN IPIALES VIVA ESTA EXPERIENCIA EN FAMILIA.
Brand new, safe facility. Very comfortable for our short 1 night stay. 3 bed rooms, sleeps 5. Excellent beds, warm blankets (cold in Ipiales) and great hot water showers. Full kitchen which we did not use. Highly recommended.
Frank
March 2016
El departamento es de primera categoría. Muy central, amplio, luminoso y silencioso. Excelente para una estancia familiar.
Luis
March 2016
El apto es una sorpresa, muy limpio y con todo lo necesario. El sitio alrededor con mucho ruido y no muy bonito. Es solo para pasar una noche.
Luz
January 2017
Very nice place. Good communication, and they let me extend my stay with no hassles.
Matthew
November 2016
El lugar es muy estratégico, el departamento estaba perfecto, muy limpio. La persona que atiende fue muy amable. Volvería sin lugar a duda. :) gracias.
Paulina
December 2016
Clean and new. Good kitchen, bathrooms, beda etc. hot water only in the shower - no hotwater in the sinks or kitchen. Rooms facing the street are very noisy and fill up with street lights as the blinds are not snug.
Masood
September 2016
Stayed here for 1 night. My bus arrived very late at night didn't want to look for hostel as most everything was booked up because off carnival in Pasto. We came to view Las Lajas which is about 20 min away. The apt itself is huge everything is decked out modern style. If it's in your budget you should stay her especially if you have multiple people traveling with you.
Jeremy
January 2016
Excelente la suit. Muy buen servicio y limpieza. Todo nuevo y el orden el personal muy amable además nos dieron rico café ️ colombiano.
Andrea
November 2016
Type de logement
Logement entier
---
Type de propriété
Appartement
---
Capacité d'accueil
5
---
Chambres
3
Ipiales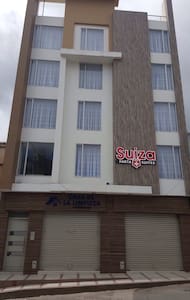 SUIZA APARTA SUITES, ÚNICO EN IPIALES APARTAMENTOS UBICADOS EN EL CENTRO DE LA CIUDAD, CÓMODO PARA 5 PERSONAS (PRECIO OFRECIDO) UN MÁXIMO DE 7 PERSONAS (VALOR PERS. ADIC)COCINA COMPLETA, TVE CABLE CON PANTALLA PLANA, PARQUEADERO NOCTURNO (7pm a 8am).
Your best choice in IPIALES, weather you're passing through to or from Colombia, nothing better than staying at a fully equipped appartement. 3BDR + 2BTHR. FAMILY AND KIDS FRIENDLY. WIFI, AGUA CALIENTE, COCINA EQUIPADA, PARQUEADERO NOCTURNO. We are here to help You out,
For us was the best option in Ipiales, clean, good location, close to the center, relatively new, secure and service was really good
Fabian
February 2016
Apartamentos muy cómodos, amplios, bien iluminados y ventilados con excelente equipamiento, buenas camas. Se puede tener algo de ruido de los otros aptos dependiendo de los vecinos.
Ivan
January 2017
Type de logement
Logement entier
---
Type de propriété
Appartement
---
Capacité d'accueil
5
---
Chambres
3
Ipiales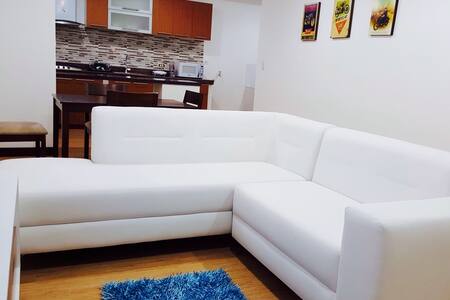 cocina, habitacion, baño, studio, terraza, buen barrio, transporte publico, cerca a bancos, cerca ala frontera, cerca volcanes lagos zonas verdes, paisajes, restaurantes, bares, lugar exclusivo de la ciudad
Type de logement
Chambre privée
---
Type de propriété
Appartement
---
Capacité d'accueil
2
---
Chambres
1
Ipiales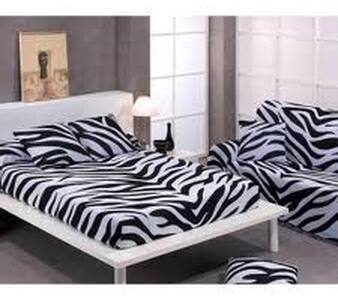 Apartamento en el centro de la ciudad de Tulcán, cuenta con lavadero, y está totalmente equipado, línea blanca, TV por cable, WIFI y mobiliario, del lado seguro de la frontera y próximo a todo. A 10 minutos del Puente Internacional Rumichaca.
El departamento es acogedor, limpio, tiene todos los servicios ofertados, Edgar y Beatriz te ayudan con tips para las actividades que desees realizar.
Giovanny
December 2016
We enjoyed our stay very much at Edgar's apartment. Edgar's family ( his parents) were so very warm, hospitable, welcoming and kind. They went out of their way to help us locate the apartment and Colombian border. The apartment is immaculate, the bed comfortable and the kitchen outstanding if you desire to cook. There are some great restaurants and panerias within walking distance. It is a cute town and the home is an outstanding value. We are very thankful we stayed here and for the hospitality of Edgar and his family.
A.T.
November 2016
Edgar picked us up at the bus terminal and brought us to his lovely apartment. Everything was very clean, the kitchen completly equiped, beautiful view on Tulcán, just a little cold. The next day Edgar helped us again to get to the Ecuadorian border.
Matthias
June 2016
El apartamento es una opcion excelente para quedarse en Tulcan. Las camas son comodas, tiene dos televisores muy buenos, los banos super limpios, la cocina es muy bonita y bien equipada y el barrio es tranquilo y silencioso. Pasamos una muy buena noche y quedamos muy agradecidos con el anfitrion. Todo perfecto!
Liliana
December 2016
I am so thankful I booked my stay here at Edgar's Place. As soon as I arrived to Ecuador. I call Edgar's mom and she guided me how to get to their house. Edgar's dad was just amazing, recognized me as soon as I got to the place and showed me around the house. The house is clean, beautiful and quiet. It's near walking distance to food , panaderias and its safe. Amazing experience! Book here if you get a chance and until next time. Safe traveling.
Albert
January 2017
Edgar y Beatríz son muy cordiales, hacen lo posible una estadía agradable a sus visitantes.
WILLIAM
January 2017
Edgar responded to my request promptly. Apartment is in a good neighborhood. Appearance is just as described on pictures. Edgar's dad was very pleasant and rushed across town to let me in even though he was not aware he would be expecting a guest.
Belinda
December 2016
Edgar's apartment was great. His parents picked us up from the bus station, and then next day gave me a ride to the border. His dad was super cool and even showed me around the cemetery in Tulcan, which is more like a park with beautiful topiaries.
Art
January 2017
Type de logement
Logement entier
---
Type de propriété
Appartement
---
Capacité d'accueil
6
---
Chambres
3
Tulcán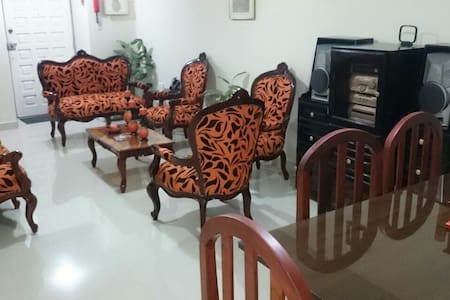 A room and bathroom in the back of our home. Private, secure, clean and comfortable. Safely park motorcycles, cars, or bicycles inside. Filtered water, fridge, microwave, electric skillet. E-mail is best. Close to the Reserves in El Angel.
Full and double bed. Extra single beds available $10 per person / $8 for each guest after the second. Near the Voladero, Frailejones and Polilepys Reserves We live in the house up front.
Small cute town. Taxis and pick-ups available in town to get to the reserves. Easy bus access to Quito or Colombia. It is cool and breezy here. 10,000 feet
Type de logement
Chambre privée
---
Type de propriété
Appartement
---
Capacité d'accueil
4
---
Chambres
1
El Angel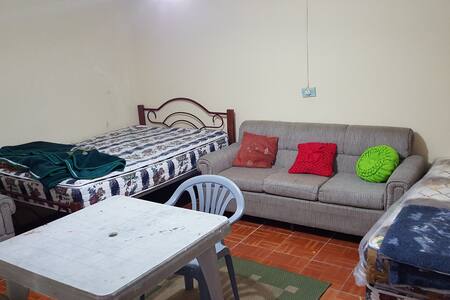 El hotel cuenta con instalaciones que te brindan todo el servicio necesario para hace de tu estadía una experiencia inolvidable. Un espacio dedicado para el descanso, la convivencia con los huéspedes o para la lectura en la tranquilidad del fuego...
El estar ubicado en medio del bosque milenario de POLYLEPIS y los páramos de frailejones. Áreas de estar, Cafeteria, spa, restaurante, senderos, museo, entre otros. Atención personalizada
Es en medio de la Reserva Ecológica de "El Ángel" parque nacional en los Andes del Ecuador Hay facilidad de transportacion pública. Visita nuestro spa! Ten un momento de relajación en POLYLEPIS LODGE!
Toute l'équipe du Polylepis Lodge a été accueillante et disponible. Le logement était conforme à la description, le seul bémol étant l'absence de Wifi. La nourriture était excellente et le lieu très bien entretenu, le tout dans un décor magnifique (la réserve naturelle El Angel).
Noémie
November 2016
The listing of this property is a bit misleading. The cost is PER PERSON even though the confirmation received stated that it was for 2 people. Also the (SENSITIVE CONTENTS HIDDEN) directions link is completely incorrect and sent us for miles up a very small track on which it was impossible to turn around. This meant that we were trying to find the property in the dark and even with Juan's not terribly specific directions, it took us hours to find the property, eventually with the help of one of the staff. The on-site staff were great, guiding us on a walk the next morning, but it was obvious that we were there off-season.... no fire allowed in the room, electric blanket for warmth, etc. And obviously had no idea how to deal with an Airbnb customer since he was unaware that the client pays Airbnb. This listing needs some serious work to be user friendly! Having said which, the area is very special and the photos are true to life (except for the fire in the fireplace in the bedroom!!).
Deb
April 2016
It was very difficult to get to Polylepis Lodge on a holiday weekend since all the buses were full. I ended up paying $115 in taxi fares. I spent 2 hours hiking in the forest. My room was in an upstairs loft with crooked stairs and no windows. The room was 4 feet by 8 feet, just big enough for a single mattress placed on a palette. The room smelled liked terpentine. The breakfast was good but I left immediately after even though I had paid for 2 days.
Kevin
November 2016
Type de logement
Chambre privée
---
Type de propriété
Cabane
---
Capacité d'accueil
16
---
Chambres
1
El Angel