Bill was great. We missed each other on our first day but we were able to meet and chat when we were packing up to leave. It is a great place to get away and enjoy NO CITY noises. The bunkhouse was great and we would recommend it to everyone wanting to get away from the city. The night we stayed there were thunderstorms in the distance. It was great to watch and enjoy the wonders of nature.
Jessie
2016-08-14T00:00:00Z
The Bunkhouse is adorable! Is looks very plain from the outside but the inside has all the amenities one could need. The finishes are tastefully done in a western theme-perfect for the region! William contacted me earlier in the day to confirm arrival time and was there to meet me. He introduced me to his sweet dogs, showed me around the Bunkhouse and gave me a brief history of the ranch. After making sure I had all I needed, including the WIFI password, he returned to his home across the yard. If I needed anything, all I had to do was knock or give him a call. A favorite aspect of my stay was watching a storm roll in from the west from the protection of the enclosed porch. Storms on the Colorado eastern plains have a majestic quality! The ranch is an historic, peaceful retreat.
Barbara
2016-07-30T00:00:00Z
We had a wonderful week long vacation at The Bunkhouse; this place truly is a hidden gem in Colorado. Everyone was extremely welcoming and friendly upon arrival; including the dogs LOL. If you are looking for something out of the ordinary this is definitely the place. William is a great host and has some awesome workers on hand. We hope to stay again with him soon.
Danielle
2016-09-25T00:00:00Z
Bill was an excellent host who made certain we had everything we needed. We had a serious emergency with one of our dogs and he was very helpful in finding a great vet as close a possible. The bunkhouse itself is very clean, comfortable, roomy and well stocked. The views of the prairie are amazing so make sure you have your camera.
Sherry
2016-07-24T00:00:00Z
William was a great host! We enjoyed the serenity of the ranch, and loved playing with the most friendliest dogs that roam around freely. I would stay here again soon!
Sasha
2016-08-08T00:00:00Z
We had a great night at Trainor Ranch! Was great to meet William and would definitely stay again =)
Robert
2016-10-23T00:00:00Z
Wiliam was there to meet us and explain the rules and show us the bunkhouse and was around if we needed anything the visit was very relaxing an enjoyable
Clint
2016-10-02T00:00:00Z
Bill is an amazing host - sweet, warm and genuine. The bunkhouse was so comfortable, clean & as pictured. I enjoyed waking up early to catch the sunrise with the dogs :) Would definitely book this place again!
Marilyn
2016-09-19T00:00:00Z
Type de logement
Logement entier
---
Type de propriété
Bungalow
---
Capacité d'accueil
8
---
Chambres
Sugar City, Colorado, États-Unis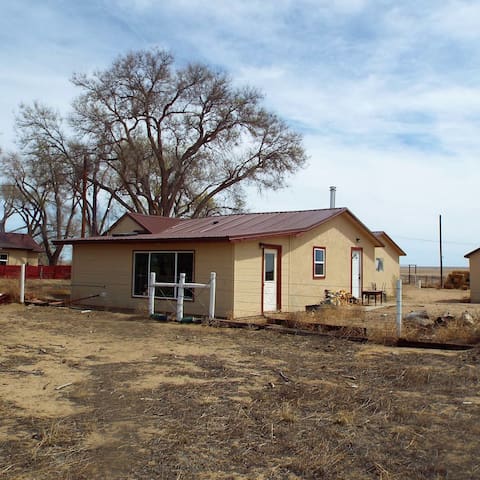 This room is the bedroom of the luxury suites, luxury decoration, modern design, fast WiFi free wireless Internet, living room with sofa, tea table, TV, refrigerator, carpet
The kitchen is equipped with an induction cooker, a hot water kettle, a tableware; The bedroom equipped with new bedding, bed, bedside lamp, bedside cabinet; Independent toilet, large space, dry separation, the configuration of the washing machine, the new change of towels, towels, central hot water 24 hours, let you feel warm and comfortable experience. Adjacent to the Plaza, CITIC Square, Westgate Plaza, Meggie theatre, a step away from the Wujiang road or street delicacy Shanghai center theatre is a 5 minute walk.
Type de logement
Chambre privée
---
Type de propriété
Appartement
---
Capacité d'accueil
2
---
Chambres
阿灵顿, Colorado, États-Unis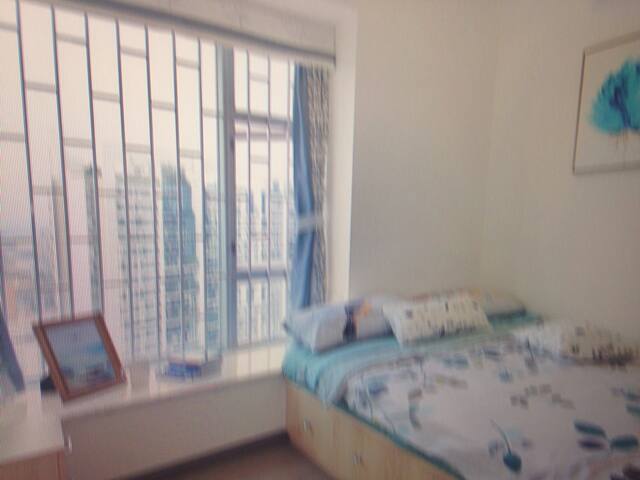 Willkommen in Half Pint Ranch, das sich auf den Ebenen von Ost-Colorado und ist die Heimat von Milchziegen, Rinder, Hühner, Schafe, Esel, Pferde, Hunde und Katzen. Wir bieten zwei Zimmer mit den beiden Zimmern ein Bad teilen, getrennt von den Hauptetage Hausbesitzer Viertel.
In one word, awesome! We have certainly met some really good people in this country, Pam and Andy easily tops the list. Right from the word go Pam's hospitality was inspirational. The place is amazing. Very calm and serene, in the middle of nowhere ( well outworldly to us) and her animals are amazing. Sister is so smart and we loved the opportunity to see her and the rest of them, click pictures. Pam was so kind to chat with us, guide for directions and share general wisdom. Oh and the breakfast was just great! The trip could not have began on a better note and we would love to be back again just to meet Pam, Andy and the animals. We hope to see you again very soon. Avinash, Utkarsh & Zorin
Utkarsh
2017-03-11T00:00:00Z
We LOVED this house! As soon as we drove up, we were greeted by Pam and her four very friendly dogs! She was very accommodating and offered drinks and snacks. In the morning, her husband scraped the snow and ice off of my car before we headed out! Great hosts, beautiful home! 10/10
Marisa
2017-04-04T00:00:00Z
From comfy beds with high quality bedding to great animal photo ops to the taste of homemade banana bread or scrambled eggs straight from the hens, our experience was TOP NOTCH. Pam is warm and a natural hostess. Their farm is comfortable and full of the sounds and sights of their beloved animals. It was a great learning experience to expose our city kids to country life and hear the stories of why the farm is their haven. We were welcomed and treated like family. The bedrooms we used were on a separate level with our own private bath, which was wonderful. We so enjoyed watching the goats frolic and only missed the birth of baby goats by one day. Snacks were generously provided as well as a healthy, well-rounded breakfast each morning. Note: The nearest food is a single Subway several miles away and then about 35 min. to many restaurants in Colorado Springs. We were able to watch the goats being milked, animals being fed, and the routine of fresh eggs being washed. The surrounding fields make for a peaceful, quiet respite from daily busyness, with gorgeous sunrises and sunsets.
V
2017-03-15T00:00:00Z
If you are looking for a quiet's night rest this is the place for you! Pam was really responsive and took me in on short notice. It is pretty remote but I really just wanted a peaceful stay and that's what I got. By the time I got there most things were closed and Pam shared her love of cooking with me and made the night after a 12 hr drive very relaxing. The farm is really charming and all the pups super sweet. Basically an animal lovers paradise! Pam and Andy were great hosts, would definitely recommend staying here!
Emily
2017-02-14T00:00:00Z
Type de logement
Chambre privée
---
Type de propriété
Maison
---
Capacité d'accueil
4
---
Chambres
Yoder, Colorado, États-Unis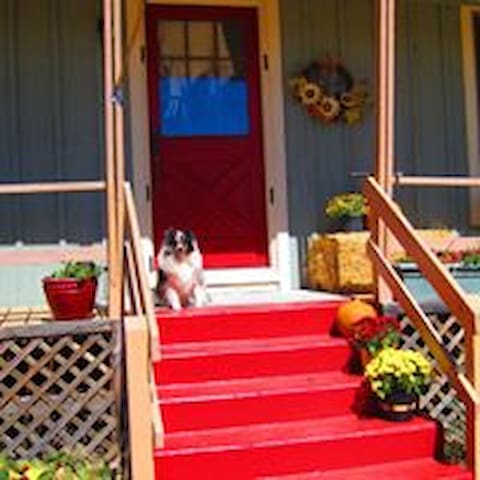 Kiki was wonderful and so accommodating. We got detoured due to the weather conditions and Kiki accommodated our short notice request and even brought us cookies in the morning. Great communication, sweet dogs and beautiful views!
Danielle
2016-03-25T00:00:00Z
It's an adorable place with a lake in the back yard. It is very relaxing and peaceful. We brought our dog and we all had a great time relaxing on the patio and talking with Kiki and Richard. We loved it!
Kristen
2016-08-04T00:00:00Z
Very welcoming! Loved speaking with Kiki's husband upon arrival. He gave us a great sense of place and history. Dogs are delightful and welcoming too. The casita was simple, beautiful, clean and cozy. I imagine hunkering down there for a long weekend would be wonderfully soothing! Great visit. Thank you!
Jane
2016-08-27T00:00:00Z
I stayed here one night, but I wish I could've stayed many more. It's a truly beautiful and relaxing spot in a little-known region of the state. If I were to return, I'd take advantage of the wonderfully positioned hammocks (there are more than one) and play more with the three friendly dogs and one cuddly cat. The lake with its many bird species, even pelicans, is so calm and inviting. The lodging itself is perfect, and Kiki does extra niceties for guests, such as having coffee beans ready for grinding and a small carafe of cream in the small fridge. The small place is lovingly and humorously appointed with "three dog" artwork. I really enjoyed our hosts, too! They are lovely people. Thank you for a wonderful stay. It was the best part of my visit to southeast Colorado.
Jennifer
2016-09-19T00:00:00Z
This is a top-shelf airbnb in every way-magical, peaceful, graced with three mellow and loving dogs, a more than perfect host, a thoughtfully appointed and beautiful casita designed with a comfy bed for a great night's sleep, a roomy kitchenette with microwave, spacious bathroom and comfortable outdoor furniture and hammock for relaxing and taking in the lake view. Highly, highly recommend
Harrison
2016-06-22T00:00:00Z
Kiki and her husband and the dogs all greeted us warmly. It was nice to chat with them a bit and find out about the area and the history. They were happy to answer our questions. The 'beach house' was idyllic and peaceful, clean and comfortable. We couldn't have asked for a better place. Just wish we could have stayed a bit longer.
Elizabeth
2016-05-27T00:00:00Z
Loved our experience at Meredith Lake. Very quiet beautiful scenery. Hosts were very friendly and accommodating to our needs. Guest house is very comfortable and luxurious.
Courtney
2016-03-19T00:00:00Z
We just spent a lovely three days at Three Dog Night Guest House. What a fantastic and relaxing setting. It was the perfect jumping off point to visit the Comanche Grasslands and John Martin Reservoir. The house itself was perfect for us, our son and two dogs. We were able to enjoy the grounds and the lake and did some fishing, kite flying and relaxing before and after our day trips. Kiki and Robert are fabulous hosts, very welcoming and warm. We were able to use the kitchenette to prep food for our adventures and brought our camp stove for cooking dinners. The guest house itself is very comfortable and beautifully furnished and decorated. We have a dog that doesn't do well with other dogs but were able to coordinate with Robert and Kiki so they weren't out and about at the same time. I highly recommend this little oasis on the plains.
Michelle
2016-05-31T00:00:00Z
Type de logement
Logement entier
---
Type de propriété
Maison
---
Capacité d'accueil
4
---
Chambres
Sugar City, Colorado, États-Unis
We loved ho secluded the ranch was. It had everything we needed for a family of 12 for the weekend. The kids and the Parents :-) loved the space. It was one of my favorite air Bnb rentals so far. Thanks again Diana.
Melissa
2017-03-19T00:00:00Z
Type de logement
Logement entier
---
Type de propriété
Maison
---
Capacité d'accueil
12
---
Chambres
Yoder, Colorado, États-Unis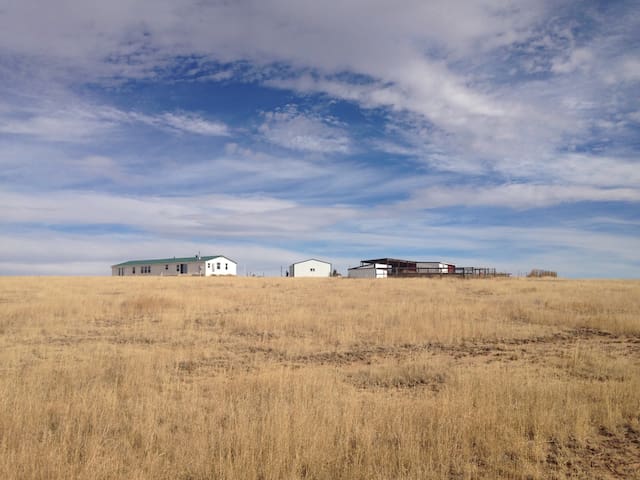 My place is close to Limon Colorado. You'll love my place because of the comfy bed. My place is good for couples, solo adventurers, business travelers, and families (with kids). Queen size pillowtop mattress, 32" hd tv DVD player, and Ac.October - February only service available will be electric and due to climate changes. This is a 33ft rv that sits at the corner of an rv park in a small town 10 miles from the nearest gas station or grocery store. This is a great place to lay your head to rest
Great Place to rest your head get a good night sleep and an early start to your day.
Now a semi-ghost town, Genoa is best known for its "Wonder Tower," a 1920s tourist trap that got the attention of Ripley's Believe It Or Not. Genoa is located next to Interstate 70, ten miles east of Limon at exit 371. It's 2010 population was 104. From a mile away the Wonder Tower appears to be bustling. "See Six States!" yell the hand-painted signs. "Confirmed by Ripley!" You can see cars in the parking lot, and people at the top of the Tower, trying to identify the advertised six states. Once you arrive, you realize that the parked cars are 50 years old and stuffed with sun-bleached bottles, their tires buried six inches deep in windblown prairie dust. The people in the Tower are crude fakes -- lumps of red sheets wearing sunglasses. The Wonder Tower, built in 1926 at the highest point between New York City and Denver, was a welcome stop on US 24. Charles W. Gregory, Colorado's P.T. Barnum, would stand on the Tower and spot license plates of approaching cars. When tourists were within earshot, he would boom state-appropriate greetings through a megaphone. "How're things in the Buckeye State?" His billboard motto was Eat, drink, gas, and pop at the Tower. Fan of the 2-headed calf. Then the interstate bypassed US 24. Charles W. Gregory died. The Tower, however, survived, thanks in large part to its owners since 1967, Jerry and Ester Chubbuck. They charge only one dollar for admission. Small signs at the entrance caution the squeamish, "Animal Monstrosities," and "Two-headed calf." The Chubbucks have stuffed the tower with a mass of spoons, farm implements, and arrowheads, much of it nailed and screwed to the ceiling. The Branding Room, Petrified Room, Indian Room (with its rock walls "painted by an Indian princess") are jammed with bric-a-brac. Jerry and his Tower. In the Animal Monstrosities Room, the jar containing the eight-footed pig is dusty dry, while the one-eyed pig jar leaks something we'd rather not investigate too closely. We notice that the Talking Indian Mummy -- Jerry had wired it with a loudspeaker on an earlier visit -- is missing. It has been repatriated. "The Indians don't want you displaying their dead," says Jerry. Jerry, who's surprisingly spry for his age, has a quiz he pops on lucky guests called the "Guess What." He singles out ten unusual items, and if you guess their identity or purpose you get your dollar back. No one leaves until he finishes. The items include rooster eyeglasses, camel nose bells, and a walrus penis. Just about the only thing Jerry doesn't have is a postcard of his own attraction. This is a notable flaw in the Wonder Tower's marketing plan, as are its lack of signs near the interstate (Government billboard prohibitions don't help). But Jerry is upbeat, and his collections of mysterious tools, murky things-in-jars, and tens of thousands of arrowheads and bottles usually keep tourists inside the Tower for far longer than they had planned. Freaaky dummies play cards. No visit to the Wonder Tower is complete without a climb to the top. Flies buzz through unscreened windows as you ascend its ladderlike stairs, six stories of them, past the fake people and even more perplexing exhibits, to the observation deck. It's not a climb for the faint-hearted or flabby. But those who survive are rewarded with an impressive view of eastern Colorado.
Bob was flexibel in terms of arrival time, expected me with a clean trailer, including a comfortable room, toilet, kitchen, wifi. Unfortunately there was no water for taking a shower! Bob was kind and prepared a dvd to watch.
Alin-Florin
2016-10-04T00:00:00Z
For the price, it was a good place to lie our heads for the night. Bed was comfy and tv was a nice bonus. Recommend if you are driving through .
Bryce
2016-10-01T00:00:00Z
had to cancel but responsive to me fast
Jan
2016-10-05T00:00:00Z
Great host. Friendly. Quien place. The ad is exactly what you get. If you look for something to sleep in the middle of your travel, is a good option.
Jorge
2016-10-07T00:00:00Z
Bob was the best! He greeted us as we pulled up and we immediately noticed a funny smell coming from my car, so Bob checked the fluids and helped me to find a store in a reasonable area through our route to the NW. He was friendly and accommodating, so I can't complain about a thing. A friendly neighborhood cat even kept us company while we unloaded sundries from our car. His trailer is super basic, yet reasonably clean and comfy. My friend slept on the couch and seemed to be comfortable. My bed (the one advertised) was great! Quite soft, clean and comfy. There was no running water but hey, we just really needed a place to lay our heads down for our long trip and he has just that. No frills, no problem. I'd definitely use him again, since it was so convenient for our basic needs. Thanks again, Bob!
Lana & Jamie
2016-10-11T00:00:00Z
Type de logement
Logement entier
---
Type de propriété
Camping-car/caravane
---
Capacité d'accueil
6
---
Chambres
Gênes, Colorado, États-Unis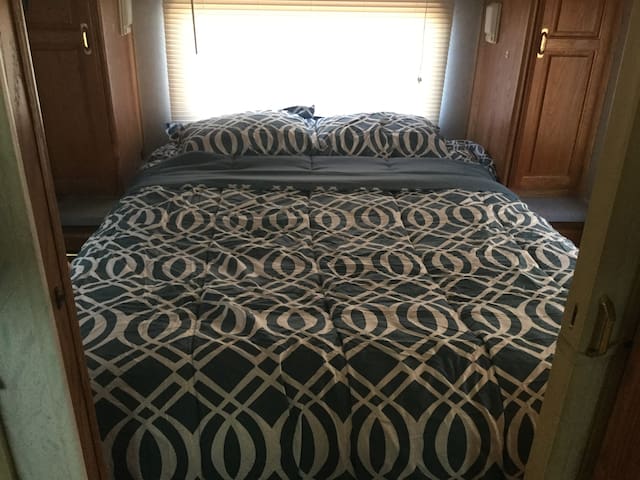 Type de logement
Chambre privée
---
Type de propriété
Maison
---
Capacité d'accueil
2
---
Chambres
Yoder, Colorado, États-Unis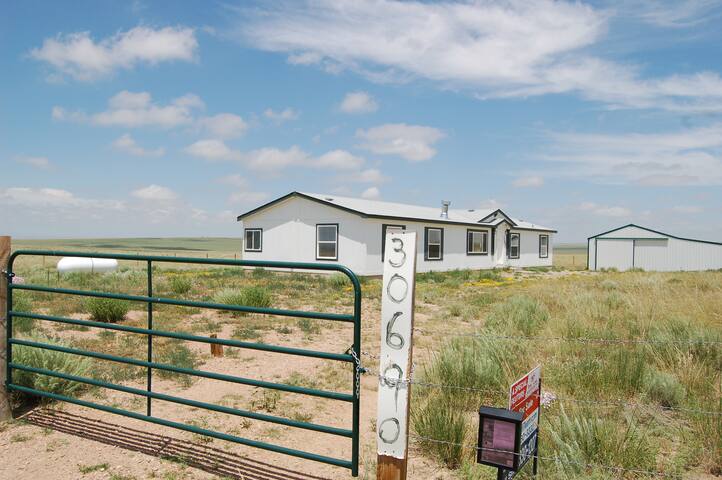 Saisissez les dates souhaitées pour connaître le prix total. Des frais supplémentaires s'appliquent et des taxes peuvent être ajoutées.