It was off season (winter) when I stayed, so I was only one of a few guests. Mike checked me in quickly, gave me instructions for the heater, wifi, how to use the chip key, etc. He was very nice! The town was pretty quiet given the season, but I found a couple of nice places to eat, and I enjoyed exploring around town. The motel is typical 1950's style, which was kind of neat, too. Very convenient to freeway as well.
Mel
2017-02-08T00:00:00Z
Mike is a kind, professional, and personable host, and made our stay at his historic motor inn wonderful. He already knew us by name at check-in, and his soft spoken personality was a great departure from the busy interstate temperaments often encountered while on the road. The motel is from another era, built at a time when space felt unlimited and rooms could be generously big. The bar on site serves drinks, but most importantly, pizza until late - perfect for drivers like us who needed a late dinner. Mike let us take the pizza with its pan, plates, and spatula back to our room for the night, too. Over all, we loved the quality of our stay, of our room, and of the encounters we had here! We will definitely be back!
Tim & Rachel
2017-02-09T00:00:00Z
Basic room, but very clean, quiet and a nice firm bed. Was comfortable and slept well.
Jennifer
2017-04-02T00:00:00Z
Dated Motel in a by-gone Route 66 town. Clean and friendly and price is great if traveling on budget. Location and price worked well for me! Felt safe and secure.
Melinda
2017-03-17T00:00:00Z
I was traveling cross country and stopped in Tucumcari, NM to get some sleep before continuing on. We got in late, but checking in wasn't too much of a problem. The only issue we had was after we had moved everything in to the room, we found that the sink in our room wouldn't drain. Since it was late, the maintenance person wasn't available and we had to pack up everything again and move to another room, in the rain. Our original room had a king size bed, but the only room available to move into had a Queen size bed. No form of compensation was offered for having to move and getting a smaller bed. If not for this one issue, it would have been 5 stars all around. Other than the moving issue, the place was good for what we needed. We needed a clean place to spend the night before doing more driving and this place fit the bill. Check-out was simple as all we had to do was leave the card keys on the dresser and turn off the lights and heater.
Ron
2017-01-15T00:00:00Z
We had an amazing stay at Mike's place. This place is extremely clean, spacious and comfortable and you just can't beat the price. Best nights sleep I've had on the road..ever!!
Brandi
2017-03-29T00:00:00Z
Convenient location, queit and comfortable. No frills just a place to shower and sleep. Everything in room was clean and working. I would stay again if in that area.
Nichole
2017-04-01T00:00:00Z
Mike's place is an oasis for the roadside traveler. I was trying to make the 750 miles to Tucumcari from Las Vegas, and Mike graciously stayed up to let me check-in at midnight. The room was clean and the bed was comfortable. This is a great value, and I'd recommend it to anyone needing a comfortable place to crash for the night. If you have time, check out Tucumcari. It's a cool, weird, high desert Route 66 town.
Molly & David
2017-01-02T00:00:00Z
Type de logement
Chambre privée
---
Type de propriété
Autre
---
Capacité d'accueil
2
---
Chambres
Tucumcari, Nouveau-Mexique, États-Unis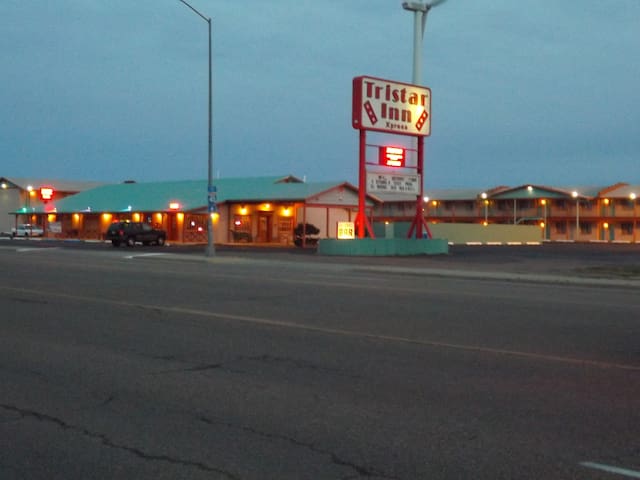 Saisissez les dates souhaitées pour connaître le prix total. Des frais supplémentaires s'appliquent et des taxes peuvent être ajoutées.