Saisissez la date d'arrivée au format jj/mm/aaaa
Saisissez la date de départ au format jj/mm/aaaa
Logements que vous pouvez réserver sans attendre l'approbation de l'hôte.
Saisissez les dates souhaitées pour connaître le prix total. Des frais supplémentaires s'appliquent et des taxes peuvent être ajoutées.
Cet été (juillet et août), vous pouvez essayer l'un de ces 100 logements les mieux notés, dans toutes les gammes de prix, pour découvrir Sonoma d'un point de vue local. Entrée dans les lieux 24h/24, réservation instantanée, mais aussi vin et petites spécialités locales à disposition… autant d'invitations à vous détendre et à profiter pleinement de votre voyage.
Owned by our family since 1885, the farmhouse has historic charm combined with modern comforts including newly added bathrooms, central HVAC and new windows. It is situated on a peaceful farm setting near golf, hunting, antiquing and other attractions.
Historic Log Cabin built circa 1850 with Victorian-era section built in 1905. Recent renovations (2012) include a room addition, two updated bedrooms, two new bathrooms added and the third bathroom updated, central heating and air-conditioning. The property offers great indoor and outdoor space. Historic charm and modern essentials. 500 square foot back deck added 2016. Guests will have full access to the farmhouse and the Milk House (one of the small buildings outside) as well as the front porch, back deck and large yard. Barns, sheds, cow pasture, fields, gardens and lake are strictly off limits. Host will most likely stop in for check in and can stop by any time to answer any questions that come up.
This is a very peaceful area. The skies, lanes, trees and crops add great views throughout the day. You will need to have a car. You might go for walk/ down the country roads or for a bike ride (if you bring a bicycle).
We very much enjoyed our stay in this charming home less than an hour from Saint Louis. It is rich in history and character while providing all of the modern conveniences. The four bedrooms and three baths supplied ample privacy and personal space. The large dining room and other common areas were great for socializing. We also loved sipping coffee on the front porch as the sun came up in the morning. Cora was attentive and responsive without being intrusive. We had a very positive experience and would be happy to stay here again.
Sandra
June 2016
Our stay at the farmhouse was absolutely fantastic. Family members from three states stayed there during my nephew's wedding weekend. There were numerous oohs and aahs as each group arrived and toured the home, as each room was uniquely decorated and offered pleasant surprises. Whether it was cooking in the kitchen, enjoying breakfast in the dining room, visiting in the parlor or on the porch, walking around the property, biking down rural roads, or enjoying the unique bedrooms, everything was outstanding. Three bathrooms were great for allowing everyone sufficient time to prepare for various wedding events. Everyone wished they had an extra day or two, just to experience the farmhouse a little longer. Definitely recommend the farmhouse to others.
Paul
June 2016
Peaceful, beautiful, private, antique charm yet all the modern conveniences of home: This Farm House Airbnb was one of the best places we have ever stayed at! Six adult family members were traveling to Nashville and wanted to spend the night somewhere we could enjoy dinner and a relaxing evening together. Cora's Working Farm House was the perfect place. We especially enjoyed after dinner drinks on the front porch watching a full moon rise and the sky explode with stars. You don't get to see that in the cities! Jean (ages of our group 58-61)
Jean
The farmhouse was a perfect place for our group. It was clean, spacious, private, and peaceful. Everything we needed was available and the scenery was beautiful. The owner was very responsive and helpful, as I had never stayed in an airbnb home. It was an easy drive into St. Louis every day, and shopping and other conveniences were all on the way. I would definitely recommend this home to any family, or group gathering. It was just what we needed.
Laura
May 2016
Cora's farmhouse takes you back in time by sharing her families house. All the conveniences of a modern home are present but the original part of the home was kept intact. You must stay in her home for no other reason than to experience of sleeping in a working museum.
Nathan
May 2016
Cora and her house are both gems! We had a nightmare of a time at another Airbnb (short version of the story: they locked our group out with our belongings inside) and we're scrambling to find a place at 12:30 in the morning for 6 people for the next day. I was in tears. I came across Cora's home and messaged her late. By 5 am the next morning she responded and welcomed us to stay in her home. Communication was a breeze and the home is absolutely gorgeous. The pictures don't do it justice. The home has so many little details that make it just so inviting from the cool ceiling lights to the pumpkin spice late soap in the downstairs bathroom to the log cabin wall. I cannot say enough. My group was ecstatic. As a side note, even though this is on a farm there are no animals allowed inside so we did not struggle with allergies. Do yourself a favor and book it now. Your welcome fellow airbnb-ers.
Tiffany
November 2016
Knowing we would arrive before the listed arrival time, I contacted the host who accommodated our early arrival. Upon arrival we found the house comfortably cool and very welcoming. The first day the host contacted me to make sure everything was o.k. and to arrange a time we could meet the next morning. The house is a short drive from the interstate, so very easy to reach after traveling on a high speed highway. Yet the house is not so close that you can see the interstate or be bothered by the traffic. We found that there were cooling breezes each morning and evening making it quite comfortable to sit outside even on very hot days.
David
July 2016
The farmhouse was incredible! I would highly recommend this as a place to stay if you're going to be in the area or you want a picturesque vacation spot. The farmhouse has been in their family for over 100 years and there are neat historical documents framed on the wall, including a love letter that is just sweet to read. The farmhouse is clean, not musty at all, filled with beautiful antiques, all original hardwood floors, but updated bathrooms upstairs that make it a very comfortable place to stay. The beds are incredibly cool antiques but provide a very comfortable night's rest. I wish the weather had been nice so that we could've enjoyed the outdoors more, but there are neat original outbuildings and a wonderful kitchen garden. It makes you feel like you're experiencing a piece of American history staying here. Come and enjoy!
Heather
April 2016
Type de logement
Logement entier
---
Type de propriété
---
Capacité d'accueil
8
---
Chambres
4
Okawville
Little house in the woods, cozy, clean, private. Full kitchen, shower, close to fishing, sailing, hunting. Nice place to stay for sailing regattas, local events, or travelling through on I-64. 15 mi from Nasville IL. Clean, newer, and charming.
Little house in the woods, cozy, clean, private. Full kitchen, shower, close to fishing, sailing, hunting. Nice place to stay for sailing regattas, attending Sparta shooting complex, or just travelling through. It is clean, newer, and charming. There is a small shower, full kitchen, one bedroom, and living area. The deck looks over the woods and Kaskaskia river. When the temp is below 70 at night it is wonderful to turn the AC off, open the window and listen to nature. This unique site is located in Southern Illinois near the City of Carlyle, less than 50 miles from several airports and St. Louis, MO. Guests will have access to a variety of amenities from quaint local restaurants and shops to the bustling activities of the St. Louis area to the interesting country life of church picnics, county fairs, tractor pulls, etc. (No phone, no tv, sorry no pets) Try to meet you depending on schedule.
Neighborhood quiet. Houses separated by woods. Holiday weekends neighbors may use recreational vehicles, so not as peaceful, usually summer holiday timeframe. The river view is best during fall, winter, spring when lush foliage goes to sleep. It is pleasant to walk near the little lakes. (Sorry no fishing without me at neighborhood)
This was the perfect midway meeting place for my BFF and I. We loved being able to talk through the night with a nice bottle of wine in this house in the woods overlooking a river.
Olivia
November 2015
The cabin in the woods is amazing! The canopy of trees off the back deck is a gorgeous place to have a morning cup of coffee. Beautiful art and rugs, too. Just a lovely place to stay the night. The local lake is beautiful and just a short walk down from the home. Thank you so much!! Beautiful, calm and peaceful home;)
Kathleen
September 2015
We wanted a remote getaway, and this fit the bill. It was as advertised, andvery neat and tidy.
philip
November 2016
It was a delightful stay. Really refreshing and relaxing after a 5 hour drive. It was all we needed, neat, clean and quiet. We would definitely stay there again. We took Linda's recommendation and had chicken at the local spot and it was great.
Robert
September 2016
We stayed at Linda's house while in town for a friend's wedding. We're glad we did! If we're ever in the area again, we will choose to stay at Linda's house. Pros: Linda responded very quickly and was very helpful when we needed help getting the gas stove to work (at 9:30pm on a Friday, no less!). The cabin is very cute, cozy, comfy, clean, and down a very private, secluded road in the country, so it was very peaceful and quiet. There was coffee in the fridge (but no creamer to be found, luckily we had bought milk anyway). Cell phone signal (Sprint) was excellent at the house. AC worked great when we needed it. Cons: House doesn't REALLY overlook river that much - there is a sliver visible from the deck, but it's not a good view, and there are no access points to the river (although the wooded view is still very nice!). No internet/cable/radio (as mentioned in the listing) and no games except a deck of cards, so bring your own entertainment if needed. No dining table except for a small one outside on the porch.
Allison
September 2015
Linda's house in the woods was perfect! It was very clean and tidy and charming. Linda was very clear about communicating with us and giving good directions to the property. The kitchen is fully functional, and stocked with cookware, perfect for a night of cooking at a home away from home. I highly recommend staying here!
Caitlin
October 2015
Quaint cozy little cabin, great place to disconnect and unwind. Would stay here again!
Kylanne
December 2015
Pros: Linda was an excellent host. Her cottage was immaculately clean, well maintained, and very comfortable (aside from a lack of air conditioning). We definitely enjoyed the outdoor fire pit :) Cons: Aforementioned lack of air conditioning and very noisy neighbors. The noisy neighbors may have been due to the fact that it was Memorial Day weekend.
paul
June 2015
Type de logement
Logement entier
---
Type de propriété
---
Capacité d'accueil
2
---
Chambres
1
Bartelso
Clean, spacious home with large open living room, private bedroom and private bath. No TV but wireless internet is available. Light breakfast/coffee/tea available with advance notice. Safe neighborhood with friendly neighbors. .
Clean, spacious home with large open living room, private bedroom and private bath. No TV but wireless internet is available. Safe neighborhood with friendly neighbors. Nights are dark and quiet out here. Private room with private bath (shower). Safe neighborhood in a country subdivision with friendly neighbors. 15 minutes from either Centralia or Salem, IL. 30 minutes from Mt. Vernon, IL. Middle aged professional couple who work full-time day job Access to private bedroom, living area and kitchen. Host's would be available some in the evenings. Would be willing to share supper meal if needed. No public transportation is available but we have a circle drive in the front of the house so parking is not an issue. This home does have 1 cat. This home does have 1 cat. Access to private bedroom, living area and kitchen. No access to private quarters. Guests are free to use either patio's outdoors, just don't let the cats out. Host's would be available some in the evenings, however there are times when guests will be alone in the home. Would be willing to share supper meal if we are eating at home. Lite breakfast/coffee/tea available with advance notice.
Quiet, safe neighborhood Parking is no issue-we have a large circle drive. It takes about 15 minutes to get to either Salem, IL or Centralia, IL. Both towns have plenty of places to eat and both have a super Wal-Mart. Multiple outdoor sitting areas with comfortable furniture.
Gary welcomed me and showed me my room, kitchen, etc. I was introduced to Bob, the cat. I think Bob thinks he is the master of the home! There are two other cats, Mamacita and Trixie. I met Mamacita, but never did see Trixie. The photos of Gary and Monica's home and the description of the home and neighborhood was what is on Airbnb. I had a very relaxing time during my stay.
John
June 2016
Monica provided such a warm welcome and accommodated our late arrival. Her communications throughout were excellent. Her cozy home is in a beautiful, quiet, and very safe location. The bed is so comfortable. We only had a short stay, but Monica and Gary are hospitable and in a lovely location.
Sonia
October 2016
Nice people, Nice place. We spent a good night.
Alexandra
October 2016
Cozy place! Bed was super comfortable, cats are very friendly but not allowed in the bedroom. The whole house was very clean, and Monica was very friendly! Would definitely stay here again.
Emily
December 2016
Wow, if you ever wanted to feel like instant family in Illinois, come here! A comfortable, quiet room inside, the buzz of the cicadas and the chirps of the birds outside, and coffee in the morning - what's not to like? Arrival was easy and communication was clear and timely. Plus, it was great to get to know Monica and her husband. For me, this was just a stop on the way from Indianapolis to Memphis, but waaay better and worth the few minutes off the freeway than a hotel on the Interstate. This is what th spirit of Airbnb is all about!
Julie
August 2016
Thoroughly enjoyed the stay in your home and botanical garden! Thank you for your time and hospitality. c.
Carlos
May 2016
A very kindly couple with a cute cat couple.They invited me sharing dinner:) And I have a comfortable bed night!Thank you so much!
Nina
March 2016
Beautiful place. Monica and Gary are great. We were only there for a quick in that night and out the next morning and wished we could have stayed longer.
Skip
September 2016
Type de logement
Chambre privée
---
Type de propriété
---
Capacité d'accueil
2
---
Chambres
1
Centralia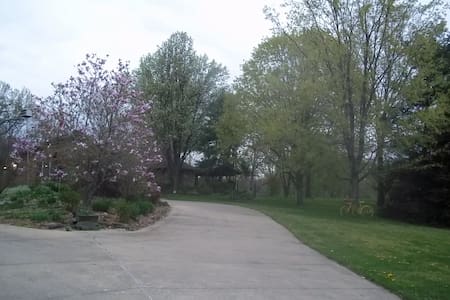 Across from St. George Church and close to all other area restaurants and St. Louis area. Large rooms in an older home, full of character. 15 X 17 tiled kitchen for cooking and baking during your stay. Access to full bath along with one of two living rooms. 2 bedrooms to accommodate 4.
Type de logement
Chambre privée
---
Type de propriété
---
Capacité d'accueil
4
---
Chambres
2
New Baden
Here you'll find a cool 1-bedroom suite, fully furnished located in the heart of Du Quoin, IL. Suite brings together the old with the new; utilizing stainless, brick, and wood to create unique and comfortable spaces that feel like home! See the "Rachel" located in the same building. An equally sweet suite!
Space comfortably fits for two persons but can accommodate 2 adults, 2 children or a 3rd adult on futon sofa. Maximum 3 adults per room. Cable tv, WiFi. Shared laundry for long term guests. And anything you need, just ask! We will do our best for all reasonable requests. Owner of suites available 24/7. Otherwise you will not hear a peep!
Quaint downtown venue, walking distance to most local restaurants and train station. Within 2 miles of DuQuoin State Fairgrounds and Expo Center There is parking available beside building. Larger vehicle parking available in a well lit area a short block away. Potential Carbondale Memorial guests traveling between here and there is a smooth 20mi. After exiting DuQuoin there is one stop sign at about the halfway point then turn right at your first stop light. It can't be much easier then this! I want your professional business.
The place was a surprising oasis in the small town of DuQuoin!!! So charming and comfortable! The artwork was very entertaining, the bed was fabulous!!!! We're sorry our daughter is done with SIU so we may not ever need to hang out in DuQuoin again! If you're heading to the famous fair there check this out!
Michelle
May 2016
The accommodations were very comfortable. I appreciated the little extras--such as bathrobes and a DVD player. Also, the decor was lovely. I was pleasantly surprised to find such a great place in this sleepy little town.
Jennifer
August 2016
Jim has really put together a first class place in downtown Du Quoin. My two week stay was very comfortable and enjoyable and I would not hesitate to stay again if in the area. Jim's apartment is new, very clean, comfortable and quiet. The space is very large with separate bedroom and the full size appliances for cooking were also a plus. Jim communicated well before and during my stay to check in and make sure all was well.
George
October 2015
Working with the owner Jim was a pleasure, he responded very quickly and he was very easy to work with. I wish I had known about this place sooner as I would have never stayed anywhere else. The price of this spacious and well appointed apartment is very comparable to the musty and old hotel options in the area, so the decision to stay here is a no brainer. The location is as good as you can get in this small town and gives you easy access to all that the town offers. I would highly recommend Jim's place to anyone looking for a great place to stay in DuQuoin.
Luke
July 2016
The apartment was spacious and immaculate. The kitchen had new stainless steel appliances and was nicely equipped. We will definitely stay here again whenever we return to southern Illinois. Staying in this apartment is much nicer than staying at any of the area motels for almost the same price.
Kathy
October 2016
My boyfriend and I requested to stay with Jim after some bad weather knocked out our camping plans. He was super quick to respond and approve our request. The apartment is lovely and cozy. Some really nice perks - fresh towels, robe, extra sheets. We had a great stay and highly recommend it!
Nora
September 2016
The host canceled this reservation 18 days before arrival. This is an automated posting.
Renee
The place is just as described. It's comfortable, bright and spacious. The town is cute and we loved the brewery that is a short walk away. Jim was easy to communicate with and quick to respond when we had an issue with the internet/cable. We'd stay here again.
Britt
November 2016
Type de logement
Logement entier
---
Type de propriété
---
Capacité d'accueil
3
---
Chambres
1
Du Quoin
This property, located on Lake Centralia, offers a relaxing lake front experience that's perfect for a couple's get away to hosting large families. If you are looking for a relaxing stay nestled in the woods or are into fun on the water, this property has everything you're looking for.
Escape to quiet Turtle Cove on Lake Centralia where you will be able to relax, recharge, while having fun with your friends and family. This expanded modular home offers a full kitchen, dining room, three bedrooms, 2.5 baths, with a large addition that could be just for the kids which has two futon sleepers, satellite TV, with the half bath. The living room and large addition both offer expansive views of quiet and inviting waters of Turtle Cove. While the inside is comfortable and cozy you'll definitely want to spend most of your time outdoors. Starting with the covered lanai/covered deck which offers a bar area with seating for up to 10, which is a great place to enjoy your morning coffee while you're planning your events of the day. The adjacent concrete patio is an ideal place for serving your outdoor meals while doubling as a great central location for your groups activities. The provided patio set offers comfortable seating for six but offers rail seating on the perimeter for up to 20. There is also a electrical outlet if you need to power any outdoor speakers or appliances. Just next to the patio is a very inviting fire pit which offers a large expanded metal grill in addition to a swiveling stainless steel surface that's perfect for searing. We will provide the roasting sticks and enough firewood to last your entire stay. This property has many amenities to include: Washer and dryer Extra full refrigerator with freezer chest in an external shed and a mini fridge in the bonus room. A large covered dock which offers two boat slips. A fire pit for cooking or a well used gas grill is available. A detachable floating dock which can be towed around the lake by boat and anchored to become your own private sunbathing/swim platform. A sand filled beach area for the kids including use of beach toys and rafts. Fishing, some poles will be available, but a fishing license is required by state law. Free use of the canoe, coolers and lawn chairs. Water sports on this quiet 400 acre lake if want to bring your own boat. A boatlift is not provided if you're wondering. However a public boat launch area is available. Our covered boat dock has two covered slips. A regulation washer pit with washers. If you've never played the game Washers, let us know and we will give you the lowdown. It will provide hours of friendly fun amongst your friends and family. An outdoor swing and picnic table. An aluminum canoe with paddles for the adventurous. A private driveway. The owners of the property live 40 minutes away but are available to be present during check-in to answer any questions.
Cell Phone coverage is weak near the lake with the best carriers being Verizon followed by AT&T. Expect Slow data signal. If you have a boat, there are places on the lake where a strong signal is available. Use this link to locate strong signal areas. (website hidden) All boats on Lake Centralia require a local permit that maybe purchased from the local lake patrol person at a cost of $10. If you don't already have a permit for 2015 you will need to carry $10 in cash in the event you are approached by the Lake Patrol. The water depth at the end of the dock maybe as shallow as 4ft deep depending on the time of the year. Swim with caution
Had a very nice relaxing time on this private lake home. The view of the lake was beautiful and it was the perfect getaway for us. Mary was very nice and a great host.
Elizabeth
July 2016
Mary made our stay easy and we felt very welcomed, though we never met, we texted and she made access to the home easy. The main part of town is a short 10 minute drive away, and we used the WalMart for anything we forgot, a few places to eat as well. The area around the home is quiet, spacious, and nestled in the trees. The home was exactly as listed, but believe me it is bigger that you would think! I was here with only my girlfriend but it would easily handle a lot more comfortably. We really didn't have time to cook, but we had a lovely bon fire and there is ample firewood and seating. The location is wonderfully right next to their own private piece of lake, great for fishing or boating. The home is located about 90 minutes to Shawnee National forest, and about an hour to St. Louis. It was a great place to stay, relax and unwind. Great water pressure and quick hot water, easy to heat and control the temperature. Would love to come back to the Turtle Cove Lakehouse, an unbelievable value.
Tim
April 2016
We loved staying in this secluded lake house for a fun get away weekend. Mary was really great to work with and she even surprised us with delicious farm fresh eggs! We were in the area for a wedding and it was the perfect spot to relax.
Ally
June 2016
This rental was great. Very seldom do you rent anything that turns out to be better then discribed. This is one of those situations. Very clean, everything you need is there. Just bring your food and beverages and your set. Mary is a very pleasant host and will answer any questions you have. I will be going back for sure. Thank you, Jerry
Gerald
November 2016
My boyfriend and I had a wonderful time at Turtle Cove. We enjoyed the beautiful views of the lake and the stars at night were breathtaking. We spent an afternoon out at the Centralia public pool and had no problem buying groceries from local stores. It was a relaxing trip and one of our favorite Airbnb experiences!
Alana
June 2016
We absolutely loved our stay at Turtle Cove Lakehouse. All the amenities were spot on and no joke, it's far bigger than the photos suggest! The fire pit, nature watching, outdoor dining, and modern amenities all made for an exceptional stay. Would happily stay there again!
Chien-An
May 2016
House and property were exactly as described. We had a nice time here and Mary and her family were very friendly and helpful.
Jaime
July 2016
The house is right on the water. With two docks and a small sandy beach. The water at the beach is very slimy on the bottom of the lake. We would definitely stay at the house again it was worth the money.
Peter
September 2016
Type de logement
Logement entier
---
Type de propriété
---
Capacité d'accueil
15
---
Chambres
3
Centralia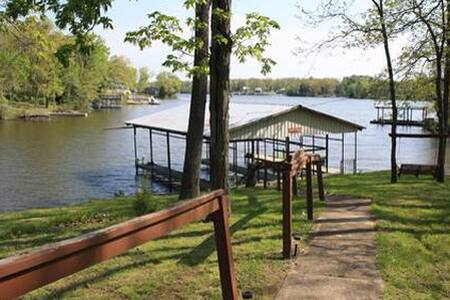 Welcome to our Victorian doll house with all the comforts of home. It's within walking distance of restaurants and shopping with a nice peaceful backyard to enjoy the outdoors while you sit on the porch & relax with your cup of tea or glass of wine.
The first floor has a bedroom with queen bed, living room with futon sofa, kitchen, bathroom and laundry. The 2nd floor has a tv room with a futon and crib and a 2nd bedroom with a full size bed and sitting area. Both tvs are equipped with cable tv and a DVD player. You will have access to the entire house, back yard and garage. There is a fire pit in back for enjoying a fire on those cool nights. You will need to provide your own wood for burning. Please use caution and respect the neighbors. No loud parties allowed. Thank you. I would like to meet you at the house when you arrive for check-in to welcome you and give you the key. I live a few blocks away and am available by phone or text with any questions you might have while you stay.
Mascoutah is a great small town with beautiful parks, specialty shopping, restaurants and special events. Please go to www.mascoutahchamber.com to see a list of our annual events. We are 30 minutes from St Louis and 10 minutes from the Metro Link station. You will be within walking distance from parks, the library, restaurants, the post office and more. The Metrolink is available for easy transportation to St Louis events. No additional over night guests allowed other than those registered. Please enjoy the old-fashioned porches, they are wonderful for sitting and relaxing.
This home is truly a home away from home. It is extremely well equipped you will not want for anything. Carrie is extremely kind and helpful. Amazing experience.
Maria Josee
October 2016
Our stay in The Doll House was everything we expected. The Main Street location in the heart of Mascoutah was perfect for watching the homecoming parade from the front porch. Carrie was an easy-going hostess who left nothing to be desired in provisioning this very nice hidtoric property. We learned a lot from the information book that Carrie left for us.
Jim
August 2016
Lovely historic home in quiet neighborhood. Comfortable beds, charming decor, TV, cable, WiFi, laundry, two porches and super clean. Carrie was very flexible with our check in time and her communication was super. This bnb has everything you need for a peaceful getaway or family time. It's was decorated for Christmas which made it feel even more special. Charming home, A+ experience!!
Erin
December 2016
Tastefully decorated, but without pretense Easy to feel at home on day one
Anthony
November 2016
The doll house is absolutely charming and a wonderful marriage of historic old world charm and modern creature comforts. It's bedrooms are lovely and spacious, and the back yard and porches are beautiful. I fully recommend this listings to all who need a calm place within striking distance of major cities!
Julie
June 2016
"A little slice of Old-Time, Midwestern Heaven, with all the modern amenities that keep the comfort up to date! I will be back to stay another week soon! AAA!!
Christine
November 2016
The host canceled this reservation 8 days before arrival. This is an automated posting.
Simran
Type de logement
Logement entier
---
Type de propriété
---
Capacité d'accueil
6
---
Chambres
2
Mascoutah
Here you'll find a cool 1-bedroom suite, fully furnished located in the heart of Du Quoin, IL. Suite brings together the old with the new; utilizing stainless, brick, and wood to create unique and comfortable spaces that feel like home! See the "Emma" located in the same building. An equally sweet suite!
This is a cozy place! The bed was very comfortable. Everything was really clean. Wifi and smart tv were a great bonus. I would stay here again and recommend it to friends looking for a place to stay in the area.
Melissa
October 2016
This place is just amazing! The pictures Jim has online do NOT do it justice! Quaint, comfy, romantic & modern all at the same time. The exposed brick is just beautiful! I told Jim he needs to be on HGTV . He has an amazing eye for remodeling & decorating. Very comfy bed! It was my Husband & I 's Wedding Anniversary & Jim went out of his way with fresh flowers & chocolates waiting for us. i forgot my hair dryer & Jim brought one as soon as he found out. i has asked the Salon across the Street if I could borrow one & the owner is a friend of Jims & called him. Rend Lake is 30 minutes one direction & Carbondale 30 minutes the other with a wonderful Wine trail & beautiful wineries! This place is a jewel & I'm so glad I found it! Jim is a great host & we will definitely be back!!!! Thank you for having us!
Renee
October 2016
Great space, great host!
Britney
October 2016
Type de logement
Logement entier
---
Type de propriété
---
Capacité d'accueil
2
---
Chambres
1
Du Quoin
Home furnished sparsely for participants in the July event who value proximity to the complex, good air conditioning, & kitchen. I will be there to make sure you have what you need. I can post pictures later if you are interested and need more info.
Type de logement
Logement entier
---
Type de propriété
---
Capacité d'accueil
4
---
Chambres
2
Sparta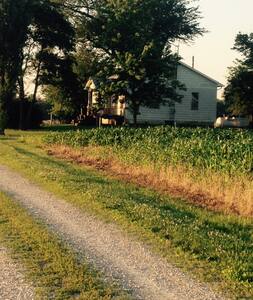 Sun filled room has a view of the side and rear grounds. Features include a brass & iron queen size bed, t.v. and private bath with claw-foot tub & shower.
The house is located on a peaceful street, with a beautiful yard. Debra greeted us with a big smile as we walked onto the spacious porch. She showed us around the impressive old historic house, where we could store our cold food items, and led us to our room. The room was very comfortable and immaculately clean. Deb suggested a good spot for dinner, which we thoroughly enjoyed. After dinner, we settled into sitting on the porch and watching the gentle rain. We had a great night's sleep, wonderful breakfast of blueberry pancakes, scrambled eggs and bacon, and left wondering why anyone would choose a hotel. Thanks so much, Debbie. You are a great host!
Sandy
July 2015
Staying here was a delight! Debra was accommodating and made me feel very welcome. Everything was so clean!! I was in town for a stressful event, but Debra helped me settle-in for a restful night. The icing was taking a soak in the large tub in the Ciara Room's bath. I highly recommend staying here and I hope to be back.
Katie
October 2015
Thank you Debra and Roland for your warm welcome! We were greeted in the driveway by Debra. She provided a brief history of the house and tour. The house is amazing and so beautiful and well-kept. Debra showed us our room and provided a key to the house and our room so that we could come-and-go as needed. They were very flexible on our meals and provide lots of personal touches...complimentary water bottles in mini-fridge upstairs, hair-dryer in bathroom, WI-FI, fabulous breakfast with flexible schedule. The entire experience was fantastic. My husband and I had never stayed in a BnB before, so this was definitely a positive experience and so much more personal than a hotel. We look forward to coming back when we visit our daughter at SIU. By the way, it is a straight-shot to Carbondale....20 minutes with only one stop sign. Otherwise it is a beautiful country drive back and forth to campus.
Stacy
September 2015
Type de logement
Chambre privée
---
Type de propriété
---
Capacité d'accueil
2
---
Chambres
1
Du Quoin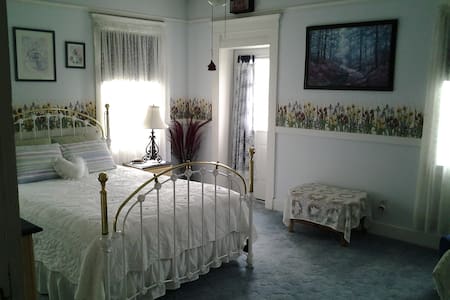 It's a very nice 3 bedroom trailer completely furnished 2 miles from rendlake beach marine and boat dock. The home is located out in country picnic table grill and nice quit place to enjoy your stay or be loud and have a good time
Type de logement
Logement entier
---
Type de propriété
---
Capacité d'accueil
4
---
Chambres
3
Sesser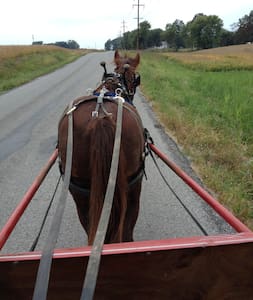 Restored farm house located on the northern cusp of the Shawnee Wine trails. Located minutes from Pyramid State Park as well as several public lakes. Events and fair-goers can find the DuQuoin State Fairgrounds a 15 minute drive away.
The house has been restored to its historical integrity. Wood floors, bead board ceilings, French doors, and a large porcelain kitchen sink are a few of its original features. The open kitchen/dining room allows plenty of room for families or groups to cook and relax. A pull out couch in the living room offers additional sleeping space if needed. The kitchen houses all new appliances including a refrigerator, stove/oven, microwave, and dish washer. Each level of the house has a full bath and the upstairs level has an additional half bath. Both the front and back doors have a keyless entry code. Guests are free to come and go as they please. Hosts are available if needed.
Rural area. No public transport is available. Travel to and from the house to local attractions can be done by car. Plenty of parking can be found around the house. There will be a list of local activities provided. Breweries, wineries, state and national wildlife parks, farmers markets, restaurants, etc.
This was a perfect home base for a family reunion I was attending in Carbondale. The home was very spacious and well kept - huge bathroom on the main floor, lovely big porch overlooking a corn field - perfect for relaxing and hanging out. Macy was very sweet to even leave us some yummy cookies for when we got in and we were treated to a big full moon over the fields when we got home that night. Great big house would be perfect for a big group - we were just 3 so plenty of space for us!
Miriam
July 2016
This house is just as adorable as you imagine. They've obviously been channelling Chip & Joanna Gaines! Big patio with grill and firepit out back and a porch swing perfect for sunsets out front. The kitchen is a dream. There is a little road noise, not uncommon in these old houses, but traffic is light most of the time and the wide views more than make up for it! Overall it was a marvellous little getaway and Macy made it so easy we only wished we could stay longer!
Sara
October 2016
This renovated farm house is perfect for those needing a place to stay while exploring the area. The place sleeps plenty, is gorgeous, and has way more amenities than needed. The host even brought us fresh cookies to greet us! Thanks again for an easy and awesome stay!
Mary
June 2016
A group of work colleagues and myself stayed at Macy's farmhouse for a night and really enjoyed our time! The house itself is great- well restored and well furnished. Macy was very prompt with all communication and left us ideas of what to do in the area. If you are ever in southern Illinois, you should definitely consider staying in this farmhouse!
Jason
June 2016
We rented the farmhouse for colleagues visiting from out of town and they raved about their stay. Couldn't recommend staying here more!
Marika
August 2016
When I arrived there were fresh flowers in the kitchen and bathroom and a note about local events. Also the note had the host's phone number which I did call and got prompt response about a couple questions I had.
Puanani
October 2016
We loved everything about the house, inside and out! It was beautifully decorated and all the special touches added made us feel right at home. We were welcomed with fresh cookies and water in the fridge. Our host answered every question we had in a timely manner. She also let us know about a variety of restaurants and winery's in the area. The house was spotless!! Fresh flowers were also a welcoming touch. I would highly recommend this house to anyone wanting a relaxing, friendly, and inviting place to get away!!
Pamela
May 2016
This was our second stay at the Farm House, and it was as pleasant as the first. The house's proximity to Carbondale is ideal for our swimmers who often swim championship meets at SIU. If you are looking for a beautiful, comfortable home to stay in while you travel through this part of Illinois, the Farm House is your best bet!
Tevia
November 2016
Type de logement
Logement entier
---
Type de propriété
---
Capacité d'accueil
8
---
Chambres
3
Vergennes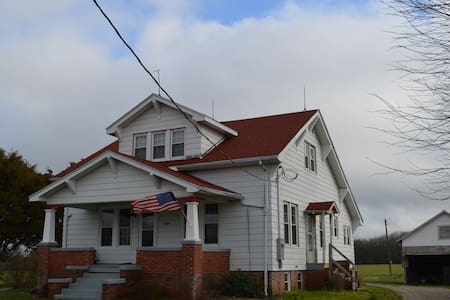 Westerfield Cottage: Cozy cabin with fireplace, quality amenities, and super suggestions to embrace the local culture. A wonderful alternative to the hectic pace offered by city hotels and inns. 20 miles from St. Louis and 7 miles from Scott AFB.
Unique accommodations. Your log country cottage awaits. Large stone fireplace for cozy nights by the fire, and private bath with top quality amenities. We're offering what everyone else is not. A mini escape from your phone, your calls, the world. A true engagement with nature where this land is made for you and me. Still, we are close to major attractions and transportation. Our goal is to continue renting it to fine folks from around the country and the world. We can't wait to help you with your plans. We are here to serve you. How can we help?
We provide creative concierge with five star amenities. Have an idea to heighten your travel experience? We are here to make it happen. Amenities: Massage (by appointment) Laundry Service ​One-of-a-Kind Concierge Party Planning Services Travel & Packages: Scott Air Force Base Lodging and Events Our Lady of the Snows Shrine Events Weingarden Guest Lodging Weekend at the Orchards (Eckert's Country Store & Farm; Braeutigam Orchards) Bridesmaids Cottage Mother of the Bride Quiet Cottage Wedding Party Retreat Trip to the City Package St. Louis Music and Art Tour Lucky Numbers Horsetrack Tour Package Spa Therapy including Yoga and Massage Golf Outing at the Orchards Golf Club We are three miles from the metrolink, but this cottage is easiest reached by car. Also be aware, the address is 8059 but the actual turn is at the marker 8041. Private parking spot next to cottage, and spaces for more cars in our lot. Shared patio(s) and large deck for sitting, sipping, and relaxing.
So thankful to Kimberly and Tony for providing an absolutely wonderful experience for our 30th Anniversary. The cottage was magnificent, the bed was great, the coffee delicious and all the little touches were appreciated. My wife and I are hoping to return when the weather is cooler and we can utilize the beautiful fireplace. Thanks Kimberly and Tony for making our anniversary, really special.
Jim
November 2016
Great place Meets everything shown and promised
hyman
December 2016
This is a lovely place, wonderfully (URL HIDDEN) the middle of nature. Strongly recommended for people wanting to touch base again. Everything you will need is available, a comfortable, cosy bed, a hot shower and a good coffee !
Eberhard
October 2016
My Husband surprised me with this beautiful cottage. We slept peacefully in a room that took us back to a simpler time. No cell service so we weren't disturbed by the trappings of modern life. I loved it!
Matthew
September 2016
The cabin was extremely cozy, and Kimberly and Tony were very professional. It was in a nice location to get away from the everyday stresses of the real world. The bathrobes and the collection of movies were a nice touch and made us feel welcome. Would definitely recommend!
Vatsal
September 2016
Kim and Tony were great hosts. Our cozy cabin was full equipped with everything from a fireplace to a collection of great movies. It was so cozy that we extended our stay by one night. Another nice thing is that though it seems tucked away, it's only about 30 minutes from St. Louis. It was a wonderful experience and I highly recommend it!
Suhas
December 2015
We really enjoyed our short stay! We wished we could have stayed longer. Kimberly and Tony made us feel very welcome with personal touches, and communicated well with directions, etc, ahead of time. The property and room were absolutely lovely - just as pictured. A charming rustic feel, but full of amenities and modern convenience. On a quiet piece of large property with a few distant neighbors. The hosts were kind and available if needed, but also gave us plenty of space. Hoping to return and I will be telling my friends!
Kat
April 2016
When we opened the door to the cabin it was lit beautifully there was light jazz music playing and two luxurious robes on the bed with chocolates and the bed was made up beautifully it just couldn't have been any better.
Thomas
January 2016
Type de logement
Chambre privée
---
Type de propriété
---
Capacité d'accueil
4
---
Chambres
1
Freeburg