Saisissez la date d'arrivée au format jj/mm/aaaa
Saisissez la date de départ au format jj/mm/aaaa
Logements que vous pouvez réserver sans attendre l'approbation de l'hôte.
Saisissez les dates souhaitées pour connaître le prix total. Des frais supplémentaires s'appliquent et des taxes peuvent être ajoutées.
Cet été (juillet et août), vous pouvez essayer l'un de ces 100 logements les mieux notés, dans toutes les gammes de prix, pour découvrir Sonoma d'un point de vue local. Entrée dans les lieux 24h/24, réservation instantanée, mais aussi vin et petites spécialités locales à disposition… autant d'invitations à vous détendre et à profiter pleinement de votre voyage.
My place is Alaska Highway, Tok, Tok River, Tanana River, Tetlin National Wildlife Refuge. You'll love my place because you can watch the Aurora Borealis away from city lights, there is indoor parking and one friendly cat. My place is good for couples, solo adventurers, and furry friends
Private room and shower and washing facilities. Lots of parking and 'U' shaped driveway with two entrances onto the Alaska Highway. Clean shared cooking space. Clean shared kitchen facilities. Washer and dryer. I will be present during your stay. Private bedroom and bath is upstairs. Kitchen facilities are on ground floor level.
Located one kilometer east of the town of Tok. My driveways open onto the Alaska highway. Lots of room for your pets to roam. Easy bike riding into Tok or to the Tok river. Summer canoeing down Tok river to Tanana river then put out at river road. Three hours. Bus (Interior Alaska Bus Line) leaves Tok to Anchorage/Fairbanks at 2pm Monday Wensday and Friday.
Stay was great
Brittney
November 2016
The best airbnb we had so far for the value! We loved staying with chris, sooo welcoming, so nice and remote. Even if we wouldn't have thought about food, chris would make sure you had some awesome food! We were watching some television at night and we heard a popping sound, i knew it was popcorn, and yes Chris offered us some really nice and hot popcorn, He also made us a amazing salad and pancakes in the morning, never had such amazing healthy vegan food! Also awesome to know we where his second guests, we wish you the best Chris and if you or we finish our tiny house, send us some pictures! ☺ Lots of love Fien and Nick
Fien
October 2016
Chris accommodated a last minute visit by my dog and I within 10 min of booking. Given the hotels in the area, this pet friendly option can't be beat. Expect a very basic and authentic Alaskan house with a good location just off the highway, decent phone/data coverage, comfortable bed and private bath. Chris shared fun conversation and his breakfast of pancakes and coffee at no extra charge. I would definitely stay here again.
Joel
October 2016
It was a stay in a real Alaskan house. Very tiny, in wood, quite old and Chris made everything comfortable for us. He shared his dinner and made delicious pancakes for breakfast. He is very interesting, with a lot of stories. It was as We shared his life for a short time. If you are looking for an authentic stay, dont hesitate. If You look for something more modern with new furniture, pass your way.
Mélodie
October 2016
Cool house, great host
Steve
December 2016
Type de logement
Chambre privée
---
Type de propriété
---
Capacité d'accueil
2
---
Chambres
1
Tok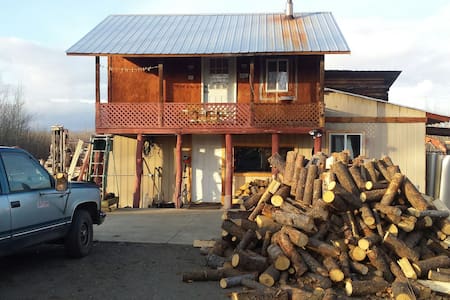 You'll love my place because of the people, the outdoors space, the ambiance, and the quiet location. My place is good for couples, solo adventurers, business travelers, families (with kids), big groups, and furry friends (pets).
Type de logement
Logement entier
---
Type de propriété
---
Capacité d'accueil
5
---
Chambres
2
Tok
CLOSED IN WINTER. My place is close to Showers, Grocery, Supplies, Gasoline, Dumping Station, BLM, Fish & Game, Tetlin Wildlife Refuge & Info Centre, Library, Muklukland, Post Office, public transport, , the city centre, the airport, & park . It's a rustic Alaskan getaway and home. In summer it does not get dark this far north. Pleasant weather both summer and winter. .
The cabin in the woods that one would expect to find in Alaska. Cabin 2 is an historical cabin with one guest room at this time. Facilities limited to outhouse and running water in main cabin. Host is available at most hours and usually stays up late
I dont recommand this place ... Its a joke !!!cabins full of junk i wish i gone be able to get a refund !!!
Patrick
July 2016
The host canceled this reservation the day before arrival. This is an automated posting.
Lisa
We liked our stay there, it was Very Homely, wished it had been cleaned out a bit and if the room had a heater, but if you have sleeping bags you should be fine!
Jonathan
September 2016
Type de logement
Chambre privée
---
Type de propriété
---
Capacité d'accueil
2
---
Chambres
1
Tok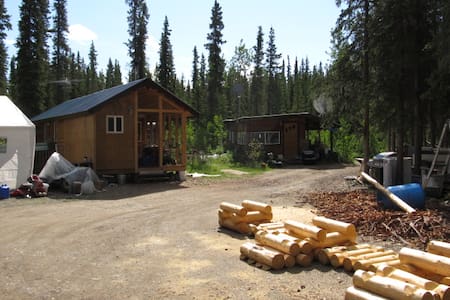 Wonderfully appointed private rooms, all with private bath and balcony or deck. Free WIFI, satellite TV and continental breakfast. Located 3 miles from Tok center
The Mooseberry Inn is located on 2.5 wooded acres just 3 miles outside of Tok. We offer 3 rooms with 1 queen bed each, 1 room with 1 double bed and 1 room with 2 twin beds. Coffeemaker and hot water kettle in kitchen. Microwave is available to use and some refrigerator/freezer space available to our guests. A property manager lives on site.
Wooded area, quiet, nice for leisure strolls
We had a great time. Location was good. Breakfast was wonderful. Could not ask for more. We'd stay at Mooseberry B&B again and again. adam&susan.
adam
May 2016
It's beautiful and totally unexpected in Tok. Rooms are lovely. Hostess very kind.
Kate
September 2016
Type de logement
Logement entier
---
Type de propriété
---
Capacité d'accueil
2
---
Chambres
5
Tok
It takes a lot of work to run a lodge like this and help doesn't live close. Guests who choose to stay with us get to help with some of the daily chores for a couple of hours during their stay.
Add a memorable stop to your journey through Alaska with a stay to the Log Cabin Wilderness Lodge, where your hosts, John and Jill Rusyniak, invite you to share the dream they are living. The property is perfectly named: well-maintained log-cabin front view of LCWLaccommodations in the wilderness of the Little Tok Valley, a breathtakingly beautiful area in the Mentasta. Mountains region of interior Alaska. It is the ideal location to step away from the pace, noise and distractions of your daily life, to relax and catch your breath while traveling and absorb both the grandeur and simple delights of nature. Located 28 miles south of Tok, 300 miles northeast of Anchorage, 240 miles southwest of Fairbanks front left view of LCWLand six miles from the nearest neighbors, John and Jill's 11 acres are surrounded by millions of acres of public land. Though off the electrical grid and far from the nearest cell phone tower, free WiFi service is available to visitors of at this intersection of rural and modern living. Log Cabin Wilderness Lodge is the complete package of amazing scenery and frequent wildlife sightings, comfortable buildings – some historic, some just a couple of years old – hearty home-cooked meals, a variety of activities. Moreover, a visit to Log Cabin Wilderness Lodge stands out because it includes the opportunity to experience the lifestyle and daily activities of year-round residents. John and Jill have been building toward the reality of Log Cabin Wilderness Lodge throughout their lives together and officially opened the business on May 18, 2008. It was a shared project that began to take shape in the 1980s when they were working and raising their family in the tiny, remote villages of Chalkyitsik and Central. They moved to the Mentasta Valley inrainbow over LCWL 1988 and then a bit farther north to the crossroads community of Tok, where they launched Cleft in the Rock Bed and Breakfast, which quickly became a very popular and successful enterprise. For a number of years, John and Jill were interested in purchasing the "Log Cabin Inn," property, which was developed in the 1940s on what was then the main road from Tok to Anchorage. Among the guests who found their way to the Log Cabin Inn during its early years of operation were Hollywood stars John Wayne and Andy Devine. The Log Cabin Inn closed in 1970 when the road was moved to more stable ground on the western side of the valley and became a private residence. When the property became available in 2004, John and Jill were ready to begin another chapter in their adventure. "Jill and I knew this was the right location," John says. "A meandering creek, swooping peaks, wildlife all around us and northern lights over LCWLplenty of history in a place that oozes Alaska. We love it and our guests will, too." Although LCWL doesn't provide any organized activities the Valley offers many opportunities for getting out doors and enjoying God's creation. Activities people often enjoyactivities include: activites• Hiking for all levels – including 6 miles of historic highway paved over 30 years ago, wilderness trails, hills and even rock climbing •XC Skiing and snow shoeing – with over 13 miles of groomed XC ski trails. •Fishing for Northern Pike and Arctic Grayling – we'll be happy to share our secret spots. activities•Skeet shoot/gun safety •Bird watching – including eagles, goshawks, trumpeter swans, sparrows, and more. activities •Wildlife viewing – many of our guests are amazed at the wildlife they see while staying at LCWL Now some fifty years later Jill and John welcome visitors back to this unchanged hidden paradise in the Mentasta Mountains with modern comforts and amenities and lots of outdoor activities. Visitors may hike, fish for arctic grayling, bird watching, Hot tub familyhorse back ride, or just enjoy relaxing under the midnight summer sun. Winter time will offer snow shoeing, cross country skiing, snowmobiling or maybe curling up around a crackling wood fire with your favorite book. you make the choice but whatever activity you desire the atmosphere will be bathed in beauty and peace. • Hot tub - we have a "snorkel" wood fired hot tub where you can step from the snowy path into 105 degree water. Relax in the tub while watching the stars and possibly the northern lights during the winter months. In the summer take a dip under the midnight sun, while sipping on a ice cold glass of water. • Sauna - our sauna is also wood fired and can easily reach temperatures of 130 - 140. Add a little water to the hot rocks and your body will be cleansed as well as poached. ;-) Alaskans by choice and doers by nature, John and Jill Rusyniak realized a major long-term goal they had set for themselves at Log Cabin Wilderness Lodge. John and Jill began dating when they were in high school in the suburbs of Syracuse, N.Y. and married after John graduated from the State University of New York at Potsdam in 1975. They purchased an old farmstead ou...
That there are no human neighbors, only wilderness and wildlife. We have all of the machines and human powered tools to get you just about anywhere. If you are interested in a work related stay there is always fire wood to cut, spilt or stack. Not to mention numerous other chores each day. Save money and work part of your stay off.
Type de logement
Chambre privée
---
Type de propriété
---
Capacité d'accueil
2
---
Chambres
1
Tok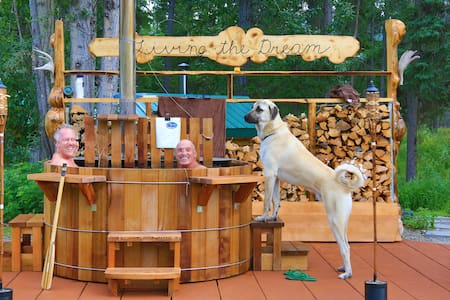 Chisana is located deep in the Wrangell Mountains of the Wrangell St. Elias National Park & Preserve. It is a fly-in area, reached by a twice weekly mail plane or charter bush aircraft. Many people ask "How do we get there?!" I have the answer (and the options!) for you. Check out Travel FAQs on our website ~> http://pioneeroutfitters.com/travel-faqs/ The area is the site of the last Historic Gold Rush and was once the largest log cabin settlement in the state of Alaska. The indescribable beauty and enormity of the land with the wildlife that we live side by side with make any Alaska Adventure with Pioneer Outfitters one that people remember for a lifetime. There is so much to offer here in the Interior of Alaska and we would like to share it with people looking to "get off the beaten path" and to experience something really special and different. Gatherings and home cooked meals are taken at the Lodge, served family style by your hosts that live here year round and have made guests welcome since 1924. Our guests have access to the shower house during the Spring, Summer and Fall months and the sauna year round. Gatherings and home cooked meals are taken at the Lodge, served family style by your hosts that live here year round and have made guests welcome since 1924. The Lodge is a living history of Chisana and 90 years of a pioneer lifestyle that is without fail, fascinating to our guests. We only ask that our guests remember that this (and the Lodge) is our home and to respect it as such. We at Pioneer Outfitters welcome our guests and happily share our daily lives with them or leave them to explore and enjoy their solitude in this wonderful wilderness as they choose.
Type de logement
Chambre privée
---
Type de propriété
---
Capacité d'accueil
16
---
Chambres
1
Tok