Saisissez la date d'arrivée au format jj/mm/aaaa
Saisissez la date de départ au format jj/mm/aaaa
Logements que vous pouvez réserver sans attendre l'approbation de l'hôte.
Saisissez les dates souhaitées pour connaître le prix total. Des frais supplémentaires s'appliquent et des taxes peuvent être ajoutées.
Cet été (juillet et août), vous pouvez essayer l'un de ces 100 logements les mieux notés, dans toutes les gammes de prix, pour découvrir Sonoma d'un point de vue local. Entrée dans les lieux 24h/24, réservation instantanée, mais aussi vin et petites spécialités locales à disposition… autant d'invitations à vous détendre et à profiter pleinement de votre voyage.
Room dayghting is very good.
Type de logement
Logement entier
---
Type de propriété
---
Capacité d'accueil
4
---
Chambres
1
Spalding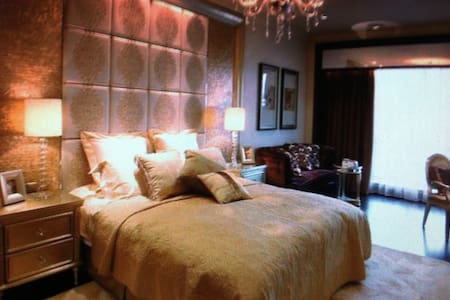 Great space with a private bathroom and access to large living spaces and kitchen
Very clean, updated space with beautiful wood floors. Closet space available too! Guests have access to living room, dining/kitchen area and basement entertainment area with TV (cable/Netflix/Hulu/MLB.TV/movies) I am busy but my schedule is flexible. I will do the best I can to be available beyond check-in time.
Very quiet neighborhood. Close to 3 parks, bike trail and a non-denominational Christian Church nearby. Homes are on big lots in the area, so there is plenty of privacy between neighbors. There is effectively no public transportation. But, if you stay here, you would already have a vehicle. Very close to Hwy 281 which has a diverse selection of restaurants, shopping areas and more. I do have two roommates as well, but the space is very private and the home is big enough that it will not feel cramped.
Bryan was great! We arrived after 8pm and he stayed to make sure we got in ok. Then he opened his home to us, which is a beautiful and very clean and comfortable home. He stayed and visited with us for quite a while, and he couldn't have been more gracious. We would definately recommend his AirBNB and would stay there again definately. Thanks again Bryon!
Barbara
November 2016
The room and bathroom were private and spacious. Bryan welcomed when we arrived at night even though we were unable to contact him before due to poor cell phone reception for us in western Nebraska. We were also given complete access to the kitchen and upstairs living room area. Overall, a great experience.
Greg
December 2016
Awesome, clean, comfortable place. Great for any length stay.
Laura
December 2016
Bryan's house is phenomenal. Large and spacious. He allowed us to use his kitchen as well as his laundry room which was a huge bonus for us. He went out of his way to help us and was a very gracious host. We stayed for two days and my husband and I wish we could have stayed even longer. Great place and wonderful host!
Amanda
November 2016
Bryan was awesome and very accommodating! I'd stay here again and definitely recommend others to stay here!
Brian
December 2016
Bryan's place was clean and he was very welcoming!! Perfect spot for individuals driving through Nebraska!
Noelle
January 2017
welcomed us and showed us around, house was chilly when we came back from supper. He came back and turned up furnace , house had odor of fireplace from night before he said. TV was in basement and I had a walker, also little whisker hairs in bathroom sink which was master suite.
Mark
December 2016
Very clean and comfortable room for sure! Bryan is excellent at answering messages and is very welcoming. Thanks Bryan
Jared
December 2016
Type de logement
Chambre privée
---
Type de propriété
---
Capacité d'accueil
2
---
Chambres
1
Grand Island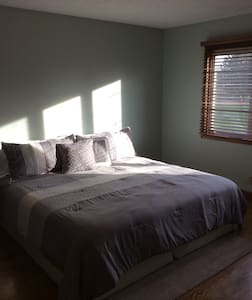 You have a twin bed to sleep on and access to air mattresses, if that is too close for you! Your bathroom has shower/tub options, toilet, sink and all things in both rooms are for you to use! We don't use the basement, so you will have it all to yourself! We are pet friendly!
The basement is a cool place in the summer and a cozy space in winter. Our fenced in backyard is great for kids and pets alike. The bedroom furniture is for your use entirely as well as the oak writing desk, washer and dryer, shower/tub bathroom and the Union Jack common room. You will have full range of the basement as well as common kitchen spaces. We ask that you use your designated shelf in the kitchen and fridge when storing and consuming items. I work in a nearby town, but come home early. I would LOVE to recommend some of Grand Island's finest, local, eating and drinking establishments or point you to our local museums!
We live just north of downtown (3rd St.) where all of Grand Island's (Railside's) action is: boutique shops, local restaurants, art galleries and more. However, you won't be disappointed with a walk to our near-by parks, a stroll down 4th street (Hispanic downtown), or the 8 block proximity to a 24 hour grocery store! There is no public transportation in Grand Island, so be prepared to Uber or call a cab (or me) if you need a ride. The main streets in town are Hwy 30, Hwy 281, Locust St., 10th St., 13th St., State St., and Capitol Ave. Take these for a faster way to move. Since this is a basement retreat, you will be going up and down stairs, and the room does have low ceilings.
Thank you for welcoming us into your home last minute! We had a very comfortable stay, and appreciate the flexibility and willingness to let us stay while you weren't home in the morning. If we're ever in Nebraska again we will remember our stay with you! Thanks again :) Jamie & Rob
Jamie
December 2016
Julie's place was exactly what we needed! We were driving across the country with our dog, and her place was a perfect crashing point for us! We didn't stay super long, but Julie was very courteous of our late arrival from driving all day, and was very clear with the directions we needed! Our dog enjoyed their dog to play with a bit as well as the fully fenced in yard after sitting in a car all day! The bed was small; though that information was in the listing. We thought we'd be okay sharing it but next time I think we'd blow up one of the air mattresses provided. We would stay there again if we ever go through there! The price can't be beat! Thanks Julie!
Michelle
January 2017
Due to weather conditions, I was unable to stay with Julie. BUT my correspondence with Julie before was absolutely awesome! If I need to stay in Grand Island, I will definitely keep Julie in mind.
Sharon
December 2016
Even though it was just an overnight stop, staying with Julie and her husband was great! Everything was comfortable, they were friendly and helpful, and the game room looked like it would be a lot of fun for someone traveling with a friend.
Maura
January 2017
Type de logement
Chambre privée
---
Type de propriété
---
Capacité d'accueil
2
---
Chambres
1
Grand Island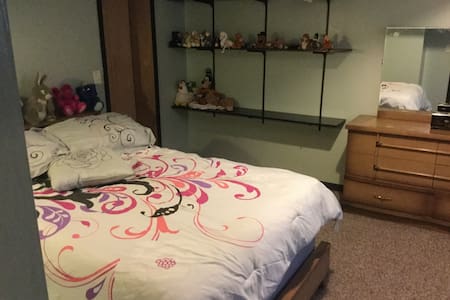 Queen size bed, sofa, cable tv, kitchenette including stove/refrigerator, free wifi, handicapped accessible
House was just as pictures showed. Was easy to find and comfortable to stay. Host was very good with communication via text and email as we arrived late to house.
Amy
September 2016
This was a great place to stay for our friends' wedding. It was very easy to find, had everything you need for a comfortable stay and Stan was very helpful. Everything was very clean!
Jess
January 2017
Type de logement
Logement entier
---
Type de propriété
---
Capacité d'accueil
2
---
Chambres
1
Ord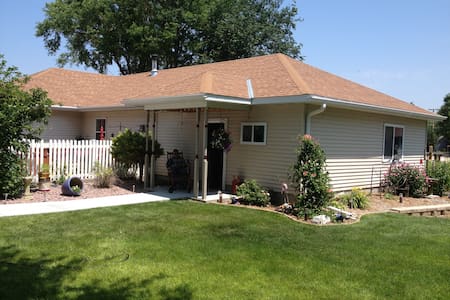 1970s construction home 3 bedrooms 1.5 baths. Clarks is a great small town with friendly people. 14 minutes to Central City 30 minutes to Columbus 40 minutes to Grand Island. My place is good for couples, solo adventurers, business travelers, families (with kids), and furry friends (pets).
Lots of room on a big lot. Small Midwest town. Access to whole house. I will interact as much guests would like.
Type de logement
Chambre privée
---
Type de propriété
---
Capacité d'accueil
2
---
Chambres
1
Clarks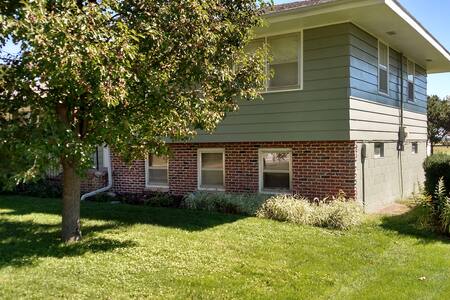 You'll love my place because of the neighborhood, the outdoors space, the light, the comfy bed, and the kitchen. My place is good for couples, solo adventurers, business travelers, families (with kids), big groups, and furry friends (pets).
Type de logement
Chambre privée
---
Type de propriété
---
Capacité d'accueil
2
---
Chambres
1
Grand Island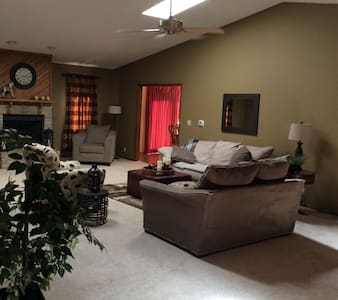 My place is good for couples, solo adventurers, and business travelers.
My home is equipped with cable connected flat screen TV, located in the comfortable living (URL HIDDEN) living room would be reserved for the exclusive use of my guests.wireless internet service is available throughout my home. Access to my homes laundry facilities is available for guests use. Reasonable access to the use my kitchen is granted upon request, as well as using staples which will be ample. I am most always living in my home and this is a shared living situation. I have insight to what goes on in our city. I love to share, advice or give options that are available in our area. We have great dinning and bars to visitas well as coffee shops. Most options I have to share are seasonal. Such as in the Spring going to see the worlds largest migration of the Sand Hill Cranes in the spring. Summer, canoe trips, paddle boarding, swimming, bike paths. Nebraska is one the best State Fairs in the Nation. My information is always updated.
It is a central location in Grand Island. A few minutes drive to the Rail Side District Shopping. The shopping mall is a couple miles away. My home is in a residential neighborhood. There isn't any problems finding parking. You will need to have your own transportation, public transportation is limited. I will be happy to serve continental breakfasts.
Unfortunately I am yet to stay with Geo. I had to change at the last minute. He was awesome with communication and most gracious and accommodating so I am sure he is a great host. I plan on staying there next weekend so will definitely reap some of his hospitality.
Chris
November 2016
Type de logement
Chambre privée
---
Type de propriété
---
Capacité d'accueil
2
---
Chambres
1
Grand Island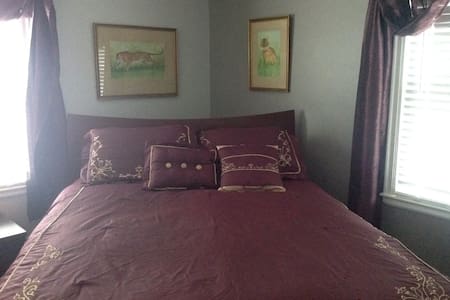 The house is three tier split level on a big lot. Three bedroom, family room, TV room, kitchen, 1.5 bath.
Type de logement
Logement entier
---
Type de propriété
---
Capacité d'accueil
4
---
Chambres
3
Clarks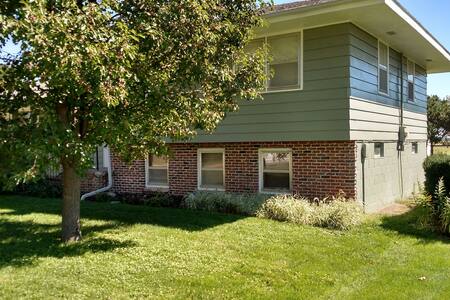 My home is located in Clarks, NE a short 35 minutes from the Nebraska State Fairgrounds. My home sets on a large double lots with room for trailers and pets. Even room for a horse to get out of the trailer if needed. I am wonderfully located for hunting and fishing in the area or simple gatherings. I believe you will love my 1800 sq feet, Tri-Split home.
Clarks is a beautiful small town nestled along Highway 30 in Central Nebraska. You are free to use the entire house. All kitchen appliances, laundry, and television. I expect you to make yourself at home here.
Type de logement
Logement entier
---
Type de propriété
---
Capacité d'accueil
4
---
Chambres
3
Grand Island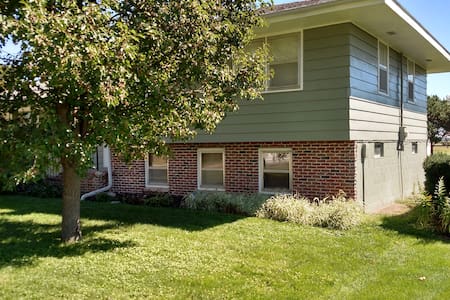 Studio apartment situated on the ground floor, equipped with everything you need for your vacation .
Type de logement
Logement entier
---
Type de propriété
---
Capacité d'accueil
4
---
Chambres
2
Ravenne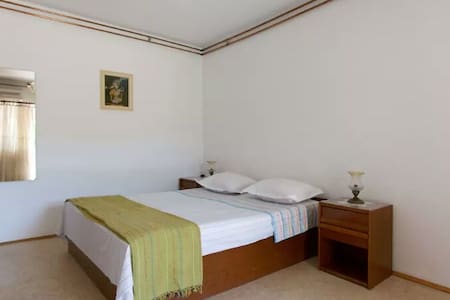 Welcome to our farm!! Enjoy all the comforts of home while staying at our newly renovated home. This place is perfect to slow down and get away from it all. You will enjoy the stunning views, the brightness and the tranquility. Only 5 min from the State Fair, Grand Island airport and downtown. This can either be a shared space or full access to our home. We are here during the week but can leave if your prefer. Please, contact us first for this entire house option, as the price vary.
Our farm is in an ideal location. Close enough to the city of Grand Island if you want to get some groceries or do some visits, but also far enough to feel the tranquility of being in the countryside. The room is located in the basement of the house. Very quiet and clean. The price of the room includes wifi, cleaning service and fresh towels. The common areas of the house as well as the outdoor space of the farm are available. We love having eclectic guests from all over, particularly those that are tired of impersonal hotel rooms and who look for the warmth and comfort of a genuine home.
For those who are traveling with pets, please contact us before making a reservation.
Type de logement
Chambre privée
---
Type de propriété
---
Capacité d'accueil
2
---
Chambres
1
Grand Island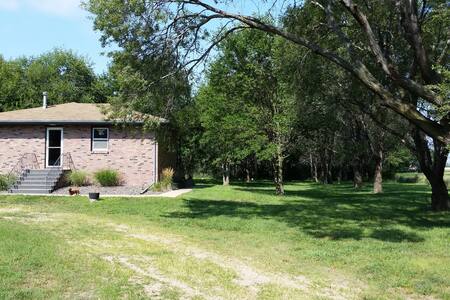 My place is good for couples, solo adventurers, and families (with kids). Close to the Stuhr Museum, Fonner Park, Nebraska State Fair grounds, shopping, restaurants and dining, shopping mall, etc.
The place is really good value especially when the farm show going. I had the place entirely for myself. The bed was comfortable. They sell eggs so you can't turn on the heater in the living and kitchen but the bedroom and bathroom are fine. Dan was really nice to let my coworker stay last min and offered me some eggs. Good location to farm show.
yen
September 2016
The host canceled this reservation 3 days before arrival. This is an automated posting.
Amanda
Very pleasant and relaxing!
Francine
September 2016
Daniel was a great host and was very conscious of providing what we needed for our stay. He answered every time I called with a question and did not have a problem with my whole party arriving at different times (because we were driving in from different locations). The house had everything we needed - kitchen, clean bathrooms, clean bedrooms and beds. The home is just on the edge of town, but very convenient and very quiet. The residence isn't super homey, but functional, clean, and comfortable.
Tammy
August 2016
Type de logement
Chambre partagée
---
Type de propriété
---
Capacité d'accueil
6
---
Chambres
1
Grand Island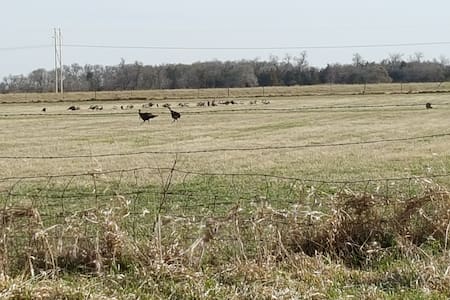 Nice home, nice neighborhood just west of 281 HWY. Nice backyard with basketball pad, grill, patio furniture, steps away from a walking trail. Nicer then staying in a motel! Lots of room. Finished basement with game room, living room bathroom, bedroom
Nice home that served our needs well. Vanessa was very accommodating.
Kenneth
August 2016
The host canceled this reservation 554 days before arrival. This is an automated posting.
Michael
Type de logement
Logement entier
---
Type de propriété
---
Capacité d'accueil
6
---
Chambres
3
Grand Island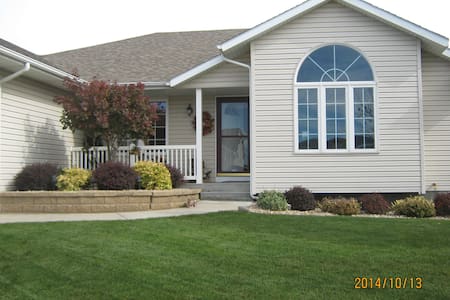 This walk-in basement rental had a whirlwind of renovations including new flooring and paint throughout in August of 2015.
My wife and I are empty nesters who raised 7 children in our large home in the country. We now have a lot of empty space on a beautiful acreage in rural Nebraska. The living space is the walk-in basement of our home which has a small kitchen and a bathroom with a shower. There are two bedrooms with queen size beds and the living room area has a couch with a fold-out queen size bed. The property is located on our family farm which has been used as an outdoor portrait photography studio for years. There is a pond with ducks, prairies, trees, paths, lots of room to run, hammocks, docks, etc. Guests are also welcome to use the large deck for relaxing, grilling, and outdoor dining. If needed, there is a washer and dryer available upon request. Also, on special request, there is a large exercise room available. Most times, my wife and I are there and available if any questions or problems may arise. It's away from everything. We are literally in the middle of a cornfield. There are small towns in the area which have small town grocery stores, gas stations, and activities. There is no public transportation. This property is located at our home in Rural Nebraska. We are 6 miles from the small town of Monroe and 20 miles from the City of Columbus, NE. Full access to the grounds which are very much like a park. There is a pond, prairies, trees, etc. It has been used as a portrait studio for 20 years. There is also a large deck and smoker grill available for use. There is full access to the outdoor grounds near and around the pond, prairie, and wooded areas. There are is also a washer and dryer available on special request as well as a large exercise area on special request. The owners are available most times if the need arises and can almost always be contacted by phone.
Cell phone coverage is not great. By stepping outdoors, most carriers do have access and are able to make calls.
We wanted a secluded, country setting for a girlfriend getaway and thoroughly enjoyed our stay. We had planned to cook our meals and were pleasantly surprised at the cooking supplies available. There were also a few food items to get us started--bread, eggs, fruit, etc. The hosts were very accommodating and wanted us to feel comfortable and enjoy our stay but honored our privacy as well. The apartment had recently been renovated and I encouraged the hosts to put the updated photos on the site! The furnishings were nice and the beds comfortable. We did a movie marathon and the equipment worked well. The grounds were beautiful and we enjoyed walking the property. One of our guests could not walk and the hosts let us use their utility vehicle to ride the grounds so she could enjoy the grounds, too. Thanks Marv and Kim for providing a fun "getaway" spot! We all agreed that it would be fun to return for another experience! The Getaway Gals!
Carla
August 2015
Type de logement
Logement entier
---
Type de propriété
---
Capacité d'accueil
6
---
Chambres
2
Monroe