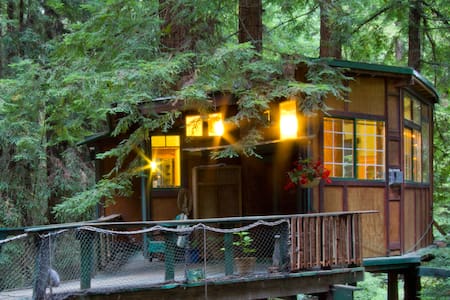 SUPERHOST
Cabane dans les arbres · 2 voyageurs · 1 lit · 1 salle de bain
Redwood Treehouse Santa Cruz Mtns.
A magical Redwood Treehouse located it the beautiful Santa Cruz Mountains. There is a live tree growing right through the main living area and another in the bathroom! It is simply incredible. It was built by my friend, Randy, a stained glass artist. Everyone who sees it are delighted by it. Please read entire description before making a reservation request. It has a delicious high-bed, a kitchen with a small stove and refrigerator, and typical cooking tools. There is a full bathroom with shower and toilet of course. There is now a hot-tub at about 103 degrees ready for your soak before bed or a morning treat. The Treehouse is a short walk of a few hundred yards (about four minutes) through the beautiful woods from the parking area. There is a gas stove for heating. There is a TV and DVD player with many movies to choose from. For travelers this is the best of both worlds. A wonderful treehouse nestled in the redwood forest, a short distance to HWY 1(Pacific Coast HWY) the main vein to Monterey, Carmel-by-the-Sea, Big Sur, Capitola and Santa Cruz and the HWY 101 Corridor. People come from all over the world to experience the Pacific Coast specifically the Monterey Bay area. It is an area rich in history. Here you will find world class art, music, cuisine, golf, surfing, sightseeing, hiking, biking, sunbathing, whale watching, birding, fishing, Monterey Bay Aquarium, Santa Cruz Beach Boardwalk and so much more. You can spend the day engaged in a variety of activities, physical and/or cultural. However you spend your day you can return home to a mountain treehouse and quiet. The weather here is excellent. It is located in a micro climate called a 'banana belt'. Though the beach is only 25 minutes away we are often in the sun when our neighbors in the valley and on the coast are in the fog. Winters are mild we average 25" of rainfall a year. Summers can be warm but delightful. The fog rolling in at night is nature's air conditioner and everything cools down. The weather is nearly perfect. Fog burns off early enough to make the beaches comfortable all day. The Santa Cruz Mountains are home to Sequoia Sempervirens commonly known as a Redwood Tree. They are native only to a specific part of Pacific Coast region. Come and visit our amazing part of the world and experience something special about the California Coast. All linens are provided. The kitchen has the basic items for cooking, i.e., spices, oil, vinegar, sugar, and tea. Two-night minimum on weekends. THREE-DAY MINIMUM on HOLIDAY WEEKENDS. A 60.00 cleaning fee will be charged per each stay. We are a green establishment. Environmentally friendly cleaning products are used. We ask our guests to consider using fewer towels during their stay and not requesting a sheet change unless your stay is longer than a week. I have a moderate cancellation policy. You must cancel a full seven days before your reservation. Please make sure that you read it thoroughly. You will be charged 50% of your stay if you cancel after the grace period.
Ce que disent les voyageurs :
"Nous avons visité la cabane dans les arbres en séquoia pour notre lune de miel. Cette expérience a été exceptionnelle. Nous avons été accueillis à notre arrivée et on nous a donné des instructions et une lampe de poche pour nous amener dans la bonne direction. C'était à environ 4 minutes de marche facile à travers les bois pour arriver à la maison comme on nous l'a dit et quand vous arrivez à la fin et tournez le dernier coin, vous pouvez voir la maison illuminée avec de belles lumières accueillantes. La maison elle-même est incroyable et plus que ce à quoi nous nous attendions. C'est magnifique et vous donne vraiment l'impression d'être seul au milieu des bois. Nous avons profité du merveilleux bain à remous qu'ils ont chauffé à 103 degrés prêt à l'emploi. C'était tellement agréable de se tremper dans le bain à remous sous les étoiles après une longue journée. Je ne recommanderais plus cet endroit. La seule chose que nous souhaiterions avoir fait différemment est d'avoir réservé la maison plus longtemps. Nous sommes restés 4 nuits et nous aurions bien voulu rester toute la semaine. Le quartier est magnifique et nos journées étaient pleines de visites, puis de retour à la cabane dans les arbres pour se détendre tous les jours. On reviendra certainement!"
It is true that "The Retreat" was once a shed (never used as one)! It has a "Queen bed", a bathroom/ shower, microwave and refrigerator! Snacks, waters, coffee and / or tea are available! Featuring 90% green electric energy (solar panels)!! Monterey is only 25 minutes away.
Ce que disent les voyageurs :
"Cet endroit est un petit bijou magique au centre d'une très belle communauté. L'enregistrement est entièrement privé et facile. La chambre était belle et confortable. L'arrière-cour est si spéciale. L'aménagement paysager est magnifique et les lumières scintillantes sont une belle touche. Mon mari et moi avons ramassé des sushis et nous nous sommes assis à la petite table en buvant du vin et en faisant comme si nous étions dans un restaurant. J'ai même mis de la musique de restaurant sur mon téléphone. C'était romantique et spécial. Au milieu d'un séjour à domicile, c'était agréable de prendre un repas ailleurs que dans notre canapé! Ted était très arrangeant et un vrai délice. Un gars tellement sympathique avec quelques recommandations formidables de sites locaux à voir. Nous avons vraiment apprécié de discuter avec lui au moment du départ. Cet endroit est une telle valeur aussi! J'ai séjourné dans des endroits qui sont à moitié aussi agréables et facturent trois fois plus. Cet endroit est un joyau et vous devriez certainement rester ici. Je ne peux pas dire assez de bonnes choses. Nous venions juste de traverser mais nous reviendrons certainement !!!"